New Kids in the Kitchen
Twenty years after Hawaii Regional Cuisine, a new generation of young chefs are making their own marks, and their own changes, with even greater emphasis on local goods. (front, left to right) Mark Noguchi, Lindsay Ozawa, Andrew Le, Hoku Kupihea. (second row) James Donohue, Lee Takara.(back) Jason Perry, Ed Kenney, Dave Caldiero

Wednesday - August 03, 2011
By
.(JavaScript must be enabled to view this email address)
E-mail this story | Print this page | Archive | RSS
|

Del.icio.us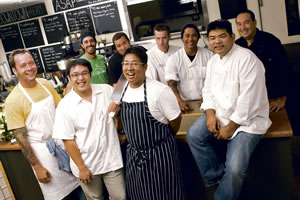 (front, left to right) Ed Kenney, Andrew Le, Mark Noguchi, Lee Takara. (back) Dave Caldiero, Jason Perry, James Donahue, Hoku Kupihea, Lindsay Ozawa. Leah Friel photos

.(JavaScript must be enabled to view this email address)
It's been 20 years since the young chefs of Hawaii Regional Cuisine changed the way we think about food. Building on that success, a new generation is making names for themselves and changing things too
It's impossible to define Hawaii's culinary landscape today without emphasizing the relationship between farmers, fishermen, artisan food producers, chefs and an educated public. Almost as difficult is to speak about our food without mentioning sustainability, ethical farming, managed fishing practices and rising food costs.
In the 20 years since 12 chefs including Roy Yamaguchi, Peter Merriman, Alan Wong, George Mavrothalassitis and Mark Ellman gathered to form the Hawaii Regional Cuisine movement, the culinary landscape has changed dramatically.
In 1991, chefs worked in hotels and restaurants, many of them with the support of lenders willing to invest in their talents.
But today's chefs are on the move, operating popup restaurants and food carts, spreading their message of good, cheap food via traveling trucks and social media. Where a movement was formed to bring attention to farmers and regional cuisine, today's chefs are united not by a name, but by their own diversity.
Twenty years ago, a single, now famous photograph was taken to commemorate the HRC chef gathering at Shep Gordon's house on Maui. This week's MidWeek cover photo shows a different generation of chefs, many of them still in elementary school when HRC was formed. So as we celebrate the anniversary of the movement that brought attention to farmers and paved the way for a new generation, we thought it would be fitting to provide a snapshot of today's chefs and find out where and what they're cooking.
town.
"I'm an alumnus of town," I hear Mark Noguchi proudly tell someone.
The sentence speaks volumes because town isn't a college or a metropolis, it's a restaurant. Founder chefs Ed Kenney and Dave Caldiero are the poster boys for the new Hawaii food movement. They hand cut pasta, cure meats and bake bread, all to enthusiastic reviews. They celebrate farmers and encourage creativity.
They are the little restaurant that could.
Kenney resists the label of elder statesman of the group, feigning mock horror when the subject is introduced. But with a rock star, rebel-like defense of the people's right to eat good food, and Caldiero's nurturing, quiet confidence , the two bring weight to the argument for a culinary conscience. Both are fiercely committed to local farmers and fishermen.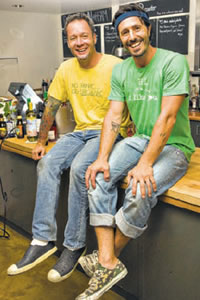 Ed Kenney and Dave Caldiero
"They're the celebrities," says Kenney, "there wouldn't be a food movement without the farmers."
And as Kenney and Caldiero provide after-hours beers and solace for a new, raw culinary talent, they are excited by the energy they feel among their colleagues.
"HRC was easily described and compartmentalized," says Kenney. "Now it's different and more abstract. Twenty years ago it was about what was on the plate. Now there's a level of consciousness that's been raised."
Caldiero argues that town is not a revolutionary restaurant, but rather a place that serves his kind of comfort food.
"Something as simple as hand-cut pasta with anchovy and broccoli to me that was always a quick dinner," he says, "We're not strange. We're just different ... with access to glorious produce."
At downtown@HSAM, their wildly popular lunch spot at the state art museum, Hoku Kupihea is in charge. The Aiea High School grad runs the $800,000 restaurant with a fierce passion and determination that belies his 27 years. He started working at Zippy's while still in school, absorbing everything he could from chefs and family members, and he sees the power of carrying a torch for sustainability.
"We have great mentors and we have a ton of energy," he says of his peers, "and we reflect a whole bunch of different cultures. To me, our food is about how we can feed people locally grown, recognizable food in a different way."
The (Not So) Angry Young Man.
A few months ago, Lindsey Ozawa may best have been described as the angry young man of the new generation. After leaving his job as executive chef at Nobu,Waikiki, Ozawa and his partners spent almost two years in search of a restaurant to call their own. Without the support of lenders, and depressed by an unforgiving economy, Ozawa felt his journey away from the corporate food world was almost impossible.
Today, with food truck MELT proudly on his resume and Prima, a contemporary celebration of American Italian food about to open in Kailua, Ozawa is smiling a lot more.
"It might be harder to actually open a restaurant today," he says, "but once you do, there's a bounty of local produce to be had. What the HRC chefs started insourcing local products is strong today, and the Hawaii diner is well-educated. We have a responsibility to provide quality food and a good experience for them."
Like the rest of his colleagues, Ozawa is acutely
Page 1 of 2 pages for this story 1 2 >
Most Recent Comment(s):