Sign Us A Song
Melveen Leed performs at Hawaii Theatre Saturday in a benefit for the Hawaii School for the Deaf and the Blind, of which a few students are pictured here. Also appearing, Miss Hawaii Outstanding Teen 2010 Lena Merrill, a sophomore at the school

Wednesday - September 08, 2010
By
.(JavaScript must be enabled to view this email address)
E-mail this story | Print this page | Archive | RSS
|

Del.icio.us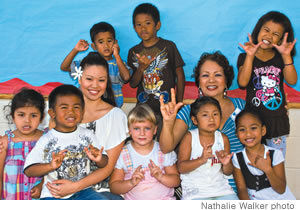 (clockwise from top left) Mavrick Fiti, Billy Rayray, Melveen Leed, Jolani Labin, Izumi Capelle, Kayla Ann Murakami, Felicity Legate, Lena Merrill, Alstin Quisquirin-Sabagala and Ocean Miah
The voices of the deaf community will be heard this Saturday as Melveen Leed and students of Hawaii School for the Deaf and the Blind take the stage at Hawaii Theatre in a benefit concert that aims to raise awareness as well as entertain.
In honor of Deaf Awareness Month (September), Hawaii's country girl and Na Hoku Hanohano award-winning entertainer Leed teamed up with longtime friend Marian Morrison to put together "The Many Moods Of Melveen Leed," a benefit concert for Hawaii School for the Deaf and the Blind.
"This concert has a dual purpose: to highlight Melveen's talent and to focus on the needs of this school and the actual disability," says Morrison, the show's director and producer. "I feel there should be more awareness because with more awareness comes more support."
The stars aligned and the makings of a successful production were quickly set in place - Leed's star quality, Morrison's experience as Disney Entertainment creative show development and casting consultant, and a worthy cause with a sentimental connection.
"I've wanted to do something for the deaf community because of my hearing-impaired son, who is now a grown man and has developed successfully because of the help of schools such as HSDB," says Morrison.
"I can relate to the challenges of the deaf, which I feel is an invisible handicap that is often overlooked. It's really hard when you see a child you cannot hear. There are no visible signs. So I understand how it can go unsupported."
Presented by title sponsor Dr. Lawrence Tseu, the concert will showcase six of Leed's favorite musical genres in segments: Hawaiian, jazz, country, Motown, Broadway and international.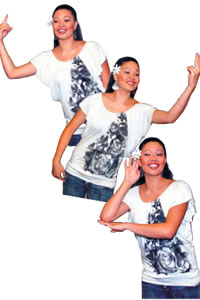 "I've always wanted to do 'The Many Moods of Melveen,'" says Leed. "I had thought about doing a CD utilizing the different styles of my singing. And so I thought, why not now? I'm 67 years old and I feel like this is my peak and my voice is at its best."
Joining Leed on stage are the students at HSDB, including a special teenager, Miss Hawaii Outstanding Teen 2010 Lena Merrill.
"I entered the pageant because I wanted to earn the scholarship for college, but it was also a way for me to raise awareness for people to understand about deafness," says Merrill, a 10th-grade student at HSDB. "A lot of people think that deaf people can't do things, but I want them to see that we can do it. We can go to work; we can drive. It's true we can't hear, but we can do everything else."
In the concert, Merrill will share the emotional lyrical monologue she did for the talent portion of the pageant titled Listen To My Voice. Signing to a poem written by her mother, Merrill's performance alone will tug at heart-strings and carry the message of understanding, compassion and courage.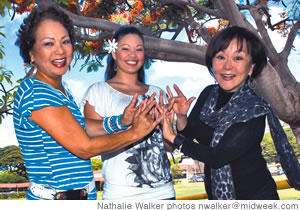 Lena Merrill, top right and above with Melveen Leed (left) and Marian Morrison, a sophomore at the school, will dance hula at the concert
"In prayer, the words to the poem came to me," says Kaulana Merrill, Lena's mother. "What this poem tells is that deaf people have a voice and it's their hands, and for most people it's a voice that they don't hear."
Merrill's platform for the pageant is quality education for all deaf children, which stems from her challenges as a child growing up deaf in a hearing school.
HSDB is the only American Sign Language immersion program in the state. Located in Kapahulu, HSDB's current enrollment is 77 students - all are deaf, and a handful are both deaf and blind.
What this translates to is limited-quality education for deaf and blind students such as Merrill, who lives on Maui. Although HSDB provides boarding, which includes trips home on weekends for students, the transition isn't easy for younger children.
After struggling as a young child at a hearing school where she didn't have a deaf-education teacher to help her with the lessons, Merrill and her parents decided to make the sacrifices needed for her to attend HSDB.
"I started here at HSDB at the age of 8 and I stayed for a few years, and then I went back to a hearing school on Maui because I missed my family because I was so young," says Merrill. "So I went to an elementary school on Maui and a middle school, and I stayed there for two years. Then, in the eighth grade, I transferred back here because I felt it was better to have communication. In a hearing school no one signs with me, so I felt very alone and isolated."
Page 1 of 2 pages for this story 1 2 >
Most Recent Comment(s):