School of Grocery
Ross Higa of Leeward Community College created a program to give advance management training to people working in the grocery business, which is supported by local grocers as well as the Western Association of Food Chains, whose members are meeting in Honolulu this week

Wednesday - March 30, 2011
By
.(JavaScript must be enabled to view this email address)
E-mail this story | Print this page | Archive | RSS
|

Del.icio.us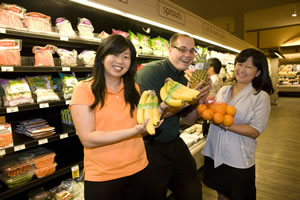 Foodland's assistant director of produce Tammy Yoshino and first assistant store director John Nary, both program participants, with company director of training Kary Morihara
A cutting-edge program at Hawaii community colleges, sponsored by local grocers as well as the Western Association of Food Chains, which meets in Honolulu this week, provides new opportunities for career advancement to those working in the field
Attention, students. Class is in session. Today's lesson is the art and science of retailing success in the fast-paced 21st century. Open your books and your minds to insights from the pros. You'll become a better consumer in the process.
The occasion for this schooling is the 90th annual Western Association of Food Chains (WAFC) convention April 2 to 6 at Hilton Hawaiian Village. Some 1,200 retailers and suppliers are putting their heads together to ponder "Education: The Sustainable Advantage."
Who says you can't have a think tank in paradise?
Sharing ideas and learning from people such as Jeb Bush, former governor of Florida, and William Taylor, author and founding editor of Fast Company, is serious business for executives from America's largest food chains in the western U.S.
WAFC members represent more than 7,500 supermarkets in 14 Western states - and $200 billion in annual sales. Can you say "clout"?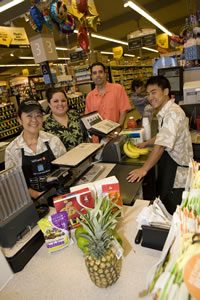 Safeway Hawaii district manager George Glukfeld (in orange) with program participants Tammy Kajiyama, Jessica Patino and Mike Nojo at Safeway's Manoa store. Leah Friel photos
Joe Detro, Foodland senior vice president of sales and operations - and WAFC board member - says, "Ongoing education is essential to advancement in our industry today."
The food industry exec, who started in the business 30 years ago as a "bag boy," says that one must have a hunger for knowledge to succeed. If you're not paying attention to constant changes in the marketplace, you're losing a competitive advantage.
Today's consumer is smarter, fastidious about customer service, and empowered with communications tools such as multimedia cell phones and social networking circuits such as Facebook and Twitter. Give them an irresistible bargain or a bad service experience, and word will be out before you can dial 911.
Someone who knows that and has structured an academic program to help retailers stay ahead of the curve is Ross Higa, assistant professor of management, Business Technology Division, at Leeward Community College. Higa is statewide coordinator of the Retail Management Certification Program, endorsed and inspired by WAFC for community colleges.
The 10-course curriculum is available at more than 160 colleges and satellite locations in 10 states including Hawaii. Thousands of graduates have been awarded WAFC certificates and cash honorariums.
The course is recommended for food industry retailers, wholesalers, suppliers, brokers and manufacturers. But it is not limited to that sector, making discussions and sharing in the classroom a dynamic experience.
As Professor Higa puts it, "Anyone looking for personal growth or career advancement should attend.
"The 10 content areas are directly linked to core competencies required for success at the managerial level. All courses are accredited and nearly all are transferable to a four-year
Page 1 of 2 pages for this story 1 2 >
Most Recent Comment(s):