Going Blue
The man who made the video game Tetris an international hit turns his talents to saving the planet

Wednesday - April 21, 2010
By
.(JavaScript must be enabled to view this email address)
E-mail this story | Print this page | Archive | RSS
|

Del.icio.us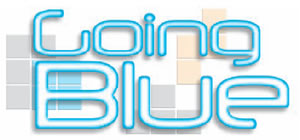 Henk Rogers is a game geek who never grew up. At age 56 he tinkers with developing computer-generated games and takes giddy delight at downloading the latest phone apps. Yet his accomplishments and wisdom are light-years ahead of most people on our planet, and Hawaii has the benefit of his experience and outlook. If only we'd take notice.
Rogers is a visionary of computer games who changed the face of the industry by bringing Russian-originated Tetris to the Western hemisphere. Under Rogers' leadership, Tetris has become one of the world's top-selling games with more than 125 million copies sold. In fact, Rogers has a number of landmark achievements in digital media, which we'll get to later.
Five years ago, a health crisis caused him to reflect on ways to help humanity and future generations. It was the start of a nonprofit foundation committed to renewable energy, with its genesis here in Hawaii.
Will this game geek become a global game changer as he pursues his latest venture to rid Hawaii of carbon-based fuel? Will his establishment of the Blue Planet Foundation lead to the betterment of society? What's his game plan?
To get the answers, we make an appointment with Rogers. That's not easy to do with his globe-trotting, interisland-commuting lifestyle, as well as his tight schedule working on new ideas and projects. When MidWeek first called, for example, he was in China. But we managed an hour one afternoon in his Harbor Court office.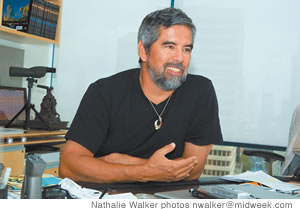 Henk Rogers is determined to get Hawaii off its gas-and-coal habit in 10 years
We expect an overpowering, impatient power broker who can intimidate the heck out of a prodding, inquisitive reporter. Worse yet, we're totally not into games. Board Scrabble is as far as we go on social competitiveness.
Instead, we encounter a humble, laid-back guy in dark T-shirt and jeans, who downloads a dictation app to his phone and is anxious to show it off.
"I'm being interviewed for a story in MidWeek," he recites into his iPhone. He then shows us the instantly transcribed message on the screen. We marvel at the technology.
Connecting through technology is the hallmark of Rogers' career. He is Hawaii's poster boy of how intellectual property development can become an economic force and new industry for Hawaii.
Rogers was born in the Netherlands and moved to New York at age 11. He attended Stuyvesant High School, where he got his first taste of computer programming. He studied computer science at the University of Hawaii, where he spent his free time playing Dungeons & Dragons.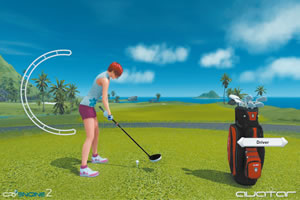 A few scenes from Henk Rogers' new 'Blue Mars' virtual reality video game, including a golf course and mountains that look a lot like Hawaii
In 1977, he moved to Japan, got married, started a family and, six years later, designed and developed The Black Onyx, the first role-playing game in Japan. In 1984, it ranked as the No. 1 game in Asia.
Rogers discovered Tetris in 1988 at a consumer electronics show in Las Vegas. Tetris became the biggest item in his computer game publishing business, selling millions on the Nintendo Family Computer.
From computer-generated games, Rogers moved into mobile gaming software by starting Blue Lava Wireless in 2002. The company was sold to Jamdat for $137 million in 2005, along with a license to the mobile game trademark rights to Tetris. Today, more than 10 percent of all games sold on mobile phones in North America are versions of Tetris.
Rogers presently has three startup software development companies: Tetris Online, focused on "casual gamers;" Blue Lava Technologies, a photo tagging service for digital photo slideshows; and Avatar Reality, which has created a high-definition virtual world on a terraformed Mars - as seen on MidWeek's cover and photos below.
But Blue Planet Foundation, his nonprofit venture "to end the use of carbon-based fuel in the world in my lifetime," might be the game-changer. It is Rogers' biggest challenge to date and has far-reaching consequences.
"We're focused on turning Hawaii from the state that gets the biggest proportion of its energy from carbon-producing fossil fuel (90 percent) to the first state that uses as close to none as possible in 10 years," Rogers says. "Once that's done, we should clean up the rest of the Pacific Rim and finally the rest of the planet."
Blue Planet's audacious game plan is to mobilize a clean energy moment in Hawaii, shape new policy tools and provide smart energy solutions to residents statewide.
"We've started here in Hawaii because I don't believe in telling other people to clean their room before I clean my own," Rogers says, making an analogy. "Hawaii is the most dependent on imported fossil fuel. Yet we have the
Page 1 of 2 pages for this story 1 2 >
Most Recent Comment(s):