Village People
The Hilton Hawaiian Village is celebrating 50 years as a Hilton resort. Here, Hilton area manager Jerry Gibson (in orange) is joined by employees who have a combined 217 years of service

Wednesday - February 23, 2011
By
.(JavaScript must be enabled to view this email address)
E-mail this story | Print this page | Archive | RSS
|

Del.icio.us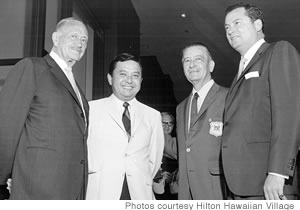 (from left) Conrad Hilton, U.S. Rep. Dan Inouye, GM Ed Haston and Barron Hilton at the grand opening in 1961
For 50 years, whether you're a celeb, a local family or the president, all roads lead to Hilton Hawaiian Village
In a Hawaiian village, we'll rendezvous
Living like kamaainas, our dreams come true
Tropical hula heaven for you and me
In a Hawaiian village at Waikiki -lyrics by Leon Pober
Waikiki's wonder-land known as Hilton Hawaiian Village observes its golden anniversary this year. It's cause for celebration because it's not every day that a grand dame of tourism marks 50 years of island hospitality and sustained business success. Like a fine wine, the 22-acre Hilton Hawaiian Village is maturing well while continuing to be robust and dynamic.
Yet there's no denying its glamorous and fabled past, where there are so many landmark moments. The development of Hilton Hawaiian Village parallels the most colorful chapters in Hawaii's history.
From its auspicious start by industrialist Henry J. Kaiser to its pacesetting growth through Hawaii's statehood era, it is a barometer of Waikiki's own enduring economic success.
It's been 50 years of aloha.
Aloha for Ingenuity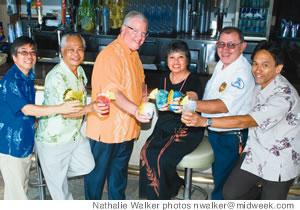 At the home of the Blue Hawaii, (from left) Joe Lam, Dionisio Tejero, Jerry Gibson, Nancy Festerling, Shannon Feliciano and Gordon Bright
In 1954, entrepreneur Kaiser and partner Fritz Burns purchased eight oceanfront acres of the John Ena Estate to build a resort. Requiring additional property for an ambitious undertaking, the partners purchased the adjacent site of the Niumalu Hotel and several contiguous lots from individual owners, totaling 20 acres of what Hilton Hawaiian Village currently occupies.
Guest cottages were hand-built by Polynesians from Oahu who wove coconut fronds into thatching. Within three months, workers completed the first unit of 70 guest rooms and suites, followed by the Tapa Room (now Tapa Tower), gardens and three swimming pools.
Next, four lanai houses ranging from 18 to 56 guest rooms were constructed at the Rainbow Tower site. The Long House was the first meeting facility, patterned after a Polynesian chief's hut, with a seating capacity of 1,000.
The original Village was a bunch of bungalows
Over time, more guest facilities were added, including restaurants such as the famed Golden Dragon, cocktail lounges and showrooms.
A geodesic dome at the corner of Kalia Road and Ala Moana Boulevard was the first of its kind built in the world. It was the brainchild of Kaiser and designer Buckminster Fuller, who wanted a showroom with unobstructed views of the stage. The aluminum structure was assembled in just 20 hours for the world premiere of the movie Around the World in 80 Days.
The innovative structure (demolished in 1999) was but one of the architectural wonders at the Village. In the ensuring years, redevelopment brought notable architecture and design achievements, such as the Rainbow Bazaar, Hilton Lagoon Apartments, Mid-Pacific Conference Center, Ocean Crystal Chapel and, more recently, the award-winning Grand Waikikian Tower.
Page 1 of 2 pages for this story 1 2 >
Most Recent Comment(s):