Whatever Became of Hawaii's First Test Tube Baby?
Jacquelyn Low's historic birth made headlines across Hawaii and beyond 25 years ago. Now the University of Oregon alumna is preparing to move to China to continue her education.

Wednesday - June 29, 2011
By
.(JavaScript must be enabled to view this email address)
E-mail this story | Print this page | Archive | RSS
|

Del.icio.us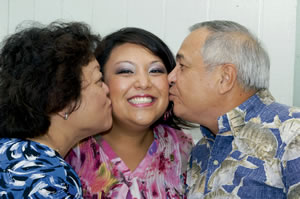 Janice and James Low have always showered Jacquelyn with love. Nathalie Walker photo

.(JavaScript must be enabled to view this email address)
Her birth was historic, but since then Jacquelyn Low's life has been pretty normal, just as her parents wished
Every loving woman or couple who wishes to have the joy of raising and developing a child under their care and affection should have the opportunity to do so. Sometimes, however, certain biological circumstances hinder that ability, leaving couples saddened and distraught.
Twenty-five and a half years ago in 1985, Janice and James Low personified those feelings of frustration. And then a revolutionary new procedure, brought to their attention through a simple print advertisement, changed everything, including the laws of infertility. The Lows went from frustrated to blessed - the blessing being the miracle of their daughter Jacquelyn.
On Dec. 20, 1985, an early Christmas present, Jacquelyn Low was the first baby born in Hawaii by means of in vitro fertilization, following the world's first, Louise Brown, who was born in 1978 in Oldham, England, and the United States' first, Elizabeth Carr, born in 1981.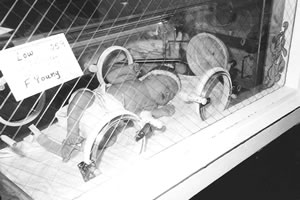 Healthy 7 1/2 pound Jacquelyn Low hours after her birth
"I had complications from an appendix removal, and the doctors had to take one of my fallopian tubes, and they knew the other one was infected," says Janice. "After corrective surgery, I had to wait three years, and after those three years from the heavens came the doctors of Pacific In Vitro Fertilization. We were interested and we gave it a try."
In vitro fertilization, which is described as conception, is early embryo growth outside of the body. IVF is a procedure by which the eggs of a healthy woman - who must have a uterus and at least one ovary - are removed and fertilized in a laboratory. Up to 50,000 healthy sperm are then injected into each egg, creating zygotes. Once the zygotes begin to cellularly divide, embryos are formed. Three days after the egg retrieval has taken place, doctors transfer the embryos back into the uterus of the potential mother.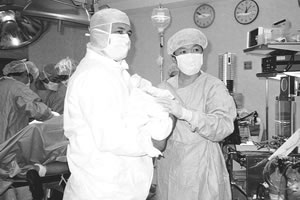 James Low (left) holds his new born daughter Jacquelyn. Photos courtesy Low family
A common misperception is that babies born by IVF are products of test tubes, referred to as "test tube babies." The reality is the egg fertilization procedures are conducted in petri dishes. Once the laboratory-created embryos are transferred back into the uterus, the waiting game of early pregnancy begins.
"Once a woman becomes pregnant by IVF, it is basically the same as if she had gotten pregnant by intercourse or artificial insemination. There is no increased risk of abnormal babies or of miscarriage," says Pacific In Vitro Fertilization director Dr. Carl Morton.
A series of blood tests are conducted to monitor the progression of the pregnancy. If blood tests gradually come back positive, the hopeful mothers will have their first ultrasound
Page 1 of 2 pages for this story 1 2 >
Most Recent Comment(s):