Getting Hyper
Jason Ulep (left) of Waipahu's Hypersquad dance studio, is proud of brother Josh, whose team is competing on MTV's America's Best Dance Crew.

Wednesday - February 24, 2010
By
.(JavaScript must be enabled to view this email address)
E-mail this story | Print this page | Archive | RSS
|

Del.icio.us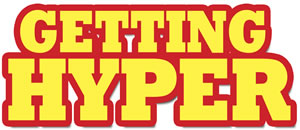 Proving that the third time's the charm and destined to share Hawaii's thriving hip-hop scene with the rest of the nation, Hype 5-0 has finally - after three attempts - made it onto the season five roster of MTV's hit show Randy Jackson Presents: America's Best Dance Crew (ABDC), which airs Thursday nights. The best dance crews from the East, West and South regions battle it out each week on the dance floor for the chance to win $100,000 and the title "America's Best Dance Crew."
And Josh "Hazmat" Ulep, Jonathan "Ramones" Ramones, Brittnie Aguilar, William "Nessy" Soares III, Marc "Dueynutz" Duey, Allen "Brain" Pascual and Casey "Kckay" Kalahiki are a force to be reckoned with.
"We're super excited and really, really proud of them. They've been working so hard," says Jason Ulep, owner and founder of Hypersquad Dance Company and older brother to Josh. "They actually auditioned twice for the show - in seasons three and four - and got to the final cut twice. This year they finally made it, which is amazing," he says, admitting that the crew wasn't going to audition this year because of traveling expenses, but then changed their minds at the last minute.
Each Hype 5-0 member gained much of their training and technique from Hypersquad Dance Company in Waipahu and, according to Ulep, have turned what was once a hobby into a bright, successful future and a reality they had only dreamed about.
"Making it on ABDC is definitely a milestone for Hypersquad, putting not just themselves (Hype 5-0) on the map, but it also puts Hawaii on the map," says Jason, who opened Hypersquad Dance Company in 1996 with former business partner Gerald Bolosan Jr.
"I think a lot of people stereotype us when they think about Hawaii - grass hula skirts and coconut bras. So to be able to show that we have a bigger dance scene and hip-hop culture on a national level is really huge for us," he adds. "I think this is one of the best things that will come out of this experience."
Auditions for the show were held late last year in six cities: Atlanta, Houston, Denver, Los Angeles, Boston and New York. For the first time, audition call-backs were held the day after auditions, with evaluations by the TV show judges and members of previous ABDC winning crews. The first three episodes of the season featured auditions from each region with each crew battling for a spot on the show.
Hype 5-0 first auditioned in L.A. and appeared in episode three. After performing to a song of their choice, along with four other Western regional crews, they found themselves in the bottom three and up for elimination. Hype 5-0, The Blended Projekt and BreakEFX danced in a 30-second battle, each to a mastermix of Shockdown by Black Eyed Peas for a chance to continue on in the competition. Fortunately for Hype 5-0, Blended Projekt and BreakEFX were the third and last set of crews to be sent home.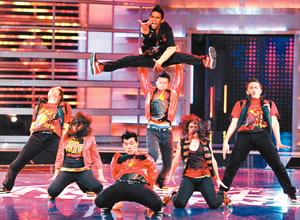 Members of Hype 5-0 (front, from left) Allen-Charles Pascual, Brittnie Aguilar, Josh Ulep, Casey Kalahiki, William Soares III, (back) Marc Duey (standing) and Jonathan
"It was overwhelming," Jason says, looking back on that day. "Two hundred people came out to the Hypersquad studio to watch the show on our big projector screen.
"We thought they should-n't have been in the bottom three, but I think it worked to their advantage actually - the U.S. was able to see Hype 5-0 dance twice and that allowed them to gain more fans," he says. "Being in the bottom three gives them that extra fire to work harder. They're just really proud to have made it past that round."
Hype 5-0 will call L.A. home for their duration in the competition, and Jason is certain their unique style and talent will stand out from the rest. All seven of them serve as choreographers for Hypersquad, and all have been dancing with the company for at least three years.
Born and raised in Waialua, Josh Ulep is 23 years old and attended Mililani High School, Talent Unlimited High School in New York City and Myron B. Thompson Academy. "Josh is probably the most experienced of the crew, he's been dancing for 14 years now," Jason says. "Josh is the main choreographer for the group, but collectively they all have their say and share their ideas."
A graduate of Mililani High, Aguilar is 18 and is currently on hiatus attending UH-Manoa. Kalahiki, 23, is pursuing her bachelor's degree in business marketing at UH-Manoa.
"The two girls, Casey and Brittnie, of course they bring the sex appeal, and for the most part, I think when you have females dancing with guys, the guys tend to be overpowering," Jason says. "But in Brittnie and Casey's case, they're very, very powerful, so they won't have any problems."
A self-proclaimed engineer by day and hip-hop dancer by night, Pascual, 26, graduated from Campbell High and the UH College of Engineering. Soares, 19, is a proud alumnus of Aiea High, and Ramones, also 19, recently graduated from Waipahu High.
"Allen is more of the father figure in Hype 5-0. He's very intelligent, that's why his nickname is 'Brain,'" Jason says.
"Will and Jon are so explosive and creative.
They're amazing dancers, too. As for Duey, he's a converted break dancer and offers the group the b-boy tricks and all of that." Duey, 21, graduated from Kapolei High.
Hype 5-0's passion for dance is evident, and Jason says that many of them sacrificed much to take ABDC by storm, including passing up college scholarships and missing high school graduation.
"The important thing for them is that this is a journey that all of them are on together, and they wanted to do it together as a group," Jason says with a smile. "They're like a family. They basically gave up everything they knew to accomplish this dream, and they did it!"
The crew itself has devoted countless hours on the Internet, studying crews from the Mainland and even revamped their look when they were once knocked for having "baby faces." Yet, they will never let their immense Island pride fall to the wayside. Jason explains that in all routines Hype 5-0 will be sure to incorporate moves that are significant to Hawaii.
"Being that we're so far away (from mainland styles) is huge and they stand out - they have their own unique style," Jason says. "They're really proud to be from Hawaii, and they come in with that typical aloha spirit, with open arms.
"They feed off the words 'The Hype,'and they bring a lot of intensity to their dancing, and they like to add their little twists that they have - the little shakas and movements that are unique to Hawaii," Jason adds. "It's not the hula, but the arm gestures in a hip-hop move might relate to the hula, and people will be able to see the connection."
Each week the crews are given a new challenge with new music, and it's up to them to put together a routine to impress judges JC Chasez, Lil Mama and Omarion; guest judges Missy Elliot and crew members of past ABDC champions, as well as viewers across the nation. Extra's Mario Lopez serves as host, and Layla Kayleigh is co-host and provides backstage insights.
Jason has supported his brother Josh and the rest of Hype 5-0 since the very beginning, always there to lend a hand and give them the guidance and direction they needed. And it's always been Jason's dream to open a premier dance studio in Hawaii, teaching younger generations how to express themselves through dance.
"Over the 14 years that Hypersquad has been around we've been established by our strength, and I think we are Hawaii's premier street/hip-hop company," Jason says. "People know us for that, and we've been recognized nationally and internationally for it as well."
It's been a long journey for this local boy, who started dancing in 1989,
Page 1 of 2 pages for this story 1 2 >
Most Recent Comment(s):