CALLED TO DUTY
Work is a big game for Kaimuki High grad Jeremy Dunn, the 'motion capture' actor for the video game 'Call of Duty: Black Ops.' Here he gives MidWeek an exclusive look at his job
Wednesday - November 17, 2010
By
.(JavaScript must be enabled to view this email address)
E-mail this story | Print this page | Archive | RSS
|

Del.icio.us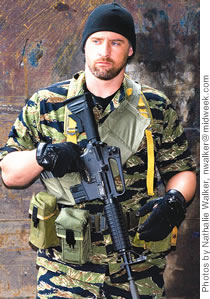 Equipment and gear provided by Impact Games, impactgamesairsoft.com
Hawaii native Jeremy Dunn is the 'motion capture' actor who creates many of the moves in some of the world's biggest video games
Millions of gamers were called to duty when the highly anticipated Call of Duty: Black Ops video game launched last week.
Many pre-ordered their copy months ago, and thousands of retail outlets even opened their doors at midnight to deliver the first copies.
According to Activision Publishing, Call of Duty: Black Ops became the biggest entertainment launch ever with an estimated sell-through of approximately $360 million in North America and the United Kingdom alone in the first 24 hours of its Nov. 9 release. That's about 5.6 million copies.
The wait is finally over, but the hype continues. And for local boy Jeremy Dunn, it means another block-buster title on his resume. Dunn is one of the main motion-capture actors in the game, meaning he's the guy the player sees and controls.
"In Black Ops I do voice and I also did a lot of scenes as the player, which means where you're looking I had to look because the camera is around my head," he explains. "I also did a lot of the motions of the people you're seeing, so the gun drawing, the rolls, the scaling of mountains."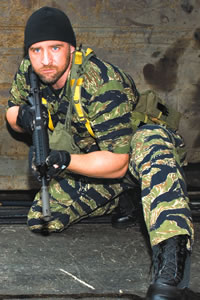 Equipment and gear provided by Impact Games, impactgamesairsoft.com
Call of Duty: Black Ops is the seventh main installment of the Call of Duty series developed by Treyarch and published by Activision. The game, which is rated M (Mature) for blood, drug reference, intense violence and language, takes players to conflicts around the globe, as elite Black Ops forces fight in "deniable" operations and secret wars that occurred under the veil of the Cold War.
"Black Ops is going to be absolutely the most amazing game you've ever played because the technology that was put into it is second to none," says Dunn, 31. "And one thing I like about it is if you're a Modern Warfare fan, you have a little more modern weapons. I personally liked World at War because it was more gritty. The guns, everything is a little more nasty. Black Ops has both because that's when the technology shift was coming."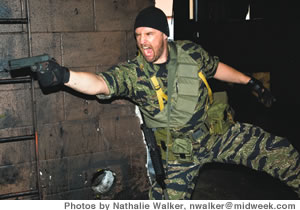 Equipment and gear provided by Impact Games, impactgamesairsoft.com
Dunn also appeared as a motion capture actor in Call of Duty: World at War, which was released in 2008 with millions of copies sold, and also was photographed for the game cover, which later appeared on the cover of XBOX 360 magazine. In 2009, Call of Duty: Modern Warfare2 was released, and approximately 4.7 million copies were sold on its first day of release.
Those who aren't familiar with video games should know that the Call of Duty franchise is a big deal. Dunn credits the phenomenal success of these video games to the graphics, the story line and the realism it brings.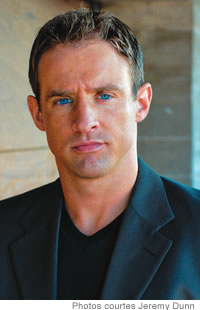 Jeremy Dunn without the beard
"One thing I love is that Call of Duty also integrates history," he adds. "I actually learned more from World at War than I learned in school, history wise.
"Also, when I play I've heard people say things like, dude, I totally respect soldiers. You don't have a second chance in real life, but you get killed in a game and you come back.
"So, I think people like it because it puts them in the action but in the safety of their own home. However, it's important for them to know this is very real. There are real battles out there and real enemies, and we need to respect our soldiers.
"All the guns I use are fake. These guys use the real guns. They're the real stunt-men. I'm just Hollywood."
Dunn started his motion capture acting career in 2002 and has since appeared in a long list of
Page 1 of 2 pages for this story 1 2 >
Most Recent Comment(s):