Out of the Shadows
In an exclusive interview with 'MidWeek', Joanne Takasato reveals the dark and dangerous facts of life on the streets as an HPD undercover police officer

Wednesday - September 22, 2010
By
.(JavaScript must be enabled to view this email address)
E-mail this story | Print this page | Archive | RSS
|

Del.icio.us

In 'In Search of Truth And Honor,' Honolulu's first undercover female police officer reveals the dark story of her dangerous life on the streets
Every belief I had was challenged Every prejudice I had was confronted Until I was left with nothing Until I had lost my identity and myself. - Afterword. In Search of Truth and Honor.
"What you want?" the deep, irritated voice demanded.
"I just wanted to pick up some cocaine," she whispered, feeling guilty for asking.
Thus began a journey into darkness that Joanne Takasato would take as Honolulu's first undercover female police officer.
It is a dramatic, solitary journey to the abyss of narcotics enforcement, where a resolute individual's conscience and commitment to duty are strained to the limit. In that nefarious realm that few know or experience, Takasato - known to friends as JoJo - created a pathway for women into the previously all-male field of police and undercover (UC) work.
In a self-published book titled In Search of Truth and Honor, Takasato recounts beginning her job "without any training, guidelines or rules of conduct."
"I was literally plucked out of the comfortable routine of my life and dropped off on a dark street corner in an unfamiliar world with no badge, no gun and no identification," she writes.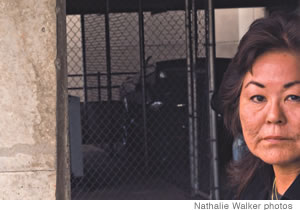 To go undercover, Joanne Takasato had to cut ties with friends and trust no one
"In order to accomplish the assignment, I became everything I did not want to be and lived a lifestyle contrary to the commandments of truth and honor. I was forced to sever all familial ties and friendships and then figure how to create a new identity and lifestyle that would grant me acceptance and keep me undetected as an under-cover officer," she states. "New friendships were sanctioned only for the purpose of betraying them with arrest and prosecution."
Sound like a movie script? Well it could be, and avaricious filmmakers would love the rights to Takasato's story. It's got the drama and intrigue of those TV cop series and mafia movies. All it lacks is a Lalo Schifrin sound-track.
While her powerful story might hit the big screen someday, it is far from Takasato's modest intent. Her 394-page book, released this year, is not widely distributed and finds its way to readers largely through word-of-mouth referral and online marketing.
Naturally, those in the law-enforcement profession know about the riveting personal journal. It also is a must-read for those pursuing police careers. Although all names in the book are changed, except those in the epilogue, those associated with Takasato's 27-year police career know the characters' true identities.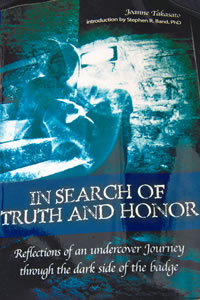 Takasato's self-published book
Also local restaurants, bars and neighborhoods where Takasato made drug deals are likely recognizable by the descriptions of her round-the-clock nefarious activity. Part of the reader's engagement in her story is figuring out where the illegal activity took place: a Kaimuki grocery store, a Waikiki disco, a Makiki condo building, a Moiliili game room.
It will surprise (and upset) you that drug trafficking is not as covert and under-handed as one thinks. Hawaii's largest underworld industry happens in public areas where normal life and entertainment take place and at all socio-economic levels. But that's another story.
Among the main characters is Takasato's supervisor named "Detective Stanley," a bigoted blowhard who earns the designation of SOB almost from the getgo.
It was Takasato's role to obediently wait for his calls, make drug buys and bring the money and goods to him after the pickup.
In the process, she was never to ask questions, had to cut ties with all friends and could trust no one, especially family and other policemen. Takasato often went alone on her assignments, without the benefit of backup and radio contact.
Her story takes place starting in 1979 when marijuana, cocaine and Quaaludes were the recreational drugs of choice. The detective learned to refer to them by their street names, such as joy sticks, cocoa puffs, candy cane and lemmons.
But learning the terminology was the least of her training, which actually was none in those early days.
Stanley alone was supposedly responsible for his UC agent's safety, life and success. Takasato despised him but followed his orders with the soul of a loyal samurai.
Asked if Stanley, who was so despicable and abusive in her story, is still around, she reveals that he is quite prominent and successful in the field of inves-
Page 1 of 2 pages for this story 1 2 >
Most Recent Comment(s):