You Gotta Have Rhythm
Musical icon John Koko passed out on stage and might have died but for fast-acting fans who knew CPR. He and the doctor who brought him back, Joana Magno, and the one who cares for him Kevin Kwaku, want more folks to learn the life-saving skill

Wednesday - November 23, 2011
By
.(JavaScript must be enabled to view this email address)
E-mail this story | Print this page | Archive | RSS
|

Del.icio.us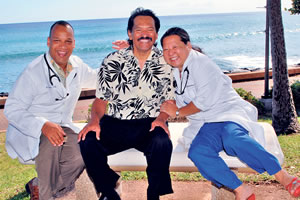 John Koko of the Makaha Sons with doctors Kevin Kwaku and Joana Magno. Nathalie Walker photo.

.(JavaScript must be enabled to view this email address)
John Koko and the doctors who saved his life talk about his heart condition, and the need to have more people trained in CPR
On Dec. 18, almost two years ago, the day started off like any other for the Makaha Sons. Moon Kauakahi and brothers John and Jerome had just completed a gig at Chai's Island Bistro.
But then John sat down, feeling a bit lightheaded and short of breath. Someone handed him water, "John, you don't look too great."
"That's the last thing I remember," says John Koko. "I simply blacked out on stage, and when I woke up I was in Queen's hospital. My brother Jerome and son Shadow said it was a scary moment for everyone at the show."
The Makaha Sons, a mainstay of Hawaiian music, have faced their share of medical emergencies. It's been a couple decades now since the Makaha Sons lost that great pillar of Hawaiian music and original member of the band Israel Kamakawiwo'ole, as well as his older brother and fellow band member Skippy, both because of health issues.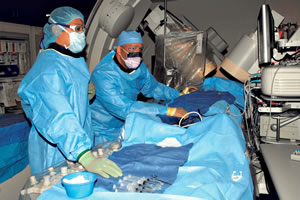 Dr. Kevin Kwaku (right) conducts a ventricular tachycardia radio frequency ablation on a patient using Carto 3-D mapping, with the assistance of Travis Fernandez, RT. Nathalie Walker photo
Now John, at 49, had suffered cardiac arrest onstage, the result of an already weak heart and a rough year for the family. In just a few short months, he and Jerome had witnessed the passing of their mother, father and several siblings. On John's fateful December day, Dr. Hans Odsen and CPR-trained health care responder Peggy Marcus happened to be on hand, quickly providing CPR until the EMS team arrived.
Thankful for his life, John is eager to see cardiopulmonary resuscitation become common knowledge in every household. His hope is for all intermediate and high school children to learn it in classrooms. When the issue hit home for his own children, they signed on right away to take CPR classes.
Statistics on cardiac arrest from the American Heart Association (AmericanHeart.org) are bleak: Less than 8 percent of the 300,000
Page 1 of 2 pages for this story 1 2 >
Most Recent Comment(s):