Hawaii's Best and Brightest
A high school quiz show premiering this week on KFVE focuses on academic matters, and those who've been at tapings say they're very impressed with the kids' smarts. Sample question: Who was America's first vice president and second president?
Wednesday - January 11, 2012
By Chad Pata
E-mail this story | Print this page | Archive | RSS
|

Del.icio.us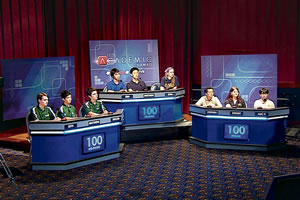 Team Mid-Pacific, Punahou and Mililani. Photo courtesy Hawaii News Now
After decades of promoting the youths of Hawaii's physical accomplishments on the fields of play, KFVE (K5) is making a move to showcase their mental prowess by introducing to the Islands It's Academic, the world's longest-running television quiz show.
There are 27 schools from across the state competing for the title of champion, with three schools battling on each show. Each school has three contestants, all working as a team, with questions on subjects varying from history to math to current events. They have a buzzer similar to what you would find on Jeopardy!, and the winner of each episode moves on while the other two schools are eliminated.
For John Fink, a one-time alternate on the show and longtime general manager of K5, the time has come to show that Hawaii's youths are skilled in something other than scoring touchdowns.
"We love recognizing sports here," says Fink. "We think there is a great sport out there called the brain we think there is a great sport out there with people who use their brain, and we think this is a great opportunity to show these kids shining in their field of excellence."
The show has a rich history in America. It's based in Washington, D.C., and is celebrating its 51st season this year. It has been produced in almost all of the country's biggest cities through the years, including New York, Los Angeles and Chicago. Now add Honolulu to that list.
Secretary of State Hillary Clinton, New York Sen. Charles Schumer and political pundit George Stephanopoulos are alumni of It's Academic. Even Oscar winner Sandra Bullock was involved in it, though she served as a cheerleader for her school's team.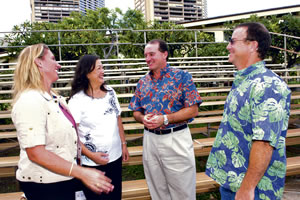 It's Academic Hawaii coaches left to right Michelle Hastings (Iolani), Lori Ezaki Chun (Kaimuki), KFVE Vice president and general manager John Fink and Puhi Adams (Anuenue) are discussing It's Academic procedures. Nathalie Walker photo.

.(JavaScript must be enabled to view this email address)
Thanks to the show's consistent excellence, Fink found that the process of getting the often languid government bodies to approve his efforts was remarkably painless.
"It was an incredibly quick process," he says. "All the time you hear about the length of time it takes to get things done, but the DOE and the superintendent were really supportive."
This season, It's Academic is featuring 14 public and 13 private schools, and hopes to double the participants next season. Fink knows what the public is thinking about when it comes to clubhouse favorites.
"I know a lot of people, when they hear about this, are going to say 'Oh, we know who is going to be in the finals,'" says Fink. "But you would be surprised. There are some really bright, talented, well-versed kids who know the full spectrum here."
One of those surprising teams comes in the form of students from Kaua'i High School, whose flight over for the competition was actually delayed by Air Force One's now annual shutdown of Honolulu International.
"By the time we got to the show, all the other kids were on stage with their makeup done and the lights on. It made them real nervous," says Kaua'i High team adviser Tahara'a Stein. "But it was such a cool experience. Our kids did stellar, so much better than any of us expected. It was like a reality show for us."
Each school can select its own players for its team, and Kaua'i did so in an unusual way. They sought the advice of their top senior, Travis Navarro, who as team captain opted to
Page 1 of 2 pages for this story 1 2 >
Most Recent Comment(s):