Hawaii Schools' Best Friend
With the state unwilling or unable to give public schools the most basic supplies and equipment, Kathie Wells and Community Helping Schools step in and give teachers what they need

Wednesday - June 16, 2010
By
.(JavaScript must be enabled to view this email address)
E-mail this story | Print this page | Archive | RSS
|

Del.icio.us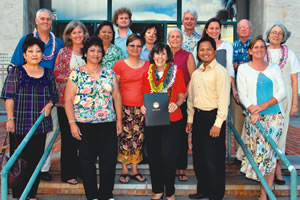 Kathie Wells shares the motto for her cause with Windward fourth-graders Kainoa Entendencia (left) and Bella Hackworth
For public schools on Kathie Wells' radar, it can be Christmas every day, and everyone feels good about it
With uncommon zeal and attention to detail, a little group with a long name has redefined the word "community" over the past decade, bringing a mountain of tools to hundreds of teachers who toil in those underfunded, neglected classrooms we hear so much about at election time.
Run by a diminutive Realtor and grandmother, Community Helping Schools is on a roll this year with a new Web site, a boost in volunteers, a media blitz and numerous awards. But Kathie Wells' simple recipe remains firmly in place: Find out what teachers need, get it, deliver it, say thank you - and involve at least a dozen folks each time.
"It's an ohana where everyone does a little bit and it just comes together," Wells says. Those "little bits" are numerous, varied and useful. "These items make a difference in how the teachers teach."
Items like staplers, notebooks and computers are popular gifts, and they quickly add up in value. The mother of three successful Hawaii public school graduates, Wells calculates that her network has matched happy teachers and students with nearly a half-million dollars' worth of tax-deductible classroom supplies and usable furnishings since it began in 2000.
That's when Wells made the dismal discovery (from local news articles) that public schools have appallingly few resources, tools or funds to educate our future leaders, and no one seemed that upset about it. She got upset - and got going - by matching the have-too-muches with the have-too-littles. Her first score was band instruments for three Windward schools. (A serious bout with cancer sidelined the cause for a year, but Wells says it gave her more time to think about CHS!)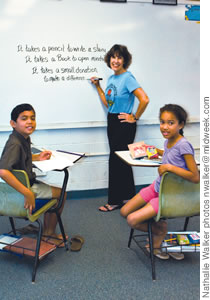 Community Helping Schools board members and volunteers prepare to be honored by the BOE: (front, from left) June Kawamura, Rosey Potts, Wendie Liu, Kathie Wells, Kelly Veniegas and Pat Gardner; (back) Stephen Wilson, Lynn Wells, Val D'Amato, Erik Trom, Sandra Sakuma, Judi Bush, Gino Gabrio, Ashley Seeger, Alan Bush and
These days she just tries to keep pace with the movement she launched. For starters, Ad2 Honolulu, a group of young advertising pros, picked CHS for its 2010 pro bono marketing project, bringing in wide exposure and the youthful enthusiasm of its members.
After tracking its story on Twitter, the state Board of Education lauded CHS June 3, and the state Senate cited it for "shining a beacon of light for all to follow."
"There are so many who have donated items they've held onto for sentimental reasons," explains match-maker Wells, who pours as much energy into CHS as she does into her real estate career. "They read about the schools' needs and then decide to 'let go' because a child can use it and benefit." Golf clubs, a table saw, clarinet, accordion and pool table are welcome gifts that come to mind.
The CHS network also has perfected the art of efficient recycling. For example, Mark Pillori, Wells' colleague at Coldwell Banker Pacific Properties in Kailua, sold a condo with a forlorn piano still inside it. "The seller told me, 'Do whatever,'" he recalls, "so I called Kathie right away. She calls back and says there's this music teacher at Waipahu High who's just waiting for a piano so she can teach her students. We got Two Guys and a Truck to deliver it to the high school."
Richard Shimmon says he started Two Guys and a Truck by helping Coldwell Banker move stuff off their properties, so Wells and other agents send business his way. Now they help out each other: Shimmon delivers pianos, bulky desks and pingpong tables to schools for free when he has time, and he alerts CHS to treasures he spots that are headed for the landfill. "I pay a fee at the dump," he says, "so Kathie saves me money, and the schools can use the stuff."
Another reliable mover of CHS pianos and refrigerators is Eric Wurlitzer.
The list of win-wins goes on. When Hardware Hawaii switched paint brands in 2002, it gave a huge inventory of paint to CHS, plus a tinting machine and free labor. Then Kevin Andrews offered warehouse space in Waimanalo. It added up to
Page 1 of 2 pages for this story 1 2 >
Most Recent Comment(s):