Kathy Ireland From Model to Mogul
The former supermodel owns two homes in Honolulu, and is using one to benefit Toys For Tots
Wednesday - December 15, 2010
By
.(JavaScript must be enabled to view this email address)
E-mail this story | Print this page | Archive | RSS
|

Del.icio.us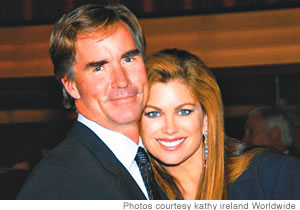 Kathy Ireland with husband Dr. Greg Olsen, an ER physician and commercial fisherman
Former swimsuit super-model Kathy Ireland has traded in her bikini for a billion-dollar business empire, including offices in Hawaii.
"At Kathy Ireland Worldwide, the mission is finding solutions for families, especially busy moms," says Ireland, 47. "And that mission has been expanded to finding solutions for people in love with our bridal business. Serving brides is a great joy and it's something we get do a lot in Hawaii."
Founded in 1993, Kathy Ireland Worldwide offers more than 45,000 products and services, including furniture, flooring, decorative surfaces, lighting and accessories, window treatments, replacement windows, bedding, candles, hand-painted fine porcelain, decorative shelving, apparel, fresh-cut flowers, skincare for men and women, wall coverings, ceiling fans, mattresses, totes, handbags, travel bags, frames, wall decor, clocks, Design It Yourself jewelry and craft supplies, kitchen and bath cabinetry, fine jewelry, wigs and hair extensions, real estate, vacation events, wedding program licenses, music and film licenses, publishing, greeting cards, and the list goes on.
Ireland serves as CEO and chief designer of the company, but is quick to credit her team of experts and employees, whom she calls family, for its success.
Forbes magazine reported Kathy Ireland Worldwide is a design empire that grosses more than $1.4 billion annually in retail sales. Forbes.com named her one of the 20 best-branded women on Twitter. And 2010 License! Global magazine ranked kKathy Ireland Worldwide the 28th most powerfully licensed brand globally.
"The brand bears my name, but it's the result of thousands of hours of work performed by many, many people around the world," she says. "For each of the products we design and market, we have four promises: fashion, quality, value and safety."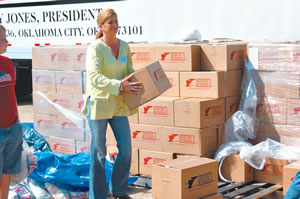 Community service is a big part of Ireland's life
Aside from her entrepreneurial success, Ireland also is a mother of three (16-year-old Erik, 12-year-old Lily and 7-year-old Chloe), the author of six books and a strong advocate for community service.
In Hawaii, one of her two homes is being used as a collection site for Toys for Tots. To donate, drop off a new, unwrapped toy at 5797 Kalanianaole Hwy. in Niu Valley through Saturday, Dec. 18.
Toys for Tots is a Marine Corps Reserve program that focuses on giving back to needy children in the community. Every dollar and every toy collected in Hawaii stays in Hawaii, and the Salvation Army assists with distribution.
Anyone who donates a toy at Ireland's home will have their name put into a drawing for a one-night stay at the beautiful East Oahu beach-front estate Feb. 18.
Drop off a gift for Toys for Tots and you could win a night at Ireland's Beachfront Oasis in Niu Valley
Called Beachfront Oasis, the three-bedroom, three-bath home features an indoor pool and was previously owned by John Travolta and Kelly Preston. For more information, call Thomas Meharey at 722-1967.
Ireland's other Oahu estate, called Oceanfront Oasis, is described as a two-story, seven-bedroom majestic oceanfront retreat.
"Our family has been so blessed to spend so much time in Hawaii," says Ireland, who's here a few times a year. "When we're in Hawaii, I love to surf. I'm not very good, so I go to the mellow places.
"I love Oahu. I think it's just so diverse. Our kids love it. We enjoy the beach, snorkeling, diving, just being out there in nature. It's just
Page 1 of 2 pages for this story 1 2 >
Most Recent Comment(s):