Don Ho's Little Girl Grows Up
The eighth of the legendary singer's 10 children, Kea Ho grew up on stage singing and dancing with Dad. Now she's in the spotlight as an actress, singer, model and swimsuit designer.
Wednesday - September 28, 2011
By
.(JavaScript must be enabled to view this email address)
E-mail this story | Print this page | Archive | RSS
|

Del.icio.us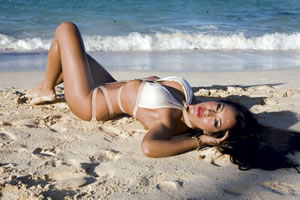 On this page, Kea Ho models swimsuits from her new bikini line Lovechilde. Each suit is named after a song, at left is Baby's on Fire and below is Got to Have Kaya which was designed with the Hawaii girl in mind. Leah Friel photo
She grew up on stage with her famous dad, and now it's Kea Ho's turn for the spotlight
There's a lot more to Kea Ho than a pretty face with a sultry look and a sizzling body.
Daughter of Hawaiian music legend Don Ho, this local beauty with ultra-exotic features and an undeniable sex appeal opens up to MidWeek in an exclusive interview about her childhood, Hollywood and her newest endeavor: Lovechilde, a high-fashion, sexy swimsuit line.
Ho, who has appeared in TV shows such as Entourage, Melrose Place, Lie to Me and Miami Medical, and featured in Maxim as well as a non-nude full-page spread in Playboy, also is working on an electro pop album and is a busy socialite hosting various parties in Los Angeles, including charity events at the famed Playboy Mansion.
"(Being thought of as a sex symbol) I find it empowering, because as a woman I feel it's important to be strong and independent, and I think your sexuality is part of that," says Ho. "I was raised to believe I can do anything. I'm more of a liberal thinker. I have no problem with artistic nudity, but I definitely don't like if people only see that because there's so much more to me, as there is to other women who are looked at as sex symbols. It is part of who you are, but I just want people to know the other things about me as well, like everything else I have going on."
Ho is the eighth of Don Ho's 10 children, and attended Waiokeola Preschool, Waikiki Elementary and La Pietra-Hawaii School for Girls. Her mother Elizabeth Guevara met Don while on vacation from California and later became a dancer for his Waikiki show. The six older siblings are from her father's first marriage to Melva Ho and lived in Lanikai. Then there was Hoku (with Patti Swallie), Kea, Kaimana (also with Swallie) and Kealii (with Guevara). The mixed ohana all lived together in a Diamond Head home.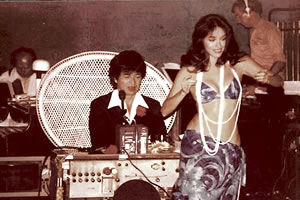 Kea's mother Elizabeth dances in Don Ho's show
"I grew up when my dad was performing at the Hilton Hawaiian Village (in the 1980s) and he basically had us on stage since we could walk," says Ho. "We were like a troupe of dancers running around backstage. We all had a hula we'd perform and a little comedy routine. We'd sing a little bit. It was an amazing childhood.
"One of my dad's things was this idea of work ethic, where we had to be a part of the family business our whole life no matter what it was. He either had us performing or working in the office or producing the show. Everyone was involved. My older brother Donnie did lights for him for a long time. All my older brothers and sisters performed with him before I was even around."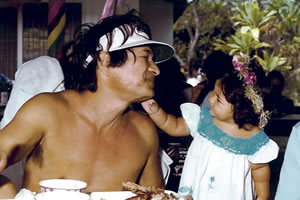 Kea celebrates her first birthday
With an interest in fashion, Ho left the island after high school to attend the Fashion Institute of Design and Merchandising in Los Angeles, where she still lives. She also spends some time in New York but calls Hawaii home, flying back every couple of months. But on her most recent trip here this past summer, she admits to not being back for about two years.
"I miss the beaches, my family, having my siblings around," she says. "I miss being at our home at Diamond Head. We had such amazing times there. Also at Lanikai. Our family was very close. We'd always have get-togethers, barbecues. I miss all of that.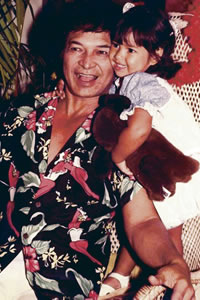 Two other shots with Dad. Photos courtesy Kea Ho
"But since my dad passed away, it's been difficult for me to be (in Hawaii) because it reminds me so much of him. We were the two closest people in the world. I was a total daddy's girl."
Ho can't help but tear up as she reminisces on their time together snuggling in bed channel surfing, going out to eat after the show, their talks about life, family dinners, sitting on stage with him while he held her hand and sang a song (the last one he sang to her before he passed away was Kuu Home O Kahaluu).
"He had a way of making you feel like you're the most beautiful girl in the world, his little baby princess," she says. "He'd come in to kiss my siblings and I goodnight every night even if he was coming in at 4 a.m. I would give him manicures and pedicures when he needed them (all the time). And his thoughtfulness even about the little things. He would leave me notes like, 'My beautiful Hawaiian princess, I fixed the toilet.'"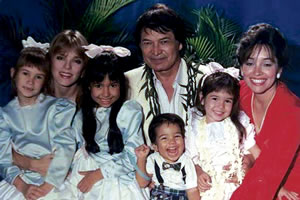 With siblings Hoku, Kealii and Kaimana, and their moms. Photos courtesy Kea Ho
She lists some of their favorite eateries together as Izakaya Nonbei, Akasaka, Ono's Hawaiian Food and 3660 on the Rise, among many others. After earning her degree in fashion design, Ho worked for the international trade publication WFM (World Fashion Magazine) reviewing couture and ready-to-wear fashion shows around the world.
"I lucked into this amazing job right out of fashion school and I did it for a couple of years, but I never actually ended up designing my own line, which is what I really wanted to do," she
Page 1 of 2 pages for this story 1 2 >
Most Recent Comment(s):