Taking It To The Streets
That's what celebrity newspaper sellers will be doing May 4, with a portion of Keiki Day sales of the Star-Advertiser benefitting Parents and Children Together programs for at-risk youths

Wednesday - April 27, 2011
By
.(JavaScript must be enabled to view this email address)
E-mail this story | Print this page | Archive | RSS
|

Del.icio.us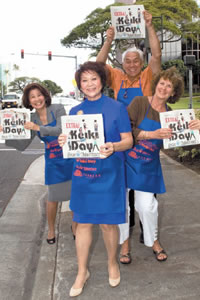 Michele Saito, Linda Wong, Danny Kaleikini and Ruthann Quitiquit show their support for Keiki Day. Nathalie Walker photo

.(JavaScript must be enabled to view this email address)
This day really is for the kids, and by purchasing special Keiki Day copies of the May 4 Star-Advertiser you'll be contributing to Parents and Children Together's successful programs for Hawaii's at-risk youths
You've definitely seen it, and the sheer liveliness of it worked its magic like a cup of coffee - that sudden pocket of ridiculously cheerful folks on a street corner, first thing in the morning, waving and smiling and practically jumping in the air. Political sign wavers these aren't - these folks seem genuinely thrilled and bursting with adrenaline as they wave newspapers splashed with the title "Keiki Day!"
The big day arrives again May 4, as it has for more than 20 years, and more than 1,000 volunteers will be on street corners across the island selling a special edition of the Honolulu Star-Advertiser. The event previously made headlines as Kids Day, but after the daily paper got a makeover, so did the special day for keiki and those with the keiki spirit.
Keiki Day is the most public program of its parent organization Parents and Children Together, which begins preparations more than six months in advance.
PACT comes up with a new theme each year and sends notices to public and private schools across the island so students can compete to get their creative writing, essays, poems and artwork into the special edition. Meanwhile, donations are sought from businesses and individuals to get some of the 40,000 copies that will be printed into schools to be used as part of the day's curriculum. The rest of the papers go into the hands of radio and television personalities, local entertainers, the mayor, corporate leaders, UH coaches and athletes, and the mass of volunteers who will take to the streets in support of Keiki Day.
Why does the community get so excited about this particular day?
"First of all, PACT is a great agency and the work we do is fantastic, so I hope that everyone supporting Keiki Day believes that too," says CEO and president Ruthann Quitiquit. But the bottom line is, "It's fun! (Businesses, political and celebrity supporters) get their names out there, they get to compete against each other and they add a little bit of flair to the campaign."
Getting in on the fun provides much needed support for PACT's various programs that cater to Hawaii's "at-risk" families. The dire circumstances of 20,000 individuals is what ultimately generates that sea of enthusiasm each year. Some are drawn to the cause because its mission has deep personal meaning.
The daily papers have been one of PACT's biggest supporters throughout the years and the Star-Advertiser continues to carry that torch. President and publisher Dennis Francis candidly explains why:
"The Honolulu Star-Advertiser is a strong supporter of PACT because I know the effect of growing up in a home with domestic violence. PACT's values, where they believe Hawaii's children deserve a peaceful and safe environment in which to grow, strikes a personal chord with me. PACT has over a dozen programs to assist both the family and the child grow and reach their full potential."
PACT has, indeed, been serving those in need since 1968, and today the organization conducts 16 programs to combat poverty, family violence, illiteracy, lack of job skills, abuse and mental health difficulties. PACT's programs benefit keiki of all ages, as well as their families.
On Keiki Day the special edition of the Star-Advertiser will be filled with information geared toward parents, teachers and children, including the winning entries of the annual Kid's Creativity Contest. Students in grades 1 through 12 have kept judges busy with nearly 1,000 submissions for this year's theme: "Keep It Green."
"There's so much now about 'green,' so we thought how about something to do with green?" says Quitiquit. "The teen centers at both Halawa and Kuhio Park Terrace
Page 1 of 2 pages for this story 1 2 >
Most Recent Comment(s):