The Queen of Fabulosity
Glamorous Kimora Lee Simmons brings her signature 'fabulosity' to Oahu this month to showcase her latest Phat Fashions and introduce her new affordable line, Kouture by Kimora, available exclusively at Macy's

Wednesday - August 04, 2010
By
.(JavaScript must be enabled to view this email address)
E-mail this story | Print this page | Archive | RSS
|

Del.icio.us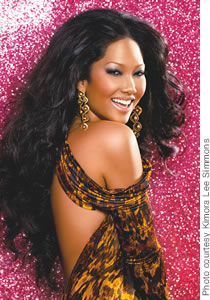 The fabulous Kimora Lee Simmons brings her Phat Fashions and infectious charm to Oahu this month, and it'll all be taped for her Style Network show 'Kimora: Life in the Fab Lane'
Mogul, model and mommy Kimora Lee Simmons injects a dose of fabulosity into Oahu this month with a runway show of the latest in Phat Fashions
Some people are so iconic, so fierce, so absolutely fabulous, no words can sum up their je ne se quois. That's when they get inventive and create a word all their own.
Enter fabulosity. "Fabulosity is the state of everything that is fabulous. It encompasses everything that expresses glamour, style, power and heart," says Kimora Lee Simmons, the woman behind the fashion label Baby Phat and the one who wrote the book on fabulosity - literally. Fabulosity: What it is and How to Get it empowers women to cultivate their inner goddess through independence, fearlessness and confidence, something Kimora knows everything about.
She's a mogul and businesswoman in charge of a multimillion-dollar company; a supermodel who has walked in shows for legendary fashion houses the world over; a philanthropist who gives back tenfold what she receives; a producer, TV personality and Tony Award-winner; and, most importantly, a mom to three beautiful children.
And on Aug. 21, Kimora will be bringing that fabulosity to Oahu with a full-on fashion show presented by Big Ben Entertainment of the Baby Phat fall collection and new sexy, fun and affordable line Kouture by Kimora, which can be found exclusively at Macy's. Female models will be accessorizing with Kimora Lee Simmons for Hello Kitty jewelry, and male models get the honor of donning the company's hot line of men's jewelry, available at Kay Jewelers.
"Hawaii has a special place in my heart," Kimora explains of the location choice for her fashion show, which usually is shown to sold-out crowds at New York Fashion Week.
"The people in Hawaii have always supported me, and I cannot wait to arrive and give them a great show."
Check that: A fabulous show.
"I want to show people how to dress and look great without breaking the bank," she says. "I have always worked to give the fans great, great fashion at affordable prices so they look and feel great.
"I want to bring fabulosity to the world, empowering women to live their best life, whatever that may be.
Fashion is my choice platform to express the concept of fabulosity."
But the larger-than-life cultural icon who seems to be on top of the world is quick to acknowledge it's a long, hard journey to the fab lane.
Kimora grew up in St. Louis, Mo., the daughter of a Japanese mother and black father. Her hapa looks made it hard to find a place on the playground - she wasn't considered "black enough" by the black kids, and there was nearly no Asian influence in her community.
By the age of 10, Kimora was a staggering 5 feet 10 inches tall, making her stand out even more.
"I did not have an easy time fitting in," the now 35-year-old recalls. "Many times I felt like an outcast, and being mixed, I was really teased for the way I looked."
To help boost her self-esteem, Kimora's mom, Joanne Perkins, enrolled her daughter in modeling classes when she was 11 years old. By the time Kimora turned 13, those same looks that had been the source of ridicule landed her a modeling contract with the House of Chanel. Iconic designer Karl Lagerfeld himself transformed Kimora into his muse and declared the teenager the "face of the 21st century."
Her face has since graced the covers and pages of numerous international fashion magazines, including Vogue, Elle and Harper's Bazaar. She also has walked the runways for Armani, Fendi and Yves St. Laurent, to name a few.
In fact, it was on the cat-walk that the first Baby Phat fashions were born.
Kimora married hip-hop music mogul Russell Simmons in 1996. (They separated in 2006.) Simmons had created a line of urban menswear called Phat Farm in 1992. For the label's 1999 runway show, Kimora had fitted T-shirts custom-made with the name "Baby Phat" scrolled across the front for the female models to wear. The tees were soon in such high demand by trendsetters all over the globe that the decision was made to launch a Baby Phat Women's Collection counterpart, with Kimora at the helm.
In 2007 Kimora became president and creative director of Phat Fashions, the umbrella company for Baby Phat, Phat Farm, KLS, Fabulosity, Baby Phat Girlz, Phat Farm Boys and XV. The hands-on mogul also is actively involved with all licensing deals and is a business partner in Simmons Jewelry Co., which partners with Sanrio to produce the
Page 1 of 2 pages for this story 1 2 >
Most Recent Comment(s):