The Wonders of Kualoa
One of the largest working cattle ranches on Oahu doubles as a fantastic natural movie set as well as an activities destination that offers adventure on land and on the water. In fact, Kualoa Ranch, which has been in John Morgan's family for 160 years, may be the coolest place on Oahu

Wednesday - July 28, 2010
By
.(JavaScript must be enabled to view this email address)
E-mail this story | Print this page | Archive | RSS
|

Del.icio.us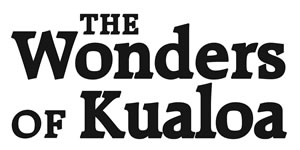 Celebrating its 160th anniversary, Kualoa Ranch offers fun activities in a fantastic natural setting
John Morgan is a wizard. He can take you to Fantasyland, Tomorrow-land and Adventureland without ever leaving Hawaii. In fact, he takes 400 to 500 people on this magical tour almost every day.
But unlike Disneyland, the destination is not a man-made amusement park with an artificial Matterhorn and cartoon characters who dance with you. No "imagineers" were hired to build mountains, create scenic valleys and make robotic animals that look real.
No, Morgan's world is a wondrous place in Windward Oahu built by the omnipotent force of nature and, some say, the Hawaiian demigods. It may be the coolest place on Oahu.
All it takes is a 30-minute drive on the H-1 and a turn on Route 83 to a wonderland called Kualoa Ranch. It's that private estate carved into the Koolau mountains, across from Chinaman's Hat, that you whip past so often without stopping.
But you should stop, if for no other reason than to marvel at the incredible natural beauty of this 4,000-acre site. It's eye candy for the soul.
Take in the majesty of the Kualoa cliffs, the sweeping landscape of Hakipu'u and Kaaawa valleys, and picturesque waters of Kaneohe Bay.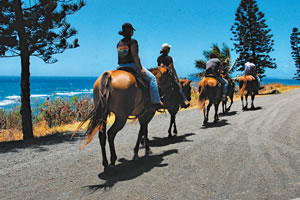 Horses are a big part of the allure at Kualoa, a working cattle ranch
Kualoa Ranch is totally accessible to the public. Yet Morgan claims it is one of Oahu's "best-kept secrets."
We trust that's a modest marketing distinction. If not, it's problematical, and more must be done to get the word out.
In the spirit of discovery, we make our first visit to Kualoa Ranch. Ironically, we leave from Judd Street, named after Morgan's great-great-great grandfather. (Coincidence?)
Crossing the Koolau is like having an E-ticket to Disneyland. New adventures wait on the other side. All the neuroses of city living dissipates as the lush vistas of Oahu's countryside loom ahead.
"Aloha. Entering Kualoa Ranch" the highway sign reads a mile from the entrance. The remnant of an old sugar mill is a beacon of welcome.
We park next to arriving tour buses and vans, and head to the visitor center. This is where we meet Morgan, Kualoa Ranch president and a sixth-generation descendant of the ranch's founder, Dr. Gerrit P. Judd.
We are anxious to chat with Morgan and reflect upon the ranch's 160th anniversary. But as a gracious host, he invites us to first experience the on-site activities.
Curious about historical and cultural background of the area, we choose the Legends and Legacy Tour through the Kualoa foothills and Movie Sites & Ranch Tour into Kaaawa Valley.
Other guests are led to the Hawaiian Fishpond & Garden Tour, Jungle Expedition, Ocean Voyaging, horseback riding (one- and two-hour rides with a paniolo guide), and All-Terrain Vehicle (ATV) tours. Tours are offered as single activities or bundled into half and full-day packages.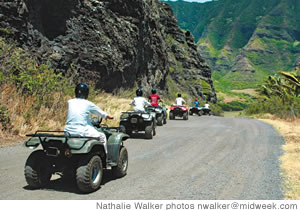 An ATV tour takes riders into seldom-seen valleys
Logistics are handled cordially and efficiently without encumbering long lines and crowd-control tactics. For that, credit goes to David Morgan, John's brother, who is ranch operations manager.
Halan Ah Quin, our Legends tour guide, shares stories of the ancient Hawaiian gods and folklore characters that once dwelt in this area. Articulate escort "Cowboy" narrates the Movie Tour, where we view filming sites of major productions such as Jurassic Park, Godzilla, 50 First Dates and Lost.
Along the way, one learns the history of this amazing place.
Kualoa means "long back" in Hawaiian. It is an apt description of the ranch, which is full of beautiful valleys, mountain peaks and three ancient ahupua'a sites.
In 1850, King Kamehameha III sold 622 acres of land in Kualoa and its offshore fishing rights to Judd, his personal adviser and missionary doctor. Judd's son later purchased additional acreage in Hakipu'u and Kaaawa, increasing the size of the estate to its current 4,000 acres. It is today owned and operated by the Morgan Family, Judd's descendants.
Kualoa Ranch is still a working cattle ranch, as it has been since the 1870s. Today, there are 300 cows - and seven lucky bulls - grazing on 1,500 acres of pasture. The herd is made up of Angus, Brangus and Hereford stock.
Agriculture has been an important part of Kualoa Ranch, especially when sug-arcane and pineapple flourished. Today, however, the emphasis is on tropical plants and flowers as well as a burgeoning aquaculture venture.
Although accounting for less than 5 percent of the ranch's economic activity, agriculture plays a vital role in sustaining the area's rural character and lifestyle. All-natural beef raised on the ranch is served at the on-site
Page 1 of 2 pages for this story 1 2 >
Most Recent Comment(s):