Revving up things at KITV
Lara Yamada is not your typical news anchor. Not because she rides a motorcycle and does taekwan do, but because she's an investigative reporter
Wednesday - April 07, 2010
By
.(JavaScript must be enabled to view this email address)
E-mail this story | Print this page | Archive | RSS
|

Del.icio.us

Paula Akana has a new sidekick on the Channel 4 anchor desk, and it's a very familiar face
After eight years on the Mainland, local girl Lara Yamada is returning home to join Paula Akana at the anchor desk of KITV4 Island Television News.
Yamada, a 37-year-old Kapaa High School (Kauai) graduate, says she always knew she wanted to come back to Hawaii but was just waiting for the right opportunity. This week, she's in Seattle wrapping up her reporting and anchoring duties for Q13 Fox News. At KITV4, starting April 26 she'll be co-anchoring the 6 and 10 p.m. news.
"The highlight of my career is coming back here, it really is," says Yamada, who was born and raised on the Garden Isle. "And I'm not just saying that because it's my new job and I want to make an impression. I feel like I earned the right to be here in that chair, in that spot."
Yamada attended the University of Hawaii for one year before transferring to the University of Oregon, where she earned a bachelor's degree in broadcast journalism.
Her first job was as a teleprompter operator at KEZI in Eugene. She then moved back to Hawaii and worked as a technical director, graphics operator and special projects producer at KITV for a few years before making the transition to news as an assignment editor and reporter at KGMB. There, she won two journalism awards for business reporting, and encountered her most interesting and memorable interviewee - Hunter S. Thompson, author of Fear and Loathing in Las Vegas and The Curse of Lono, who was in Hawaii covering the Honolulu Marathon.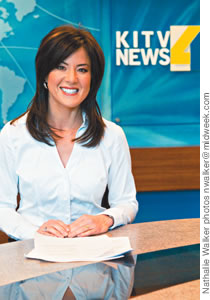 Lara Yamada is back home in the Islands after eight years on the Mainland
"I sat in his hotel room for maybe half an hour while he watched TV and ate his dinner," recalls Yamada. "He offered me some pot at one point and I said no, and then he just asked me some random questions. It was really bizarre.
"I think he was trying to see if he could fluster me. Finally, I did the interview and it was pretty cool."
She then went on to gain more experience as a reporter and anchor at ABC22 in Burlington, Vt. It was there that she got her "first real test on how to be a good investigative journalist" when she uncovered an FBI suspected terror cell in a small neighborhood in Montreal.
"It was a lot of work and I learned a lot from the whole experience," recalls Yamada. "It's a story I take a lot of pride in because it was kind of the turning point for me in that I realized, all right, this is serious stuff, but it's worth it."
Next, she went to Fox9 in Minneapolis, where she launched the station's two-hour weekend morning newscast, and continued to break major stories and investigative reports, including animal cruelty cases, a scam artist targeting senior citizens and a crooked moving company.
Paula Akana partners with Yamada for the 6 and 10 p.m. newscasts starting April 26
More recently, while at Q13 Fox News in Seattle, she received an Emmy nomination for her ongoing special series on Fort Lewis soldiers, From The Front Line.
Now, as the newest member of the KITV4 team, Yamada brings more than just another pretty face to TV. She's an anchor woman who genuinely cares about her work and the role she has in delivering the news.
"I always knew that I was going to come back. It was just, for me, growing up here, I needed to go away for awhile," explains Yamada, who is half Japanese, a quarter Irish and a quarter "mish-mash" Caucasian.
"I needed to explore and feel like I could work in an environment with anyone, and I think I knew that was going to give me the confidence to come back and be able to do the kind of job that I want to do here.
"I want to bring who I am with what I love about the Islands and what I've learned over the years about what's happening in the rest of the world, and what I've learned about telling stories that are of importance and mean something or make people feel something. I'm going to work as hard as I possibly can to make sure I uphold my standards for that. I want people to know that I value them."
In addition to joining the KITV4 team,Yamada is looking forward to the tasty food and outdoor activities Hawaii has to offer.
"The ahi stir-fry at Irifune, Okata Bento (in Kaimuki), and, of course, Roy's (brother Jason Peel is executive chef at Roy's Waikiki)," Yamada lists as some of her favorites. "Also, we used to live in Kaimuki, so we used to go to Big City Diner all the time. And the sushi bar at (select) Zippy's is incredible."
As a senior in high school, Yamada received a five-letter jacket for her participation in cross country, track, soccer, volleyball and softball.
After college, she took up tae kwon do, earned a brown belt, and has been practicing off and on for the last 10 years. She names Master Dae Sung Lee at the U.S. Tae Kwon Do Center (which has since relocated from Aina Haina to Niu Valley) as her first instructor and is hoping to return to that same school when she's here.
She also enjoys hiking and trail running, and says her favorite trail is the Kuliouou Ridge trail.
And then there's her Kawasaki Ninja 250 sport bike. "You can blame my husband,Anthony," explains Yamada. "He's a motorcycle guy and he tried to get me into dirt biking for awhile, which I may end up trying.
"But when we were up in Seattle he got into street bike riding and he was like, 'All right, do you want to try this or not?' So, I said yes, and I took a motorcycle safety class and I loved it.
"This summer we took our bikes to Sun Valley, Idaho, and went riding and hiking all over Redfish Lake and the Sawtooth Mountains, and it was so much fun. I highly recommend it to anyone in the
Page 1 of 2 pages for this story 1 2 >
Most Recent Comment(s):