Lex Brodie's Still Rolls Along
Twenty years after Lex Brodie sold his eponymous tire stores, president Scott Williams and staff are working, to borrow a phrase, untiringly to continue Lex's legacy, while winning a remarkable array of awards along the road. Pictured from left to right: John Kelly, VP of operations; president Scott Williams and Keith Kobayashi, VP of mechanical services

Wednesday - July 27, 2011
By
.(JavaScript must be enabled to view this email address)
E-mail this story | Print this page | Archive | RSS
|

Del.icio.us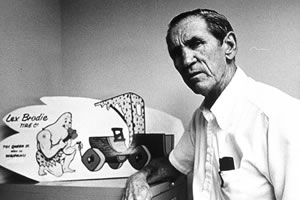 Lex with the original Little Joe sign he bought for $25 on the Mainland and adapted
By STEVE MURRAY
Lex Brodie's celebrates 50 years in business this year, and the company still has great traction with motorists
Lex Brodie hasn't been involved with Lex Brodie's for 20 years, but his larger-than-life image continues to be the driving force behind the business he founded five decades ago. To the public, Brodie was the plainspoken tire salesman whose matter-of-fact TV commercials made him a person of trust for his customers. To those who worked for him, Brodie was a tough businessman who watched every penny, used his degree in statistics to track the effort of every employee and had no tolerance for anything less than the best customer service.
Perhaps no one outside of immediate family has witnessed the two sides of Lex Brodie more than Scott Williams, who began as a "gas boy" 26 years ago and is now company president.
Brodie's philosophy was simple: The customer must be satisfied. It didn't matter if that person came in ornery and left somewhat placated, only 100 percent satisfaction would do.
"I remember one particular case," says Williams. "Lex was railing me about a customer who was upset about something. I was certain that my stance was right. As soon as I tried to defend my stance, Lex just cut me off and ripped into me. I realized there are no excuses. I didn't do my job because I failed to satisfy the customer. It kind of clicked at that point. It doesn't matter if you are right or wrong, it doesn't matter if the customer's perception differs from ours. The fact is he wasn't happy with the visit, so we failed to do our job."
One of the original Waikiki Beach Boys, the Kauaiborn Brodie opened a Kaneohe service station in 1958 and three years later began selling tires out of a one-bay shop next to Whitney's in Kaneohe.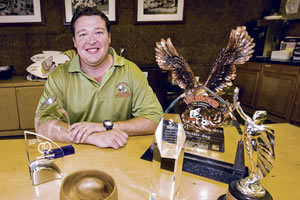 Scott Williams with a few of Lex Brodie's recent awards. Leah Friel photo

.(JavaScript must be enabled to view this email address)
"It was a Chevron station and they wanted him to sell their brand of tires," says Brodie's son Sandy. "The tires weren't particularly good and the margins were lousy. He made better money on the retreads than he did on the new tires. He wanted to sell other tires, but Chevron said no because it violated the franchise agreement. So he opened his own store."
Brodie realized the action was in Honolulu and opened the Queen Street location. It would become headquarters of the company that now has five locations on Oahu with licensees on the Big Island.
The rest, as they say, is history.
Lex became a celebrity and his business a landmark. Jack Lord was a good friend and customer, and the current edition of Hawaii Five-O has found interest in the famous caveman sign and has featured the Queen Street store on the program.
Williams has taken a more modern approach to employee relations but has maintained his former employer's insistence on satisfying the consumer and for that the company has been rewarded. This year Lex Brodie's became the first recipient of the International Better Business Bureau's Excellence in Customer Care Award. The competition was open to any business in the U.S. and Canada regardless of size.
"For a Hawaii business to get the award is huge," says Williams. "The automotive industry is not always thought of as a leading customer service industry. People are skeptical about how they are going to be treated at a lot of facilities, so the fact that someone in the repair business was the first winner in the excellence in customer care award is huge. Lex's legacy is the foundation and the guiding force that got us there."
Sandy Brodie says by 1991 his father had gotten tired of the business and was in need of a new challenge. He found it after taking a tour of Farrington High School upon the invitation of Sandy's wife Lynn, who was a teacher at the school. What he found angered the feisty former salesman.
"He was just appalled at the conditions, and decided he would do something," says Sandy. "He started by talking to some of the legislators about creating a bill for school safety because they were lacking on their inspections. They found some fire exits that were chained shut to keep kids from skipping class."
The bill passed, and based on his success he decided to run for the Board of Education in typical Lex Brodie style: simple and direct.
"He called me up one day and said, 'I just spent $25 registering for the Board of Education election,'" says Sandy. "He said, 'I'm not going to spend any more money. I'm just going to wave a sign on Punchbowl.' And that's what he did."
Brodie won in a landslide and for eight years toured
Page 1 of 2 pages for this story 1 2 >
Most Recent Comment(s):