Making Wishes Come True
Siana Austin Hunt, new director of the Make-A-Wish Foundation, says a study shows that severely ill kids whose wishes are granted by the agency show improvements in happiness and optimism, and in their health. And it's good for their families too. With her are former wishees (clockwise from top left) Quinn, Alexandra, Reece and Xander

Wednesday - December 28, 2011
By
.(JavaScript must be enabled to view this email address)
E-mail this story | Print this page | Archive | RSS
|

Del.icio.us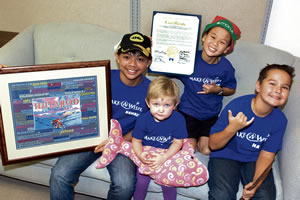 (from left) Quinn (15), Alexandra (2 1/2), Reece (12) and Xander (9) holding mementos from their trips.
A new study shows that when Make -A- Wish grants severely ill children's wishes, it has a positive impact on their health
A couple of years ago, event planner and substitute teacher Siana Austin Hunt attended the 100th anniversary of Kapiolani Medical Center. While there, she and her husband, Anthony, took a private tour of the Neonatal Intensive Care Unit. Walking through the NICU, Hunt was struck by the large number of babies who were in need of intensive care and the shockingly low birth weight of some of the newborns. That disheartening tour struck a chord.
"It just awoke in me a passion for kids that had always been there," Hunt says of her tour. "It just ignited a whole new commitment to how I spent my time. As long as I knew there were children in need ... it changed everything."
Although at the time Hunt wasn't sure what her path to help children would look like, serendipitous circumstances began to form. Earlier this year, not long after her tour through NICU, Make-A-Wish Foundation of Hawaii was looking for a new executive director.
Make-A-Wish Foundation is a nonprofit that grants wishes to children with life-threatening medical conditions in order to provide hope, strength and joy to the children and their families. The organization was founded in 1980 when a group of policemen in Phoenix granted the wish of 7-year-old Chris, who was battling leukemia, by making him an honorary policeman badge and all. Today, the organization has 62 chapters in the United States, as well as a number of affiliates throughout the world. The local chapter has granted wishes of more than 800 children in Hawaii. It also facilitates Hawaii visits for out-of-state "wish" children who have been sent here by other chapters.
Hunt applied for the position, was hired and began her work as the executive director last May. And as she embarks on her journey as the leader of the organization's local chapter, the chapter itself embarks on a journey. As Make-A-Wish of Hawaii approaches its 30th anniversary year in 2012, it is on the cusp of a new era. Under Hunt's leadership, the organization is striving to expand its outreach and involvement on the Neighbor Islands and increase community awareness.
The Hawaii chapter of Make-A-Wish is statewide, but much of its effort has centered on Oahu, which is one of the main elements that Hunt and the six other staffers are working to change. One piece of this is to expand medical outreach. While the organization works closely with Kapiolani here on Oahu, it aims also to foster relationships with Neighbor Island doctors, social workers and other professionals who would be able to refer patients to Make-A-Wish.
"Many communities are rural, and oftentimes just getting to Oahu is a challenge," Hunt explains. By establishing these relationships in smaller towns, Make-A-Wish will be able to grant wishes to more Neighbor Island kids. Hunt says that building outreach to the Neighbor Islands is, in large part, a natural progression of what the organization already does.
"If you look at the makeup of wishes right now, we have 65 wish children," Hunt says. "There are 11 on the Big Island, nine on Kaua'i and seven on Maui." While Hunt does recognize that the majority of wish kids are on Oahu, she feels that "it is very, very important that we have a relevance in each person's world."
Make-A-Wish also seeks to grow its presence throughout the state not just to medical professionals and children and families, but also to all community members. The work that the organization does is, after all, largely community-driven. From office assistants to event helpers to wish-granters, volunteers are a vital part of the organization.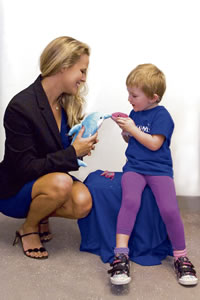 Executive director Siana Hunt and Alexandra (2 1/2)
It's the community, Hunt says, that has really granted these wishes. Ideally, a wish is a culmination of various entities and individuals coming together to make it happen.
"From the time that we develop a wish with the family and go out and begin to work on it, the volunteers really drive where we're headed with that wish," she explains. "And then it becomes something that the whole community is woven into ... That's who we are in Hawaii. We are a relationship-based community, and we want families to be able to continue to have that support.
"It's important to me that my volunteers represent their own communities," Hunt explains, adding that she aims to have a strong volunteer base on every island. "If a wish child in Pahoa on the Big Island is going to have her wish granted, it should be in her own community with people from her community."
Staring down its 30th birthday, Make-A-Wish also will begin a number of yearlong campaigns to raise awareness within the community. It has enlisted a variety of local companies to celebrate the anniversary. Alaska Airlines, for example, is donating 30 airline tickets for wish trips. One car dealership is donating $30 for every car it sells in 2012. Next September, Make-A-Wish will host its signature gala event to commemorate the anniversary.
Though she admits that being at the helm of a nonprofit especially one in flux is a never-ending job, Hunt is excited for what lies ahead.
Growing up, Hunt split her time between Molokai and Oahu, where she attended Punahou School. She went on to study elementary education and religion
Page 1 of 2 pages for this story 1 2 >
Most Recent Comment(s):