The Pacman Cometh
Just eight days after his latest world title defense, Manny Pacquiao of the Philippines visits Hawaii for the first time to perform with his band in a concert celebration March 21 at the Waikiki Shell

Wednesday - March 10, 2010
By
.(JavaScript must be enabled to view this email address)
E-mail this story | Print this page | Archive | RSS
|

Del.icio.us

If history has taught us anything, this Saturday night in Hawaii roads will be clear, malls and restaurants will be deserted, and the only hint of human life will be a gentle glow cast from living room windows.
No, there's no tsunami, hurricane or zombie invasion rushing toward our Island shores.
Filipino boxing phenom Manny Pacquiao will be defending his WBO welter-weight champion title in a fight with Ghana's Josh Clottey March 13 at Cowboys Stadium in Dallas. The telecast on HBO pay-per-view airs locally at 4 p.m., but best believe Pacquiao fans will be homebound hours beforehand in preparation for the bout.
The mood at the Waikiki Shell March 21 will be wildly and welcomely opposite. That is the night the Pacman comes to Hawaii to play with his band, The MP Band, in a concert celebration put on by Island Fire Productions, Big Ben Entertainment and Cox Radio.
"For those who may not know, Manny can sing in addition to box, and they can expect to see a full-energy live band. Manny just loves to sing," says Ryan Chang, Island Fire president. "Having Manny here the week after his fight is an awesome experience, especially if he wins!"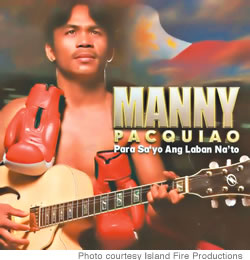 Manny Pacquiao flexes his musical muscles on the cover of his CD, Para Sa'yo Ang Laban Na'to
Other performers - call this the undercard - include Madonna Decena, a Filipina star who reached the semi-finals of the United Kingdom's popular talent show Britain's Got Talent, as well as local talent such as Pussycat Dolls Present: The Search for the Next Doll finalist Melissa Reyes, former American Idol contestant Jordan Segundo, Al Waterson, Guy Cruz, Ten Feet, Lauren Silva, Jesus Salud,Yasmin Dar, EMKE, Kalei Gamiao, Kutmaster Spaz, DJ IA, Angelia Callo, Paul Cortez, Eddie Lactaoen, Elsa Udasco, Briana Abregano, rapper/singer MIC3, magicians Mark and Landon Mauricio, Hawaii's Fastest Juggler Greg Gabaylo, dancers with Hypersqaud Dance Company (whose team HYPE 5-0 is still going strong on MTV's America's Best Dance Crew), beauty queens, Tahitian groups and more. Young Hawaii stars Ciana Pelekai (America's Got Talent) and street dancing extraordinaire Angelo "Lil Demon" Baligad (Oprah, Ellen) also will entertain the audience.
"There will be tons of entertainment," Chang says. But the main attraction to this show is Pacquiao, no contest.
"We decided to bring Manny to Hawaii because he is such a positive role model to everyone," he adds. "I wanted the people of Hawaii to get the chance to meet a living legend."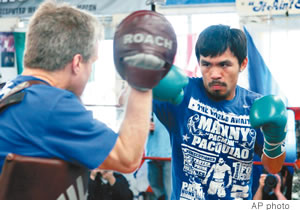 The Pacman in action with trainer Freddie Roach at the Wild Card Gym in L.A.
Says Pacquiao, who is currently "training hard and staying focused" at L.A. home base Wild Card Gym in preparation for the Clottey fight: "I admire anyone who is a good positive role model for people, especially the children. I decided to play this concert because it is a great opportunity to come to Hawaii and do this for the fans. This is my first time coming to Hawaii, and I look forward to everything that Hawaii has to offer. Some of my family and friends from my team will be coming also, and from Hawaii we will return to the Philippines.
"I would like to stay longer and enjoy Hawaii, but I have to return to the Philippines to campaign," adds Pacquiao, referring to his endorsement of Philippines' Nacionalista Party candidate Sen. Manny Villar in the country's May presidential election.
This won't be the first time the seven-time world champion will venture into the world of politics. In 2007 he ran for congress representing South Cotabato, but lost to incumbent representative Darlene Antonino-Custodio.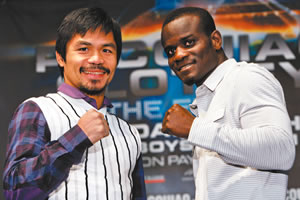 Manny Pacquiao goes head to head with Ghanian Josh Clottey this Saturday
In addition to boxing, singing and politics, Pacquiao has starred in a TV series for GMA Network and is in talks to do a movie with action-movie star Sylvester Stallone. One of Time magazine's most influential people of the world in 2009, he was also included in last year's ForbesMagazine annual Celebrity 100 list. Other honors include Sports Illustrated Fighter of the Year, ESPN Fighter of the Year, ESPY Awards Best Fighter, Boxing Writers Association of America Fighter of the Decade and Philippine Sportswriters Association Athlete of the Decade.
And here's a fun fact: He was the first Filipino athlete to appear on a postage stamp.
He does note that when he happens to find a free moment, he enjoys playing basketball and darts, and spending time with wife Jinkee and their four children is always a top priority.
Boxer, singer, film and television star, politician and family man - how does he find the time to do it all?
"Well, I do my best at what I enjoy," the Pacman says with a laugh.
Pacquiao started his pro boxing career when he was a 106-pound (light fly-weight) 16-year-old. His professional debut in 1995 was a four-round bout with Edmund "Enting" Ignacio. Pacquiao won via decision and was instantly thrust into stardom.
Over the next 16 years, Pacquiao moved up the weight divisions, gaining titles and fans along the way. Now, at 32, he is the first boxer in history to hold seven world titles in seven different weight divisions, and he is the only one to lay claim to the lineal champi-
Page 1 of 2 pages for this story 1 2 >
Most Recent Comment(s):