Like Father Like Son
Mark Dacascos has become a Hollywood star in part because of the martial art his father Al created
Wednesday - June 02, 2010
By
.(JavaScript must be enabled to view this email address)
E-mail this story | Print this page | Archive | RSS
|

Del.icio.us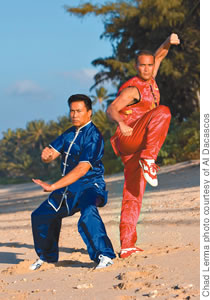 Al and Mark Dacascos: Success for both began with martial arts
Actor Mark Dacascos, who has appeared in more than 50 films and television shows, stars as "The Chairman" of the Food Network's hit TV series Iron Chef America and competed in Dancing with the Stars last fall, lives in Los Angeles but says Hawaii is where his heart is and the place he calls home.
"I'm very happy and proud to be a local boy," says Dacascos, who was born and raised on Oahu before moving to the Mainland at age 6 and then to Germany as a teenager. Married to actress Julie Condra and a father of three beautiful children - Makoa, Kapono and Noelani - Dacascos loves Hawaii so much he not only gave his keiki Hawaiian names, but even convinced his wife to give birth to each of them in Hawaii.
"We came back four weeks prior to their birth and stayed four weeks after their birth," he says. "I just believe everything you do has an effect on your life and where you are born is a huge part of it, and I wanted to give them Hawaii for their birthplace.
"I've traveled and worked all over the world and, when people ask where you are from and you say Hawaii, it brings an instant smile to everyone, and I love that. I wanted that for them, and my wife, who is very proud of her Texas roots, also loves Hawaii and wanted the kids to have that as well."
Dacascos returns to Hawaii about twice a year, and looks forward to surfing and being with family, including time with dad Al Dacascos, who resides in Kaneohe with wife Melveen Leed.
Currently, he's working on his first live-action 3-D martial arts film directed by Steve Wang, who also directed him in the movie Drive, in which he starred with the late Brittany Murphy.
"It's going to be hard-core, live action," says Dacascos, who has the lead role. "It should be interesting. Last time I worked with Steve I would come off the set with cuts, scratches, tons of bruises, and I even went to the hospital once. So I've been just getting my body prepared for the beating I'm going to take."
Then there's Iron Chef America, of which Dacascos has been "The Chairman" since 2005. Filmed in New York, he's scheduled to shoot 30 to 40 new episodes this year. Most recently he filmed The Lost Medallion: The Adventures of Billy Stone, which is scheduled to be released this year, and hosted a two-hour program for The History Channel titled Samurai,which premiered in March and documented the history of the samurai with a focus on Miyamoto Musashi, the warrior who wrote The Book of Five Rings.
Dacascos, who is Japanese, Irish, Filipino, Spanish and Chinese, may have made his way to a successful acting career, but being an actor was not in his original plan.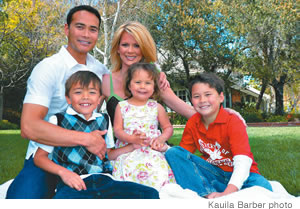 Mark and wife Julie Condra, an actress originally from Texas, arranged for each of their children - Makoa, Noelani and Kapono - to be born in Hawaii
"I have to credit (my acting career) to my good friend Chris Lee (a film producer also from Hawaii)," he says. "When I was younger, there were a couple of different things I wanted to do and acting was not one of them. I wanted to be a writer and a Buddhist monk. So, at 17, I left Germany and went to Taipei, Taiwan, for six months to study Chinese and martial arts because I wanted to enter a monastery. But after six months I ended up going back to Germany and then back in Hawaii and eventually back in San Francisco.
"I was then almost 19 years old and walking through Chinatown having just taught a martial arts class for my mom, who had a school there, and two men approached me, one of them being Chris (the other was director Wayne Wang). He asked me if I was an actor and if I wanted to audition for this movie he was doing and I said no, I'm not an actor and I have no interest in auditioning. But he gave me his card and said think about it.
"I told my mom about it and she said, 'You know what, just try it, you might like it.' So, I took her advice and I went to the audition, and I guess I did all right because a couple of days later they called me and said I have this part."
The film was Dim Sum: A Little Bit of Heart, and Dacascos' role included a make-out session on top of a car with actress Joan Chen (The Last Emperor). Unfortunately, his scenes were edited out, but the out-takes were edited for an out-take reel that was entered in a competition and took second place. More importantly, the experience was enough to spark Dacascos' interest in acting.
"I did my line, we kissed, it was fun, I kept on going, the director said cut, I didn't want to stop, and I thought if this is acting this is for me, I like it," recalls Dacascos. "After that movie, I started to take acting classes and I realized it was a way for me to utilize my language skills, my martial arts skills. And it's kind of cool because you can touch a lot of people's hearts if you do a good job and make a good movie."
With his martial arts background and trademark lean, muscular physique, Dacascos, 46, has landed roles in many action-packed films, including Cradle 2 The Grave, in which he squared off against Jet Li, Only the Strong, and in TV shows The Crow: Stairway to Heaven and The Legend of Bruce Lee. He also is known for his best supporting role in Brotherhood of the Wolf, a box office success, and lends his voice and acting in numerous video
Page 1 of 2 pages for this story 1 2 >
Most Recent Comment(s):