Martin's Homecoming
Martin Nievera practically grew up in the Outrigger showroom in Waikiki. Today he's an international singing sensation, performing for huge audiences around the world. But nothing makes him happier than bein back home in Hawaii and sharing that same Outrigger showroom stage with SOS. The show runs through July 2

Wednesday - June 22, 2011
By
.(JavaScript must be enabled to view this email address)
E-mail this story | Print this page | Archive | RSS
|

Del.icio.us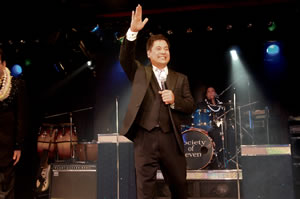 Martin Nievera wowed 'em opening night. Nathalie Walker photos

.(JavaScript must be enabled to view this email address)
Martin Nievera practically grew up in the Outrigger showroom, and now the international sensation is back and performing with SOS
"Martin is a huge star in the Philippines and all over the Far East. He's performed in Dubai, Hong Kong, Singapore - to audiences of 30,000 - Australia too, all over the world. Martin has made a name too in Vegas."
Tony Ruivivar, founder of Society of Seven, is talking about "Concert King of the Philippines" Martin Nievera. But fans all over the world might not know that the spark that led Nievera to the stage was fanned right here in Hawaii - focus that spotlight on the little boy sitting in the SOS showroom at the Outrigger Waikiki, back in the late 1960s. It's Martin watching his father Roberto "Bert" Nievera onstage as lead singer of SOS.
"I used to sit up there," says Martin, pointing to the stage and getting confused for a moment because back then the stage was on the other side of the room. "I would sit there and watch my dad standing somewhere between Bert (Sagum) and Tony (Ruivivar), and I would just watch and 'Oh God, I want to do this' ... that's when I knew I wanted to be a singer."
He'd get into trouble for stealing sugar cubes with his twin sister, Victoria, and they'd get yelled at by the bartenders, the same ones, he says, who are still there today. "This was my nursery, my playground, my school."
Nievera came to Hawaii from the Philippines when he was in first grade, lived in Hawaii Kai and went to Kaiser, leaving in the first year of high school for the Mainland. In high school, Nievera joined the choir, and from there the world floodgates opened to welcome his voice.
Performing with sos brings Nievera full circle in his career
Moving to Hawaii from the Philippines came with a dose of culture shock. The poverty of his home country, the lack of electricity, suddenly came into sharp focus. The members of SOS, his hanai uncles and their families, helped ease the adjustment. Over the years - the group has been entertaining in the Outrigger showroom for 42 years, the longest any group in the world has laid claim to a particular venue - as members passed away or moved on and were replaced, Martin says they nevertheless all remained "family." He recalls great weekends at Uncle Tony's house, Sunday barbecues with the whole gang and eventually, being taken along when everyone went on tour. They were introduced to America as they performed in Lake Tahoe, Las Vegas, Reno, traveling in a big makeshift caravan, packing all their own kitchen amenities and a child's crib onto the cars.
Nievera also remembers meeting other famous groups of the time, like the time the family played softball with folks from the band Fifth Dimension (Up, Up and Away).
"I saw (Fifth Dimension) years later in the Philippines, and I'm sitting in the front row watching and the singer, she says, 'Hey you come up here on stage,'" pointing at Nievera. "'You look so familiar,' and I came up and the audience was screaming because this is the Philippines - they kind of know me, right? At the end of the show they told her that I was a singer, and I said, 'I am an offspring of the Society of Seven.' 'That's where I remember you from!'"
The audience was screaming because Nievera made a name for himself in the Philippines back in the '80s. As he describes it: "I was in the right place at the right time, and the right music at the right time. Barry Manilow, Lionel Richie, Luther Vandross, James Ingram - the Filipinos needed someone like that, so that's where I came in. Of course, my father was known there as a singer as well, so I kind of took it from there."
Nievera took it and ran with it ... he's still playing to sold-out concerts and has produced more than 50 albums. His latest, just released this month, is Songs of the Heart in both English and Tagalog. He's also a movie and TV star in his homeland, and for the past 10
Page 1 of 2 pages for this story 1 2 >
Most Recent Comment(s):