Kickin' It
The lone 2011 Pro Bowl player with local ties is Dallas Cowboys punter Mat McBriar, the former UH kicker. He tells MidWeek about his love of Hawaii, his shock at the speed of the pro game, and a recurring nightmare

Wednesday - January 26, 2011
By
.(JavaScript must be enabled to view this email address)
E-mail this story | Print this page | Archive | RSS
|

Del.icio.us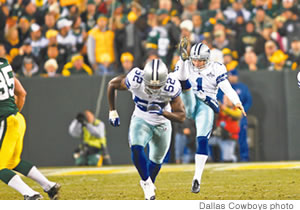 Mat McBriar led the NFL in punting average this season
Former UH punter Mat McBriar is back for his second Pro Bowl, and looking forward to being in Hawaii
It wasn't really that hard of a decision. Faced with the choice of walking on at Western Kentucky, which offered no promise of a scholarship, or the University of Hawaii, which had one should he make the team, the former Australian Rules football player chose the school that allowed him the chance to study closest to home, satisfy his love of surfing and, though he didn't know it at the time, introduce him to his future wife.
Yeah, you could say it was a pretty good decision.
"I loved to go to Sandy's," says Dallas Cowboys punter Mat McBriar. "We practiced from 7 to 9 (at UH) and I made sure I had my classes from 10 to 1, and then I got to the beach as soon as I could. I'd fly to the beach to surf and body surf. I had this awesome Jeep. Once I did get the scholarship, my parents bought me the first year of the Wrangler. It was like an '87, it was always breaking down but when she was running she was gold."
McBriar, who has made his second Pro Bowl in his seven-year NFL career, took a curious route to becoming the highest-paid player at his position. He went undrafted after a stellar collegiate career, got traded by one NFL team, cut by another and survived a first game blunder from which many at his position wouldn't have had the chance to recover. That one play also resulted in his career 39.6 passer rating.
McBriar muffed the snap on a field goal attempt and, like generations of kickers before him, tried to make a play - and found out his skill sets were better tailored to other activities.
"When I dropped the ball it went behind the kicker, and I thought I took off really quickly. I picked the ball up with one hand, I picked it up perfectly and I thought I had all the time in the world from where I was, and as I turned I got hit. Instead of holding the ball, I tried to throw it as I was being hit and I just threw up this duck, and luckily it fell in between some linemen."
This also was the play that proved the difference between college and professional athletes.
"I had no idea," he recalls. "When I first got to Hawaii, I thought we had the best athletes I'd ever seen, and when I got to the pros, I was just blown away again. I was like, 'Are you kidding me?'"
McBriar came to then-Hawaii coach June Jones' attention when fellow Aussie and former San Diego Chargers' punter Darren Bennett called his former coach to tell him about the kicking prospect. McBriar met Bennett after competing in a punting contest in Australia, and the pair have developed a close friendship that goes beyond mentor and student. The former Warrior is a big supporter of Bennett's charity to raise funds for children with muscular dystrophy. Bennett began the foundation after his son Will was diagnosed with the disease. The All Star-to-be even stayed in Bennett's San Diego home when he was out of work following a bad performance in a preseason game with Seattle.
McBriar had a punt blocked and fumbled a snap. The next day he got the call saying his services were no longer needed. As sometimes happens, from the darkest moments the greatest opportunities arise.
"It wasn't until I got to Dallas and they had a special teams coach," he says. "He (Steve Hoffman) told me I had potential but what I was doing wasn't going to cut it. He said, 'Trust me. You're going to get worse before you get better, but I'm gonna turn you into an NFL punter."
It worked. McBriar has quickly established himself as one of the best punters in Dallas Cowboys' history.
He is only the second Australian, Bennett being the first, to be selected for the Pro Bowl. In 2006 he hit the second-longest punt (75 yards) in team history, and his 48.2 punting average that year was the fifth longest in NFL history and the longest since 1963 when Detroit's Yale Lary averaged 48.7 yards per punt. This year, he led the NFL in average, and was third best in punt return yardage while attempting the third fewest punts in the league. But while McBriar enjoyed another individually successful season, the Cowboys as a unit had their worst season since 2002. Dallas lost six of its first seven games, and head coach Wade Phillips was fired, sending a strange message through the locker room
"When you are a player
Page 1 of 2 pages for this story 1 2 >
Most Recent Comment(s):