Why Did Michael Broderick Quit Being A Judge? Here's Y
Michael Broderick left Family Court for the YMCA to make positive contributions to isle youths on the 'front end'
Wednesday - April 13, 2011
By Chad Pata
E-mail this story | Print this page | Archive | RSS
|

Del.icio.us
Michael Broderick at the Nuuanu Y with Luc Dethletson (left) and Jaime Bhattacharyya. Nathalie Walker photos

.(JavaScript must be enabled to view this email address)
When it was announced last September that Family Court Judge Michael Broderick was leaving his esteemed position at the tender age (for a judge) of 53 to take the helm as CEO of the YMCA of Honolulu, more than a few people scratched their heads. For those who know Broderick, however, it made perfect sense.
"When I stepped down I had a lot of people email me, 'I know exactly why you are taking that job. You want to try to prevent on the front end all the problems you saw on the back end,'" recalls Broderick.
"And I said, 'Right!'
There were some people who were like, 'Mike, you're at the pinnacle of your legal career and you are leaving?' Those people don't know me and they don't know the YMCA."
To know Broderick is to know his passion for children and the community as a whole. He moved here with wife Maile Meyer, a local gal he met at Stanford (she's a founder of Native Books, and together they have three children) more than 20 years ago because he saw in the Islands that sense of ohana that he had never found in Los Angeles working for then-Mayor Tom Bradley.
"The values and the sense of community of this place is where I want to be, and that was it," says Broderick, who had this epiphany while watching a UH football game and seeing the aloha spirit exhibited at Aloha Stadium. "I loved that job but I told him, 'Mayor, I'm moving to Hawaii.'"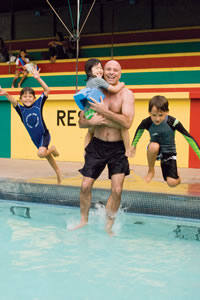 Broderick is all in at the Y: here with (from left) Jaime Bhattacharyya, Marissa Okamoto and Luc Dethletson. Nathalie Walker photos

.(JavaScript must be enabled to view this email address)
Once here he moved his way up the judicial ladder, ascending to the post of Family Court judge in 2003, where he oversaw more than 10,000 cases, each one as heart-rending as the next.
4 "What I saw every day was homelessness, crystal meth addiction, domestic violence. I think the one that was the hardest for me was kids that were totally disengaged from family, community and school," says Broderick, who would often have to pass judgment on 15 domestic violence cases in a morning and 30 custody cases in an afternoon.
"So I said to myself after thousands of cases year in year out, I am too far toward the end of this (legal process with troubled juveniles). I cannot help these people. I have to get a job that is on the front end. I've gotta get a job that is about prevention and early intervention. You see that every day and you think the world is coming to an end."
While the stories of these men and women covered the spectrum of offenses and atrocities, there was one common thread: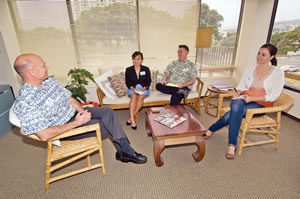 Meeting with (from left) Kathleen Lee, the Y's coordinator of donor relations; C. Kent Coarsey, director of philanthropy; and Jaci Agustin, food and fun coordinator
"There is one word that best describes people in Family Court: trauma," says Broderick. "The vast majority of people in Family Court were traumatized at some point in their lives. That trauma manifests itself in criminal activity. Now, I held every kid accountable, but I tried to address the trauma. If I sent them to detention hall and I don't come at that trauma, I have really done them a tremendous disservice. I found as a judge I could not effectively deal with the trauma."
A judge is supposed to be dispassionate, uninvolved and stoic - words that would never be used to describe Broderick outside of his courtroom. So after seven years on the bench with his hands tied when it came to helping these kids, enough was enough.
"I'm a judge, and I am totally restricted as a judge. I cannot say what I want to say, I can't be entrepreneurial about developing programs, I'm totally boxed in," says Broderick.
"It was an absolute honor to be a Family Court judge,
Page 1 of 2 pages for this story 1 2 >
Most Recent Comment(s):