JAZZMAN
Michael Paulo, of Honolulu's famous musical family, is one of the world's top saxophonists, and next month he's bringing an all-star group of musicians to town for the inaugural Pacific Rim Jazz Festival

Wednesday - October 27, 2010
By
.(JavaScript must be enabled to view this email address)
E-mail this story | Print this page | Archive | RSS
|

Del.icio.us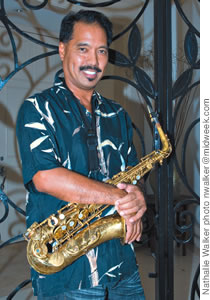 Hawaii native Michael Paulo is considered one of the world's best saxophonists
Coming from a musical family, the notes come easy for Michael Paulo. But he's also one of the top producers and event promoters, including for next month's Pacific Rim Jazz Festival at Ko Olina
Michael Paulo's sax appeal is his claim to fame as a performer.
But his instincts as an entrepreneur will be tested in his latest music venture. The first Pacific Rim Jazz Festival Saturday, Nov. 13, at Ko Olina can be the "APEC of jazz" if the event hits all the right notes.
No pressure. There are only the region's finest jazz musicians, local community scholarship grantees, music lovers everywhere and businesses deriving income to support a global economy to think about.
Paulo smiles confidently as he talks about this inaugural event at the J.W. Marriott Ihilani. He is hopeful of its success, declaring that music is a powerful cultural and economic force.
"It's a universal language," he says.
He knows of what he speaks. Paulo has been talking to audiences through his saxophone for years. As a musician, he is one of the most versatile artists of pop, soul and contemporary jazz. His name is synonymous with world-class acts such as Al Jarreau (with whom Paulo toured for 12 years), James Ingram, Kenny Loggins, David Benoit, Bobby Caldwell, Johnny Mathis and more.
Picking up a saxophone as a teen, he claims it was "love at first blow." As a performer, Paulo is known for his emotive style of play and is recognized internationally as one of the finest interpreters of smooth jazz.
His Smooth Jazz Nights series in Waikiki have been sell-outs, and have given Island musicians a chance to play with luminaries such as guitarists Peter White, Lee Ritenour and keyboardist Gregg Karukas. Add to that Paulo's talented dad, pianist Rene Paulo, still playing with panache at age 80.
But it is as jazz festival producer and impresario that Michael Paulo, 54, is able to explore the depths of music creativity, management and community building.
For the Nov. 13 Pacific Rim Jazz Festival from 4 to 10 p.m. in the Hokulani Ballroom of the Ihilani, Paulo assembles a stellar slate of the band Hiroshima, an island favorite through the years that won hearts with its theme music for Hawaiian Electric Co.; vocalist-song-writer Bobby Caldwell; trumpet player Rick Braun; keyboardist and musical director Brian Simpson, and Grammy award-winning vocalist and member of Seawind Pauline Wilson.
Making special appearances are Hawaii's own Henry Allen, Keoki Hirai, DeShannon Higa, Rocky Brown Higa, Jordan Segundo, Al Waterson and the Paulos.
Tickets from $60 to $130 are available at tix.com or by calling 951-696-0184. Proceeds benefit The Kapolei Foundation that grants scholarships to deserving students in Leeward Oahu.
"I am excited to launch the first annual Pacific Rim Jazz Festival," Paulo says. "I've been dreaming about doing this for the last 10 years. It's finally here, combining world class artists, food and wine - all for a good cause to help deserving Leeward area students continue their higher education."
Kapolei Foundation president Ross Rolirad adds that a Michael Paulo music scholarship will be announced at the event. The foundation has awarded $1.2 million in the past seven years to 500 students.
Those opting for limited VIP reserved seating at $130 per person get gourmet appetizers prepared by Ihilani award-winning chef Scott Higa and wine tasting at a pre-concert charity reception.
But beyond the glamour of this event, Paulo is hoping to establish a staging area for jazz greats to meet and meld their musical talents in Hawaii's melting pot of the Pacific.
With Paulo's island roots and cosmopolitan musical
Page 1 of 2 pages for this story 1 2 >
Most Recent Comment(s):