The Two Lives of Renee
At home on the North Shore, Renee Nobriga is a down-to-earth young woman who rarely wears makeup. But she has another, more glamorous side as a fashion model and Miss Hawaii USA.

Wednesday - April 28, 2010
By
.(JavaScript must be enabled to view this email address)
E-mail this story | Print this page | Archive | RSS
|

Del.icio.us

Renee Nobriga is a down-to-earth country girl from Pupukea on the North Shore.
She also is Miss Hawaii USA, and on May 16 will compete for the title of Miss USA.
"I feel like I live a dual life, you know?" says Nobriga, 26. "I have my own life and I have my Miss Hawaii life, and it's really cool that I can do that. When I'm at home on the North Shore, I'm just Renee, beach girl, small-town girl. I don't wear makeup every day, I don't have to do the lashes all the time. I'm in a bikini most of the time. That's kind of my everyday life.
"Then I have the Cinderella nights where I get to dress up in a ball gown and have to glam up, put the lashes on, curl the hair, put the crown and sash on.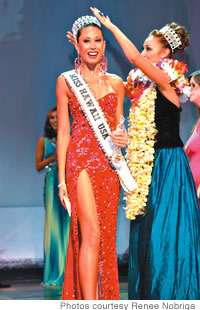 Renee Nobriga is crowned Miss Hawaii USA 2010 by 2009 winner Aureana Tseu in November
"Now it seems like every-thing's just meshing together. It's like a melting pot. It's very comfortable, I'm adapting very well. You go to your ball and then it's midnight and you're back on the North Shore. It's fun."
Since capturing the state title last November, Nobriga - who works as a professional model and also specializes in custom swimwear at North Shore Swimwear - has been on a whirlwind of a journey. Having competed for the Miss Hawaii USA title for three consecutive years and winning on her third try, Nobriga is a firm believer in the power of perseverance.
"This was my last year to compete for Miss Hawaii, so it was a big year for me. I put 150 percent into it, and luckily the stars were aligned and the universe spoke to me, and here I am," says the Hawaiian-Chinese-Portuguese-Spanish beauty. "Competing a third time was that inner gotta-have-it thing. I wanted it."
Currently, Nobriga's mind is set on last-minute preparations for the Miss USA pageant at Planet Hollywood in Las Vegas. The TV broadcast is on NBC. The winner goes on to compete for Miss Universe.
"Preparations are going really well," Nobriga says. "It's a little nerve-racking because the pageant is a little less than a month away, but I'm looking forward to meeting all the girls and just enjoying myself.
"Of course I'm looking forward to the competition as well, but that's just kind of a whole other level. Really what I want to do is go up there and have a blast. I mean, when am I ever going to be around the top girls from each state? That'll be the highlighting point."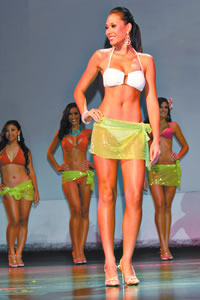 Nobriga has a 'perfect swimsuit body,' says pageant director Eric Chandler
Having watched Miss USA pageants on television as a young girl, Nobriga admits that she had always hoped in the back of her mind to be on that stage one day, but it was a dream that seemed too far-fetched. It wasn't until Nobriga met former Miss Hawaii USA Chanel Wise while modeling in a fashion show that she started to see that dream slowly transform into reality.
"Chanel asked me if I ever thought about running in pageants, and I said, 'I've never done it. I've never been a pageant girl. I don't even know how to be a pageant girl,'" says Nobriga.
"It's very different from fashion runway. I gave it a try anyway.
"Actually, coming from a line of doing fashion shows, walking on stage was the most fun for me. Modeling really helped in the area of confidence and stage presence."
Nobriga, who stands 5 feet 8 inches, has been modeling for the past 10 years.
She's graced the pages of Ala Moana and Honolulu magazines, in addition to modeling for Tori Richards, Bebe, Guess, Louis Vuitton, Fendi and more.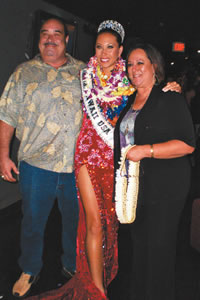 Renee made her parents Kealoha and Iwalani proud by winning the Miss Hawaii USA title
According to Miss Hawaii USA pageant directors and fashion designers Eric Chandler and Takeo Kobayashi, Nobriga is considered a front runner in the impressive group of ladies going to Miss USA.
"Renee will take with her the aloha spirit," says Chandler, "and her perfect swimsuit body, couture evening gown and light-green eyes are sure to be her calling card for national success."
Adds Kobayashi, "This is going to be a wonderful event that will highlight the beauty of the Hawaiian Islands."
Nobriga's beauty and charm are sure to captivate judges, but more so, she wants to dispel the endless stereotypes of "your typical pageant girl." "There's always the belief that every pageant girl is for world peace, squeaky clean and perfect - which most are not and you don't have to be. No one's perfect," Nobriga states. "I'm not your stereotypical pageant girl. I want to be viewed as a girl who can be herself no matter what. Whether I'm on stage strutting my stuff in front of judges or at home on the beach, I'm real. I have my own mind, my own beliefs, my own morals. I'm a strong individual and I aim to spread aloha to everybody because I believe the aloha spirit is alive in people. It just needs to be found.
"People get swept away with the thought that Miss USA has to be tall, or she has to be this or that. It does-n't have to be this cookie-cutter mold. There can be lots of pretty girls, but it's what's on the inside that matters. Beauty is that first glance, and you have to maintain that beauty on the inside most of all, otherwise you're just another pretty face. And that's something I'm hoping I can bring."
Nobriga, a Kahuku High and Intermediate graduate, is well aware that the competition won't be easy.
"I'm trying to keep a laid-back approach because I know when you're being compared to 50 other girls it's easy to get discouraged. So that's why my biggest thing is to go there and have fun, and not make the pageant my whole life," she says. "I have my family and friends and Eric and Takeo supporting me. This whole experience is really going to give me the opportunity to grow as a person. Going into the competition, I'm just going to remain humble, be respectful, be kind and not take it too seriously."
Nobriga credits her parents, Kealoha and Iwalani Nobriga, along with sisters Jsohnel Pacarro and Michelle Nobriga, boyfriend Matthew Voorhies and friend Jenny Yagodich for being her biggest fans and greatest supporters.
"I couldn't do it without my family, they have helped me so much," Nobriga explains.
"My mom and dad are amazing. My sisters have also helped me immensely.
Page 1 of 2 pages for this story 1 2 >
Most Recent Comment(s):