Listening To The Land
Mitch D'Olier of Kaneohe Ranch is sprucing up Kailua town, not always to the liking of some residents, but he says he follows one guiding principle: Listen to the land
Wednesday - June 15, 2011
By Chad Pata
E-mail this story | Print this page | Archive | RSS
|

Del.icio.us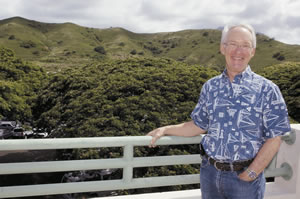 Mitch D'Olier in Kailua, where plans include a trail up the Hamakua ridge behind him and another at its base. Nathalie Walker photos

.(JavaScript must be enabled to view this email address)
Mitch D'Olier has a vision for Kailua town, and is guided by advice his old friend Kenny Brown once gave him
Through his first nine years as president of Kaneohe Ranch, Mitch D'Olier had been beset by criticisms that he and his company were trying to change the very nature of Kailua. Whether it was the three-story parking structure behind Longs or the new Target on Hahani Street, it seemed clear to a small, vocal contingent that D'Olier is out to destroy everything that makes Kailua Kailua.
But from D'Olier's perspective, he came to the helm at a time when change was going to happen regardless, and he wanted to do what was best to revitalize downtown Kailua while keeping its small town charm.
"When I joined Kaneohe Ranch, 16 of the 45 acres in Kailua owned by Kaneohe Ranch were coming off of 55-year leases that were ending," says D'Olier, who ran Victoria Ward prior to coming over the Pali.
"When a lease ends, you get back a pretty old, tired 50-year-old building that, no matter what you have done to try to have the tenant maintain it, won't have been maintained like you would have maintained it. That was going to cause change, and that is the context for this."
The properties it was taking over had all been built before regulations were in place concerning zoning and parking, leaving a heavily used shopping area with a dearth of parking and a brand new drug store and Whole Foods slated to move in, adding to the problem.
The fix was to be a simple one: a three-story structure built in-block so it wouldn't even be visible once the surrounding buildings were completed, and with the construction of Longs nearing completion, a decision had to be made.
"We didn't have a lot of time. Longs said, 'Build it now or don't build it, we can't operate a store while you're building a structure,'" recalls D'Olier. "So we didn't have the luxury of taking the time in the community to prepare the community. And there was a lot of hue and cry in the community, and that made me realize that we have a lot of communication to do."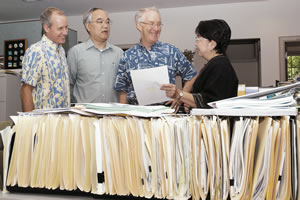 (from left to right) Harold K.L. Castle executive director and COO, Terry George, Kaneohe Ranch CFO Carlton Au, president and CEO Mitch D'Olier and secretary Susan Sumida
So Kaneohe Ranch set up an 18-month community planning process, holding six four-hour meetings in the Kailua Intermediate School cafeteria to get input from residents on how they wanted the change to be realized.
"We appreciate the continued input we have gotten from everybody, and we try to listen and we are always open to ideas and comments," says D'Olier, who has lived in Hawaii for the past 40 years. "Understand that the context for a lot of this is the termination of a lot of leases, and that is going to drive a lot of change just by reason of itself and that, as a community, let's just try to do our best going forward."
One of the big ones was preservation of Hamakua Hillside, the green ridge that serves as a backdrop for Kailua town. While a retirement community was once planned for those hills, Kaneohe Ranch is now working to sell the land back to the state so it can be used for public recreational use.
Two walkways are planned for the hills, one by the stream and one going up the ridge, providing yet another way for Kailua residents to stay in shape while enjoying their environment.
"A friend of mine named Kenny Brown told me you have to let the land tell you what it wants to be," says D'Olier, who received his law degree from the University of Iowa. "You really have to get in touch with the land, and he was exactly right about that."
As part of D'Olier's expressed desire to invigorate Kailua came the idea of the Kailua Night Market. He approached the Department of Agriculture and the crew from Kapiolani Community College Farmers Market, and they
Page 1 of 2 pages for this story 1 2 >
Most Recent Comment(s):