Men and Women of the Sea
What began last year as an honor will become an actual location this year when Outrigger Duke Kahanamoku Foundation (ODKF) unveils the Hawaii Waterman Hall of Fame at Hilton Hawaiian Village Sunday, Aug. 21, with an awards dinner honoring its second class of inductees.
Wednesday - August 10, 2011
By Chad Pata
E-mail this story | Print this page | Archive | RSS
|

Del.icio.us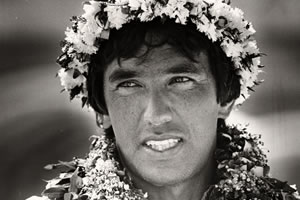 Nainoa Thompson. Honolulu Star-Advertiser photo
What began last year as an honor will become an actual location this year when Outrigger Duke Kahanamoku Foundation (ODKF) unveils the Hawaii Waterman Hall of Fame at Hilton Hawaiian Village Sunday, Aug. 21, with an awards dinner honoring its second class of inductees.
The Hall of Fame will be on the ground floor of the Grand Waikikian, where there is currently a display outlining Duke's life. The king of surfing himself is making room for last year's class that included legends such as himself, Eddie Aikau and Buffalo Keaulana, along with the new class made up of surfing guru Peter Cole, sailing renaissance man Nainoa Thompson, surfing pioneer Ethel Kukea and three-time Olympic medalist Aileen Soule.
While honoring these legendary Hawaii residents is the attraction that will draw the crowds to this event, the purpose behind the evening is to raise funds for those in the Islands who are less fortunate and have dreams of one day joining the ranks of these heroes.
"Our mission and goal is to provide opportunities to Hawaii's scholars and athletes who excel in certain sports surfing, paddling swimming, volleyball and give scholarships and grants to individuals and teams to travel out of Hawaii to compete in these sports," says Patrick Shea, president of ODKF.
"The purpose of the Hawaii Waterman's Hall of Fame Awards Dinner is as a fundraiser so we can provide these grants and scholarships, to honor the water sports heroes we are installing as honorees and lastly to publicize what the foundation does."
The idea of giving scholarships in sports that often do not get financial backing in major universities is an idea that inductee Peter Cole stands firmly behind.
"That they give scholarships to kids who are water people and getting them to college is wonderful," says Cole, whose own son Doug benefited from one of its scholarships for water polo in the mid-'90s. "We should see that from all these companies that are making a killing on surfing."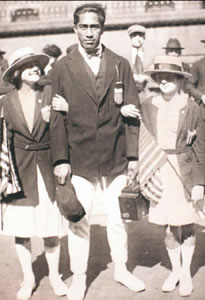 Aileen Riggin Soule (right) with Duke Kahanamoku as the U.S. Olympic team prepares to board a steamer for the 1920 Games. Duke was among the initial inductees into the Hawaii Waterman Hall of Fame last year, and Soule follows her old friend this year. Photo from the family of Aileen Riggin Soule
He acknowledges that the money kids are making on surfing these days is a vast improvement over what it once was, but he still would like to see some emphasis put on their education.
"I would like to see Billabong or Quiksilver get them scholarships," says Cole. "I don't understand where the lack of concern over education is, because when they get to be 30, what are they going to do? I think education is important. It would be nice if all the surfers could read and write."
This is where ODKF steps in. This year alone it awarded $150,000 in scholarships and grants to 68 Hawaii athletes and nonprofit organizations, putting its total charitable contributions at $1.6 million since its inception in 1986.
Top of the list this year was Gabrielle Kahaulelio, a water polo player from Kahuku, who received the $10,000 Ambassador of Aloha scholarship for her acumen in water polo and her heart for Laie.
"The award is not just about their involvement in the sports and high grades, but their involvement in their community," says Shea. "She was clearly our winner this year."
The best way to understand the criteria is to look at the creed Duke lived by and the organization makes its selections upon to this day.
"In Hawaii we greet friends, loved ones or strangers with 'Aloha,' which means with love. Aloha is the key word to the universal spirit of real hospitality, which makes Hawaii renowned as the world's center of understanding and fellowship. Try meeting or leaving people with aloha. You'll be surprised by their reaction. I believe it, and it is my creed."
Those words are inscribed on the koa paddles that will be on display as the new crop of Hall of Famers are introduced. The inductees, or their representatives for those who have passed on, will be paddled across the lagoon at HHV in a double-hulled canoe steered by last year's inductee Nappy Napoleon.
As they approach the Great Lawn, a brand new song written by local musician Johnson Enos called Waikiki Beachboy, which he will perform for the first time in the Islands, will greet them. The song is from his musical Honu by the Sea, which should make its debut in Waikiki next summer.
From there, the inductees will be introduced with film clips and stories of their lives, three of whom most local residents may never have heard of and one who may be the most famous waterman of this generation, Nainoa Thompson. He did not return phone calls seeking comment for this story.
Here's a look at the other three inductees.
Peter Cole made his name surfing giant waves at Makaha Beach and on the North Shore, moving here from California to teach. He soon discovered teaching was getting in the way of his surfing, so he switched to civil service to leave his afternoons free, and spent those days riding monsters with the likes of Eddie Aikau.
Page 1 of 2 pages for this story 1 2 >
Most Recent Comment(s):