Alumnus Class Yearbook
Based on Mufi Hannemann's experience as a White House Fellow, the Pacific Century Fellows annually produces well-rounded community leaders. Deadline to apply for the new class is July 22

Wednesday - July 13, 2011
By
.(JavaScript must be enabled to view this email address)
E-mail this story | Print this page | Archive | RSS
|

Del.icio.us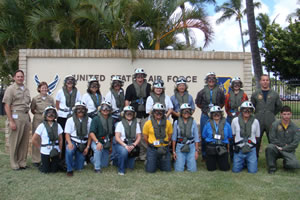 The fellows usually spend at least one day focusing on military issues in Hawaii, here at Hickam
The Pacific Century Fellowship annually increases the community awareness of Hawaii business, government and education leaders
Dedication and singleminded focus can be tremendous assets when managing career growth. But as a growing number of Hawaii business, government and education leaders are discovering, letting business be one's sole focus can leave you feeling strangely unfulfilled.
It can even hurt bottom line. Since 1997 more than 300 Hawaii residents have found a way to enhance their careers while developing their community interests through the Pacific Century Fellowship program.
Based on the White House Fellowship program and created by former White House Fellow and current president of the Hawaii Hotel & Lodging Association Mufi Hannemann, the nine-month leadership program has grown into a training ground for up-and-coming community leaders who rave about its ability to help them both personally and professionally.
"It opened up my eyes. A lot of people who are at that stage of their career have succeeded because they focused on it, but what this experience did was open up my eyes to the larger things how the community worked together, how segments in our society worked together . It made me a better citizen, a better employee and a better leader." -Tim Johns, Senior Vice President HMSA
"In many ways it helped shaped how I went about managing my career in a positive way, and it clearly demonstrated to me the value of having broad exposure in the community. To me that is the emphasis of the Pacific Century Fellowship program. It left quite an impression on me, and it has been very valuable in my career path." Peter Ho, Chairman, President and CEO Bank of Hawaii.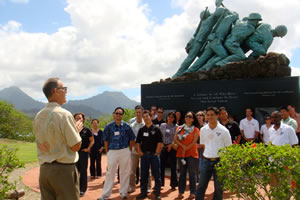 Fellows at Marine Corps Base Hawaii in Kaneohe. Photos courtesy Pacific Century Fellowship
A quick look at the alumni list can appear intimidating, as it appears dominated by overachievers who, by their mid30s, were already setting the business world on fire. But Hannemann says none of that matters if you meet the criteria, especially if you've proven your commitment to community service, you're in whether you're from an old Hawaii family or a new military arrival.
"We want diversity that this is not a group of rock stars or Type A personalities who are well-known throughout the community," says Hannemann. "In fact, the judges love identifying someone the people have not heard about."
The former mayor points to Hawaii's military population as a prime example of highly sought-after applicants, as a big part of the selection process is finding diverse experiences and opinions.
"I always thought that since the military is a permanent institution, because of what it stands for and what it means to us, that even though the military person may be leaving Hawaii, I think we have the benefit from having exposure to the military."
"I didn't even know you could apply for the program. I thought it was very exclusive and by invitation only. It wasn't how I expected it to be. Through the process I found people I knew that I didn't know were Pacific Century fellows." -Michael Tesler, Senior Vice President Grove Farm.
While the application process is open to anyone in their late 20s to early 40s and in the mid
Page 1 of 2 pages for this story 1 2 >
Most Recent Comment(s):