Home is where the Green is
The upcoming 55th annual Parade of Homes is all about going green. The future's so bright, you gotta wear shades - and put solar panels on your roof. From left, Jason Tanaka of HECO, McKibbin Mist of Gentry Builders and Tracy Nagata of D.R. Horton

Wednesday - October 05, 2011
By
.(JavaScript must be enabled to view this email address)
E-mail this story | Print this page | Archive | RSS
|

Del.icio.us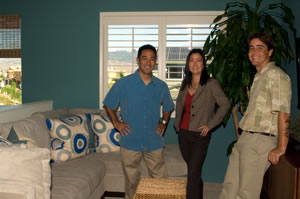 (from left) Jason Tanaka of HECO, Tracy Nagata of D.R. Horton Homes and McKibbin Mist of Gentry Builders
With new homes 50 percent more energy efficient than just a few years ago, the emphasis of the upcoming Parade of Homes is on living greener and healthier
Living green isn't really a choice for the modern homebuyer. With rising energy costs, it's become a necessity. The good news is that energy-saving options are built into nearly every new home. Energy Star appliances, solar water heaters, windows designed to reduce radiant heat flow, effective use of space and even photovoltaic systems have made homes 50 percent more efficient than they were just a few years ago, says McKibbin Mist, purchasing and contracts manager for Gentry Builders and steering committee chairman for this year's Parade of Homes.
"The greenest house we built four years ago was maybe 50 percent efficient. The greenest house today is 100 percent efficient. The technology has gotten much, much better and the efficiencies have gotten much, much better," he says.
This weekend marks the 55th anniversary of the Building Industry Association Parade of Homes, an event that annually draws thousands of homebuyers and homeowners interested in seeing the newest technology and design concepts while stealing a few decorating ideas.
That's OK, by the way.
This year's theme, "Sustainable Lifestyle ... Sustainable Homes" highlights new environmentally friendly home construction. For the first time in parade history, every home features energy-saving construction.
"As developers, we have a responsibility to do the research and come up with different product types or styles of homes," says Tracy Nagata, vice president of design and purchasing for D.R. Horton Hawaii.
The open house is Oct. 8 and 9, 15 and 16, and includes homes by Castle & Cooke Homes Hawaii Inc., D.R. Horton, Schuler Homes and Gentry Homes Ltd.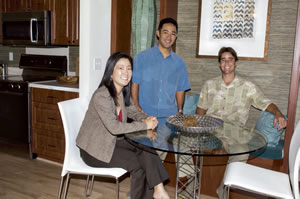 Tracy Nagata of D.R. Horton, Jason Tanaka of HECO and McKibbin Mist of Gentry relax in a 'green house' featured in the upcoming Parade of Homes. Nathalie Walker photos
Building energy-efficient homes make sense for both buyer and developer. Developers can get an immediate $2,000 tax credit for building a home that is 50 percent more efficient than code, and the increased energy efficiency adds to the value of the home.
The most obvious use of green technology on homes throughout the state is installing solar water heaters. This makes sense. According to HECO, water heating is responsible for 35 percent of home electrical use, and that a family of four uses 260 kilowatt-hours per month to take showers and wash clothes and dishes. At current Oahu rates, that's just over $66 a month. And with 50 percent of each bill comprised of fuel costs, the chances of that cost getting smaller without an investment in green energy is almost nil.
"The best way to be green is to use less," says Mist.
"It is really a lifestyle that we all need to adopt," adds Nagata.
One of the best ways to use fewer resources is to design communities that promote healthy lifestyles and reduce people's need to drive to places of interest. This concept will be on display to Parade of Homes visitors, who can see centrally located areas of interest such as parks, community centers, and the availability of shopping centers and places of employment.
"We are creating communities," says Nagata. "We are planning how the roads are going to work and how neighbors are going to interact. We are not just selling one house, we are selling neighborhoods."
"The designers and architects are getting much better at finding out how people move within the area either by car or on foot," adds Mist. "The flow of movement in the community is much better than it used to be. They've gotten into how people interact with each other."
The biggest buzz in green living is the growing use of photovoltaic systems. While these systems have the ability to zero out electrical use, the initial costs can be expensive, even with state and federal tax incentives. Mist says there are ways to make these added costs more affordable, but first he recommends homeowners and prospective buyers determine their energy needs before investing in a PV system. A single homeowner may not use enough electricity to offset the cost of the system, but for a family with rambunctious youngsters in constant need of clean clothes, cold drinks and power to run their marathon video game sessions, the savings could be substantial.
"Energy consumption can vary 300
Page 1 of 2 pages for this story 1 2 >
Most Recent Comment(s):