OLD FRIENDS
In 'The Boys of Autumn,' Pat Sajak and Joe Moore tell a tale much like the one they share. I want to set the record straight. I was never the weeping ninny Mark Twain made me out to be in his novel The Adventures of Tom Sawyer. I knew Samuel Clemens before he was "Mark Twain,"

Wednesday - June 23, 2010
By
.(JavaScript must be enabled to view this email address)
E-mail this story | Print this page | Archive | RSS
|

Del.icio.us

By BECKY THATCHER (as told to Susan
I want to set the record straight. I was never the weeping ninny Mark Twain made me out to be in his novel The Adventures of Tom Sawyer. I knew Samuel Clemens before he was "Mark Twain," when he was a wide-eyed dreamer who never could get his facts straight.
I was Tom Sawyer's childhood sweetheart, but the true story of our love and the dark secret that tore it apart never made it into Twain's novel. If you attend The Boys in Autumn June 24-27 at Hawaii Theatre, you will learn the truth.
Oh, yes, I'll be there in that majestic theater, although you will not see me. You can't have a play about our halcyon days in Hannibal, Missouri, without recalling Tom's leading lady and love interest.
But Thomas Gray, played by Wheel of Fortune TV game-show host Pat Sajak, and Henry Finnegan, portrayed by Hawaii news anchor Joe Moore, are the main storytellers. In fact, they are the only storytellers and carry the entire script and engaging repartee for the full-length, two-man play. That takes talent. (For legal reasons, Twain's characters could not be named, but Sajak's character is Tom Sawyer and Moore's is Huck Finn.)
Sajak and Moore, old Army buddies and close friends, are reunited in this benefit performance for Hawaii Theatre out of the goodness of their hearts. They both love Hawaii and doing plays together. You'll recall that they've been on the same stage before in The Odd Couple and The Honeymooners.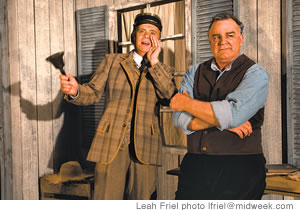 Sajak and Moore during a rehearsal
This is a "hana hou" you won't want to miss.
Bernard Sabath's play The Boys in Autumn opened on Broadway in 1986 with George C. Scott and John Cullum. Burt Lancaster and Kirk Douglas played the characters in the West Coast production. The play is a touching, often funny, sometimes bittersweet look at the changes we go through as we grow up and how we often never fully escape our past. The Mark Twain folk heroes meet up as disillusioned middle-aged men.
But let me not get ahead of myself. The best ones to talk about Hawaii's production of this play are Joe Moore and Pat Sajak. As a real-life newscaster and game show host, respectively, these two are never at a loss for words!
How did the idea to do this play come up?
Moore: Pat and I were looking for a play, and I was lucky enough to stumble across this in a catalog. I had not seen it performed and was not familiar with it, but just the idea of Huck Finn and Tom Sawyer having a reunion 50 years after they parted ways as boyhood pals piqued my interest. I was blown away by the script and sent it to Pat with a note saying, "We've got to do this."
Sajak: We were looking specifically for a two-man play, and Joe ran across this. I had never heard of it before, but I found the relationship between the two men - and the performing challenges - to be compelling. This will not be the Huck and Tom everyone knows. No one can do a half-century of living without going through dramatic changes. Audiences should not expect us to be whitewashing fences and getting lost in caves.
Like Tom and Huck, Pat and Joe are pals till the end
Tell us about the characters.
Moore: After reading the script, I saw myself as Huck and Pat as Tom. I think he'll tell you he saw it the same way. The reasons we saw the casting that way, I think, will become obvious to the audience when they see the play.
Sajak: Tom Sawyer has become an old vaudevillian who has probably been more successful in his mind than in reality. He's reached a point in his life where he feels the need to reconnect with the person who was once most important to him, and thereby reconnect to his childhood as a way to resolve some important issues for himself and give him some direction. I've reread some Twain just to remind myself of the relationship between Huck and Tom, but a lot of years have passed since then and, like all of us, these men have changed.
Any similarities to your real-life friendship?
Sajak: I think we all hold a nostalgic spot in our hearts for the people and events of our younger selves. While Joe and I were a bit older than these two when we met, I can't say we were much more mature. I'm constantly surprised by how much this play and these characters touch me and take me back to my youth. There's a melancholy aspect to it, too, because none of us can ever really go back.
Moore: Like Tom and Huck, we're both smart alecks. Pat's one of my dearest friends, even though we don't see each other that
Page 1 of 2 pages for this story 1 2 >
Most Recent Comment(s):