Becoming Kaiulani
Q'orianka Kilcher, who portrays Princess Kaiulani in a film releasing this Friday, shares her views on the movie and wardrobe
Wednesday - May 12, 2010
By
.(JavaScript must be enabled to view this email address)
E-mail this story | Print this page | Archive | RSS
|

Del.icio.us

'MidWeek' showcases the beautiful period costumes worn by actress Q'orianka Kilcher in 'Princess Kaiulani,' which opens Friday
Princess Kaiulani, the film about one of Hawaii's most beloved alii, is scheduled for national release this Friday (May 14) opening in 14 select cities, including Honolulu.
Here, MidWeek gets an exclusive look at some of the stunning costumes worn by actress Q'orianka Kilcher, who beat out more than 60 candidates for the title role.
"The costumes were absolutely breathtaking,' says Kilcher, 20. "They were just so beautiful and intricately made, and the quality of them was mesmerizing.
"The costumes just bring the characters to life so much. They play such an important role in films, and I think (the wardrobe people) did an amazing job with it."
The film features Kilcher in about 20 different costumes, with at least eight that were custom-designed by Kathryn Morrison. Many of the dresses were created with vintage materials reflecting the late 19th century.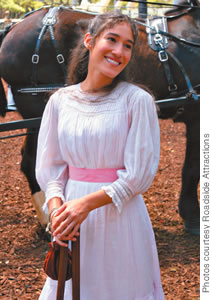 Kilcher even wore the tight corsets of the time period as she portrayed the lovely Princess Kaiulani
Kilcher says her favorite costume was an aqua/turquoise dress (pictured on page 46) she wore in a scene filmed at Sherwood Beach in Waimanalo.
"They were all so beautiful in their own way," she says. "Wearing the costumes, the corset, it made me walk differently and my posture was different.
"It really flashed me back into that time period and helped me to get lost in my character. To feel all the constrictiveness of the dress made me feel more regal in a sense because the corset was holding me in a certain position.
"For the most part, the costumes were comfortable. But the corset sometimes was really, really tight and I wanted them to tighten it all the way and completely close it. I didn't want to make it comfortable, just to feel the way it would feel back then."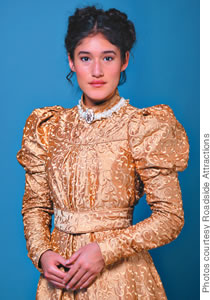 Kilcher even wore the tight corsets of the time period as she portrayed the lovely Princess Kaiulani
Kilcher also wore jewelry that were replicas of original pieces worn by the princess, redesigned by local jeweler Philip Rickard.
"With the jewelry, I fell in love with this brooch that throughout the film was pretty essential," says Kilcher. "It had the crown and the letters V and K for Victoria Kaiulani, and it was beautiful.
"I took it with me when I went to pay my respects to Kaiulani (at Mauna Ala, the Royal Mausoleum in Nuuanu) because before we started, I refused to start any filming until I could go to pay my respects. I brought a lei of pikake and I had that little brooch with me."
In real life, Kilcher enjoys wearing long, flowy skirts or dresses. She loves earth colors, such as browns, and describes her style as feminine and elegant.
She also designs her own clothes with mom Saskia and hopes to eventually make them available to the public.
"We make a lot of the clothes I wear on the red carpet," she notes. "Ever since I was little, my mom would help me make my costumes for my performances I'd have, like at Diamond Head Theatre, so it's a nice bonding time with my family.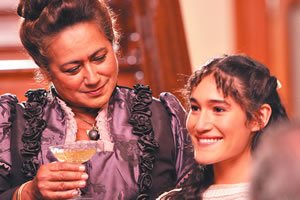 Leo Anderson Akana as Queen Liliuokalani with Kilcher as Kaiulani
"I started my fashion thing to help empower upand-coming young designers because I realize that it's really hard for them to get their clothes seen and worn. I also want to mentor and pass on the good fortune of being in a position where you're able to help others."
Kilcher resides in Los Angeles but is currently in Arizona filming a "drama-dy" called Shouting Secrets. This summer, she begins work on Algona, a feature film about German POWs during World War II.
Kilcher, who is Swiss, Peruvian, French, Spanish, German, Quechua and Huachipaeri, was born in Germany and moved to Hawaii with her family at age 2.
They lived in Kailua and on the North Shore before moving to Los Angeles when she was 9.
"I try to come back to Hawaii as often as possible but I have yet to make a trip this year," she says. "What I love most about Hawaii is the aloha spirit. That's something that is really special to me
Page 1 of 3 pages for this story 1 2 3 >
Most Recent Comment(s):