Lunch at the Lo'i
When it comes to supporting local farmers and fishermen, Roy Yamaguchi and Alan Wong are all in - all the way up to their knees in mud at a Windward taro patch. It's the site of an exclusive meal that is part of the Hawaii Food & Wine Festival starting Sept. 29
Wednesday - August 31, 2011
By
.(JavaScript must be enabled to view this email address)
E-mail this story | Print this page | Archive | RSS
|

Del.icio.us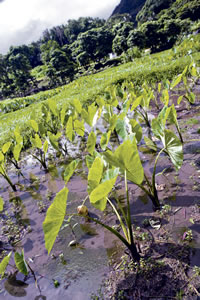 Many varieties of Hawaiian kalo are thriving in the lo'i
There's celeb chefs galore, but the emphasis at the first Hawaii Food & Wine Festival is on fresh local fare
The movement toward sustainability has never been more urgent, and just as they are professionally, world class chefs/restaurateurs Roy Yamaguchi and Alan Wong two of the original Hawaii Regional Cuisine chefs who've had a working relationship with Hawaii's farmers, fishermen and ranchers for the past 20 years are on it. You'd think they already have plenty on their plates, but as co-chairmen of the inaugural Hawaii Food and Wine Festival Sept. 29 to Oct. 2, the accomplished chefs have teamed up to enlighten us on what we should be putting on ours.
The operative word in the festival's title is "Hawaii," and both chefs speak passionately about how important this issue is to them personally, to us as kamaaina and to visitors to our beautiful, yet so often misunderstood islands.
"To me, this festival is extremely important because, for the longest time, Hawaii has always had food and wine events that were for profit or there was an agenda behind it," says Yamaguchi. "But what's extremely important to me is that this is for all of us for everybody who lives here, for everybody who visits here. Bringing in chefs, getting them to come here to utilize our products and see what they come up with ... to showcase the culture of Hawaii in the forefront of food and wine."
With sponsors like Food and Wine magazine and Hawaii Tourism Authority, venues such as the Halekulani, Waikiki EDITION and Hilton Hawaiian Village, and top chefs from across the globe, including Iron Chef Masaharu Morimoto, Kaleo Adams of Waikiki EDITION, Vikram Garg of Halekulani and Jeffrey Vigilla from Hilton Hawaiian Village, as well as Edward Kwon of LAB XXIV in Korea, Nancy Silverton of Mozza in Los Angeles, John Besh of John Besh in New Orleans, Hubert Keller of Fleur de Lys in San Francisco, Allesandro Strata of Strata in Las Vegas and many more, you know these two guys are serious.
"I'm really hoping it becomes an annual thing, like the food and wine celebration in Hawaii," adds Wong. "The big thing is to put a spotlight on Hawaii and what's happening in Hawaii today, and what's happening in the food scene what kind of new agricultural products the farmers have growing. And, really, those are all behind-the-scenes things. You may come as a tourist to Waikiki and have a meal, order steak and lobster or filet mignon, or a big rib steak, and not even taste Hawaii. What's up wit dat?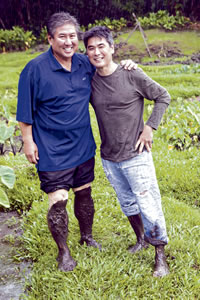 The rain — and mud — don't stop Wong and Yamaguchi from checking out the lo'i. Leah Friel photos

.(JavaScript must be enabled to view this email address)
"So you've got worldclass chefs producing world-class food with local products. That's a cool thing."
Cool indeed. Sustainability is the new buzzword for the ecologically conscious, and what these two chefs are trying to do is to change the attitude of chefs and people in general when it comes to our Island culture. So, they're bringing in the chefs to introduce them to Hawaii's culture and participate in tastings, excursions, educational luncheons and seminars all showcasing our unique islands.
In keeping with that theme, Wong and Yamaguchi wanted to take it a step further: offering an al fresco lunch overlooking the lo'i at the Heeia ahupuaa. That's where Kamehameha Schools and Rick Barboza from Hui Ku Maoli and Ola Papahana Kualoa come in, who are working to restore the 700-year-old lo'i and 800-year-old fishpond.
"Well, the way it worked out is a food festival is only a food festival. But I really felt it was important that culture play a really big part, so early on we wanted to make sure that the cultural aspects of Hawaii get really brought forward and showcased," explains Yamaguchi. "So we went to Kam Schools, and they're the ones who said, why don't we go to Heeia and go to the fishpond? Because one of my first things was to really incorporate sustainability, and along with sustainability comes ahupuaa."
Tickets are selling quickly, but the lucky few who are able to reserve a spot can experience "Kamehameha Schools Presents Bounty of Heeia" Sept. 30 from 8 a.m. to 2:30 p.m. ($85 per person, limit 50 people, includes transportation from and to Waikiki). This is an exclusive opportunity to explore and learn about the ancient concept of ahupuaa with expert cultural practitioners
Page 1 of 3 pages for this story 1 2 3 >
Most Recent Comment(s):