Dynasty
What else do you call Punahou's national record-breaking run of 20 consecutive state tennis titles, 17 under coach Rusty Komori? And he coaches with just two team rules: listening and lateness
Wednesday - July 14, 2010
By Chad Pata
E-mail this story | Print this page | Archive | RSS
|

Del.icio.us

After 20 straight state titles, 17 under tennis coach Rusty Komori, Punahou is the most dominant prep team in U.S. history
Forget the New York Yankees, Los Angeles Lakers and the footballers from Brazil. If you want to see real dominance, go visit the hard courts of Manoa, where the Punahou Buffanblu have held sway on the rest of the Hawaii tennis world for the past two decades.
That's right, in May they won their 20th straight state title. And counting.
The advent of the Internet and cell phones for everyone, and a pair of Bushes in the White House, and still every school year ends the same: another state tennis championship for the Punahou boys.
Trivia: What was the last other team to win the state title? Lahainaluna, in 1990. Before that, Punahou won the previous seven, meaning it's won 27 of the past 28 titles, and since 1969, 35 of 42. Michael Gearen started the current streak as coach in 1991-92, and then Bernard Gusman coached one year before Komori took over for the past 17 - and counting.
Komori is a 1987 Damien graduate who didn't take up tennis seriously until his sophomore year. But once he began his love affair with that fuzzy little yellow ball, he hasn't looked back.
"The reason I went to tennis, I really liked the team sports, but with tennis, if you want to be good, it all depends on you," says Komori, who started out playing baseball and soccer. "If you want to be bad, it only depends on you as well! That's a good thing. You just have to hit it in one more time than your opponent."
He graduated high school ranked fourth in the state and went on to accept one of the first tennis scholarships offered by Creighton University in Omaha, Neb., where he earned a degree in communications with the intention of continuing on to law school.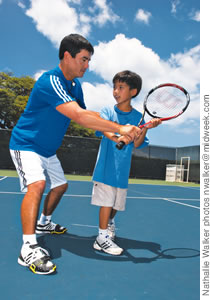 Rusty Komori works with Kailuhia Lam, 9, at the Punahou courts during summer school
But a funny thing happened on the way to the courthouse. He began working as a pro at Waialae Country Club where, as you might imagine, a lot of members are lawyers. As he helped them with their ground strokes, he began to notice many of them were wearing thick glasses, so he asked them what they did all day as lawyers.
"They said, 'Read,'" says Komori. "I knew I didn't want to read things. I didn't want to read all day, so I stuck with tennis and so far, no glasses!"
As a leader of young men, Komori maintains his own style: He is neither bombastic nor authoritarian, but rather exudes a cool, quiet confidence that his players respect. He leads with his actions. Stressing the importance of fitness, he often runs laps with his boys before they ever take to the court.
"I always tell my captains, 'You need to lead by example,'" says Komori, a confirmed bachelor who keeps in shape by running with a 2-year-old Maltese named, wait for it, Ace. "And if they need to, then I need to as well. You can do 99 things right, but if we do one thing wrong, everyone will remember that one thing. So we cannot allow ourselves to do any one thing wrong. That's why I stress self-discipline."
By keeping his rules simple, there is little confusion on what he expects from his players.
"I have two rules for varsity: listening and lateness," says Komori. "Parents like my rules because that's something they want instilled in their kids. I instill self-discipline, respect for the opponent, I try to have them be the best representative of themselves, the program and Punahou School.
"I want them to become really good people beyond high school. Tennis and the adversities they face in it prepares them for life outside of high school."
Komori has a keen awareness that most of his students will not follow his lead and make a career out of tennis. For some, it will lead to college scholarships, but for the majority it will become a recreational diversion and as the years pile on, a way to keep off unwanted pounds and keep the ticker strong.
He understands that he is not shaping their lives, but enriching them. This is a lesson he learned from his old mentor and current colleague Rick Aquino at Mililani Recreational Center.
"Rick once told me, 'You are going to need more than I can give,'" recalls Komori. "What he meant by that was he didn't want to just keep me for himself, but rather he was looking at me developing as a person, and he was adding to me.
"If there were other coaches or tennis clinics that would add to me, then that would be fine. So I look at my players not as my players, but rather how can I add to that player's
Page 1 of 2 pages for this story 1 2 >
Most Recent Comment(s):