Calling Plays at Saint Louis
All-boys Saint Louis brought in Patricia Hamamoto to beef up academics and, boy oh boy, she's done just that. With her (from left) are school VP Duke Aiona, students Richie Lonzaga and Tanner Oshiro, and school president Walter Kirimitsu
Wednesday - June 01, 2011
By Chad Pata
E-mail this story | Print this page | Archive | RSS
|

Del.icio.us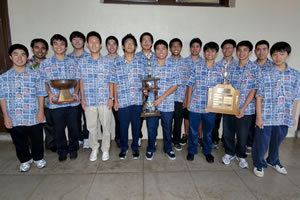 The Saint Louis Math Bowl champions (from left): Dayne Murayama, coach Sam Sea, Eric Angle, Dong Kuk Huh, Daniel Park, Patrick Ma, Kevin Park, Byung Hee Chun, Ako Gagrin, Logan Gonzaga, Zachary Pilien, Matthew Lee, Nathan Lam, Erik Lemasa, Dayne Okamura and Jeffrey Kim. Nathalie Walker photos

.(JavaScript must be enabled to view this email address)
After 164 years of teaching young men in its all-male enclave, Saint Louis School broke the gender barrier last year by bringing in renowned local educator and administrator Pat Hamamoto to change the tack of the school from its athletics-focused reputation to a foundry for well-rounded students.
One year in, the results have been remarkable.
"She really turned things around for us academically," says former judge Walter Kirimitsu, president of Saint Louis. "She built a stronger, more comprehensive curriculum; she is building a faculty that is highly qualified. She has turned things 180 degrees for the school and that is a good, good sign for us."
For the first time in Kirimitsu's five-year tenure, enrollment is up - dramatically, according to him - and the new executive vice president of recruitment Duke Aiona lays the credit for that at Hamamoto's door.
"Her reputation as an educator has elevated the credibility of the school from an academic standpoint," says Aiona, the former lieutenant governor who in January took his new position with Saint Louis. "She not only brings credibility but some stability and some direction to the school. It's a great asset for me in trying to market the school and recruiting new students."
While she has installed some major changes to the curriculum and turned the focus from the field to the classroom, she acknowledges that the school will always have its heart wrapped up in its sports teams.
"It will always be an athletic-focused school, primarily because the young men are athletes and guys like sports. It is a natural thing," says Hamamoto, who has spent the past 36 years educating Hawaii's youths.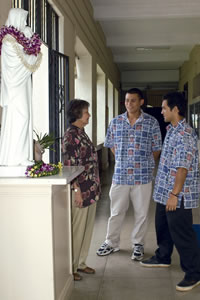 Pat Hamamoto with students Ka'ai Tom and Aaron Burch
"Our job is to be sure that for these students who are going to be star athletes, or even just student athletes, that they have the academics behind them to get them into the colleges of their choice and to get scholarships."
Some of the changes have been simple, such as the schedule of the school day. Prior to her arrival, classes were just 45 minutes, with the boys required to take six to eight classes a day. This left a lot of time for students to mill about talking story and hanging out on the steps.
She has installed a firm seven-class school day with each class lasting an hour; this gives teachers more time to explore their subject matter and students less time to be idle. Some students balked at first, but in her career she has discovered if you challenge kids, they will step up.
"Students achieve to expectations. If expectations are low, then that's what you'll get," says Hamamoto. "But if you raise the bar, kids will always look for it, especially with the boys - they like a challenge. It's a gift. Continuous improving will continue if you keep challenging them."
Another change is in diversifying the boys' education. They are all unique and therefore should not all be taking the same classes. There are the five core classes each day and then two specialized classes, depending on the students interests, varying from STEM (Science Technology Engineering Math) classes to business prep courses to the fine arts.
As proof of the new
Page 1 of 2 pages for this story 1 2 >
Most Recent Comment(s):