SHOP AND SCORE!
Thanks to Times, Kraft and Adidas, school athletic programs get a boost in these tough economic times. In recent years it seems we have watched some of our biggest sports stars fall from grace, and with them our belief in the magic of sports fell as well.
Wednesday - September 01, 2010
By Chad Pata
E-mail this story | Print this page | Archive | RSS
|

Del.icio.us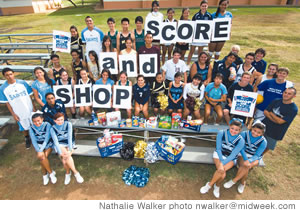 The Times-Kraft promotion that runs through Oct. 5 allows shoppers to support their favorite high school athletic program. This year, the 10th Shop and Score, $200,000 to purchase sports gear is up for grabs
In recent years it seems we have watched some of our biggest sports stars fall from grace, and with them our belief in the magic of sports fell as well.
Tiger Woods' Thanksgiving fiasco has led to the unveiling of all his dalliances and the unraveling of all his skills. Baseball gods Alex Rodriguez, Barry Bonds and Roger Clemens, the very modern-day Mount Rushmore of their sport, all turned into pariahs for their chemical enhancements. Michael Vick and his dogs, the NBA and its insatiable marijuana addiction - everywhere we turn it seems that sports has lost its way.
And then a story comes along that turns it all back into roses for us.
Invariably that story seems to come from the roots of sports: youths. This year it once again came from the suburb of Waipio as the kids returned to Williamsport to compete in the jewel of adolescence: the Little League World Series.
The boys of summer have reminded us of not just what sports means to kids, but to the community as a whole, a reminder that comes in just as Times Supermarkets and Kraft Foods kick off their 10th annual Shop and Score program, this year set to give away $200,000 to local high school athletic programs.
"It's not just for the athletes, it's for the community as well," says Neal Takamori, athletic director of McKinley High School for the past 20 years. "Since time immemorial athletics have been a unifying factor in all civilizations. We see it all the time. They come out more to sporting events than they do to PTSA meetings. One sports meeting I can fill up the auditorium; have a PTSA meeting, I wouldn't even get a fourth of that!"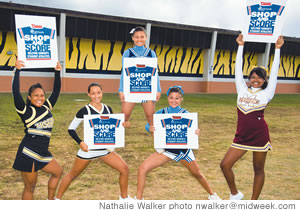 (from left) Aimee Joy Tierra and Nicole Rodrigues of of McKinley High, Melissa Bantilan and Nicole Condon of St. Francis and Gabriella Pacada of Maryknoll are cheering for Shop and Score success
It is this impact in the community that Kraft wanted to foster when it first began the program a decade ago. Since its inception, it has raised more than $950,000 for uniforms in coordination with Adidas and Times. Gerald Shintaku, Hawaii business manager for Kraft, has been there since the program began.
"We saw the need - budgets were not getting cut as severely back then," remembers Shintaku, a self-proclaimed former bookworm at Pearl City High School. "But No. 1 we saw the need and No. 2 we know sports really helps kids grow up and keeps their minds grounded in the right things."
The program is simple: For the next six weeks, whenever you shop at Times, there will be certain items marked as Shop and Score products. Whenever you purchase these products, ranging from Kraft Macaroni and Cheese to Love's bread to Gatorade, you accumulate points for your favorite high school.
When checking out, just let the clerk know to which participating high school you want to designate your points and you earn that school dollars toward its athletic program. The school doesn't have to be in the area or even on island this year, as Maui and Kauai schools are now participating for the first time as well. So if you're a Baldwin or Kapaa High grad living on Oahu, you can help your alma mater from afar.
"After Times bought Star Markets
Page 1 of 2 pages for this story 1 2 >
Most Recent Comment(s):