Monument to Compassion
That's exactly what the Shiners Hospital for Children is, and the monument is growing with an $80 million, 40-bed addition. Among the more than 23,000 kids who have been served by Shriners are Kiaka Malagaomo-Pio, 7, and Wesley Park (right). With them is Dr. Carl Scheer

Wednesday - August 25, 2010
By
.(JavaScript must be enabled to view this email address)
E-mail this story | Print this page | Archive | RSS
|

Del.icio.us

For 80 years on Punahou Street, Shriners Hospital has been healing ill and injured children, and changing their lives for the better
If buildings could talk, what fascinating stories they would tell. Buildings house people as they play out their daily lives. They shelter great minds at work developing solutions that change lives. And they are the foundations from which great traditions emanate.
This is the story of a building with great stories to tell.
It is located at 1310 Punahou St., just off the H-1 Lunalilo Freeway and a stone's throw from where President Barack Obama spent his youth. There's something poetic about that because the building we refer to - Shriners Hospital - is a monument to compassionate and responsive health care, something our nation is grappling with right now. This shining example of medical miracles was in Obama's neighborhood all the time.
We often take for granted what's in our own backyards. How many of us drive or walk past Shriners Hospital without knowing what goes on inside? Unless you have business there, you never give it a thought.
After reading its story, hopefully you'll have new insight and regard for what this building encompasses, the people who bring it to life every day and the humanity it represents.
Historic Foundation
First, let's lay down some facts. Before one erects a building, there must be a foundation.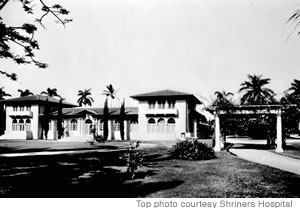 The original Shriners Hospital on Punahou Street was deeded to the Shriners by the Dowsett family.
Shriners Hospital is supported by the Shriners fraternity, a charitable organization first established in 1827. Early members of the Shriners brotherhood included Hawaii's King Kalakaua. In 1919, the Shriners began focusing on the needs and treatment of children with orthopedic conditions. That is, disorders or deformities of the spine and joints.
In 1923, a Honolulu hospital was established in the Liliha area. In October 1930, the present Punahou site was deeded to Shriners Hospital by the Dowsett family.
The Dowsett mansion, an impressive three-wing structure with trellis driveway, was converted to a 30-bed hospital. An expanded structure was built in 1967.
The 86,000-square-foot hospital met the needs in 1967, but now it doesn't. With advancing medical technology and the need for modern infrastructure, plans were made five years ago for a new $80 million, 40-bed hospital complex.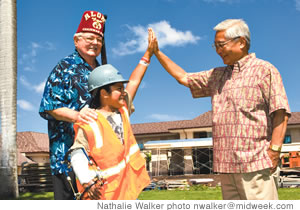 Dr. Carl Scheer, patient Kiaka Malagaomo-Pio and Wesley T. Park, a former patient, celebrate the hospital's expansion
The 138,000-square-foot state-of-theart facility allows Shriners to continue its mission of providing specialized medical care to thousands of children from Hawaii and the Pacific at no charge.
That's right, President Obama, at no charge.
Shriners have helped more than 23,000 kids in Hawaii who suffer severe orthopedic problems. While there are fully equipped radiological, surgical and therapy facilities, there is no billing department. That's because the hospital does not bill patient families or rely on funding from health insurance and the government.
Care, research and education are possible because of the generosity of donors. The Shriners Hospital endowment is the major donor, and Hawaii's hospital is one of 22 such benefactors in North America.
Yes, those guys in the red fez hats who march in parades and bring joy to public events as Shriner clowns have a serious philanthropic purpose. It is neither a religious organization nor a secret society, according to members. The 950 or so members in Hawaii, like other fraternal clubs, hold monthly meetings at the Scottish Rite Cathedral in Makiki, enjoy social get-togethers and support the organization's main cause: helping impaired children.
After two years of construction, the new Shriners Hospital on Punahou Street is ready to celebrate a grand opening. Dedication ceremonies, victory dinner, screening clinic and other fanfare are planned this month.
This is no small victory.
For the first time in its history, the Shriners turned to the public for donations. The lion's share comes from the Shriners endowment. But a compassionate community is contributing about 20 percent of the needed funds.
Despite tough times, the monumental project came through fortified for the
Page 1 of 2 pages for this story 1 2 >
Most Recent Comment(s):