dancing with the carrs
A former Maui farm boy, Stanford Carr - here with wife Kathy - is today one of Hawaii's biggest developers. But it's for his charitable work that he's being honored by the March of Dimes at Saturday's Governor's Ball
Wednesday - November 03, 2010
By Katherine Nichols
E-mail this story | Print this page | Archive | RSS
|

Del.icio.us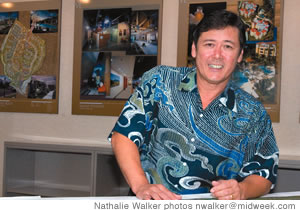 Among Carr's new projects is refurbishing the Makena Resort on Maui
A former Maui farm boy, Stanford Carr is one of Hawaii's biggest developers, but it's for his generosity and willingness to help, often doing more than is expected, that he's being honored by the March of Dimes
Stanford Carr is holding court unexpectedly next to the elevators in the downtown office of his eponymous development company. What's supposed to be a photo shoot with his wife, Kathy, faces repeated interruption as Carr greets every person passing through with an airborne, casual hand clasp and quick slap on the back. His boisterous laugh and self-effacing jokes while cradling Kathy in his tuxedoed arms make it a show worth watching.
But it's clear that everyone who strolls through the doors of Stanford Carr Development admires its CEO, no matter what he's doing - possibly because he spends so much of his spare time helping others.
This is one of the reasons why the March of Dimes Hawaii Chapter will honor him at Saturday's Governors' Ball with the Franklin Delano Roosevelt Award for Distinguished Community Service.
"Stanford has done so much in the community," says Carmella Hernandez, March of Dimes state director. "When somebody comes to him for help, he goes above and beyond. He gives 110 percent."
This became even more apparent when the March of Dimes set a goal of raising $375,000 at the 2010 event. Carr, who wanted this year to be the best ever, bumped the target up to $500,000, and jumped into the fundraising efforts himself.
"He doesn't do things small," adds Hernandez. "He does things big. He pitches in and helps in a multitude of different ways. It's been amazing working with him."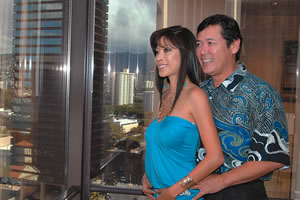 Stanford and Kathy have personal reasons for helping March of Dimes
But his motivations for helping the March of Dimes run deeper than his pervasive desire to serve the community. Two of the Carr's three children, ages 11, 8 and 6, were born prematurely and endured an extended stint in the Neonatal Intensive Care Unit (NICU) at Kapiolani Medical Center for Women & Children.
"It was a scary time," recalls Carr, 48. "You feel so helpless."
The experience moved the couple to donate $500,000 with Clyde Kaneshiro and his wife (each family gave $250,000) for various services at Kapiolani. Their legacy lives in perhaps the most joyous part of the hospital: The Kaneshiro and Carr Nursery. It's just one example of how Carr's efforts have made an impact.
"He gets involved in everything with gusto," notes Kathy. "He has a big heart. He's willing to help anybody. He's a 'shirt off his back' kind of guy. He's just so full of energy, and he uses every ounce of it until he has none."
In his workplace, numerous awards line the halls, testaments to Carr's professional accomplishments. But on display in his corner office is the life balance he seeks. Rolls of architectural plans overflow from a basket, gifts from citizens and colleagues claim prime real estate rather than getting shelved, and family photos and his children's artwork fill the walls. The warmth and slight chaos reflect a personality that engages people and fresh pursuits at every turn.
There's the demanding work schedule in a company with 50 employees on three islands, a new fitness routine with a trainer, and involvement in charities that include Honolulu Theatre for Youth, American Heart Association and Hawaii Council on Economic Education. And that doesn't include the pro bono efforts, such as constructing the 80-unit Maili Land Transitional Housing project in Waianae, another transitional housing project on Maui for people emerging from incarceration and a homeless shelter on the Big Island.
But he does save most weekends for family, friends and cherished activities. Beach-going, snorke-
Page 1 of 2 pages for this story 1 2 >
Most Recent Comment(s):