A Tamura's Tradition
The Tamura ohana has been in the grocery business on Oahu since the 1920s. Here, Herbert Tamura and son Glenn, who steered the company into wine and fine foods, prepare to celebrate the arrival of 2011 in taste and style
Wednesday - December 29, 2010
By Chad Pata
E-mail this story | Print this page | Archive | RSS
|

Del.icio.us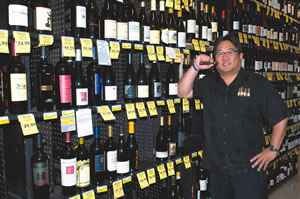 Glenn Tamura got into wines and cigars while attending college in Southern California
It started in Waianae in the 1920s with an ethnic market. Today, Tamura's is party food and beverage central
As the people of Oahu prepare for New Year's Eve celebrations, many will be filing into Tamura's Fine Wines and Liquors, Oahu's one-stop party shop for the past 15 years.
"When we opened you only had a couple people dabbling in it, R. Field and Fujioka's," says Glenn Tamura, president of Tamura Enterprises, which now owns three grocery stores, three fine wine shops and a warehouse distribution center.
"When I got in I brought a different aspect to it. We have more of a supermarket setup - smaller markups, higher volume - whereas the other ones were more like gift shops with really trendy items. We carry everything from the $3 wine to the $1,000 wine. Plus, in our supermarkets, the top sellers were always beer and poke, so I figured let's stick them in our wine shops too."
Not only do they carry Tamura's famous poke, but also cigars, top end whiskeys and gourmet cheeses that will make one a most desirable holiday guest. The name Tamura's has become synonymous with good booze, but it was not always that way.
For the older generations in the Islands, the name is more associated with their original supermarket in Waianae opened by Glenn's great-grandfather Maketaro Tamura in the 1920s. They were known for catering to the varied ethnic food needs of the people of the island, carrying pig's blood, sliced takuan, won bok kim chee and pork lau lau. For three generations, they met the dietary needs of the Leeward side, but it looked like it would end there as young Glenn had other ambitions.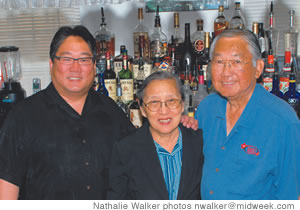 Glenn, Janet and Herbert Tamura
"I wanted to go to school, and first I wanted to be an engineer," recalls Tamura, "but Dad said, 'I know you are not going to live behind a desk 'cause you're not that kind of person, you like to get out there and meet people.' He said I was going into the wrong industry, I should go into business, I was born with my mouth first, I'm a people person, and sitting behind a desk is not going to make me happy. Now, I'm kinda glad my dad twisted my arm little bit."
So, upon getting his MBA from the University of Hawaii, he went on to the University of Southern California for a specialized supermarket retail program, and while the program surely increased his acumen, it was the experiences outside of school that dictated the course of his life.
"When I was at USC, on the weekends we would travel," says Tamura, who grew up in Waianae but graduated from Mid-Pac, "go to different bars, different liquor stores. And I was like, wow, we don't got all these box liquor stores and fine wine shops in Hawaii with their cognacs, whiskeys and cigars. But being in a fraternity, that's how I started drinking, and I was exposed to all that on the Mainland. So I came home and thought it was a good idea, a niche that we didn't really have here."
He brought the idea home to his father, Herbert, who balked at the idea at first.
"I kept bugging him, but he doesn't drink so he didn't see the opportunity," says Tamura. "But as he
Page 1 of 2 pages for this story 1 2 >
Most Recent Comment(s):