Stranger Than Fiction
The GIFT Foundation's annual gala is the Halloween party of the year, partly for the fun, mostly because of all the children who will benefit this year

Wednesday - October 12, 2011
By
.(JavaScript must be enabled to view this email address)
E-mail this story | Print this page | Archive | RSS
|

Del.icio.us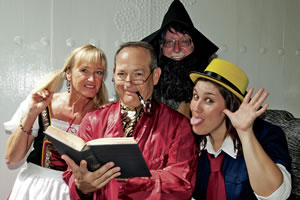 From left: Connie Sizemore as Gretel, Jeff Arce as a well-read gentleman, Kenneth Zeri as Gandalf the Young and Antonia Alvarez as the lovable Madeline
The GIFT Foundation of Hawaii's annual gala is earning a reputation as the Halloween party of the year, and this year's bash should only enhance that. But the real news is all the money the party raises, and the local organizations that benefit. The emphasis in 2011 is on serving Island keiki
For those who love getting lost in fiction, interpreting characters may rely on the imagination and vision of each character, transforming thoughtful creation guided by words into visual conception. English author Anthony Burgess wrote, "The nature of a novel is that it has no opinions, only the dialectic of contrary views, some of which, all of which, may be untenable and even silly."
It is that personal interpretation of silliness and borderline strange that should make this year's The GIFT Foundation of Hawaii's Halloween extravaganza quite the spectacle. Since 2003 The GIFT Foundation of Hawaii has created a pedestal for the themed Halloween party, from its inaugural College Daze frat party to its MTV theme or its 2009 swank Vanity Fair concept all have been nothing short of outlandish and always fun and entertaining.
This year the philanthropic vanguards at The Gift Foundation of Hawaii are creating a night of wild entertainment centered around literature. Titled "Literati Glitterati: Stranger Than Fiction," The GIFT Foundation of Hawaii invites the wildest rendition of literature characters to mix and mingle with one another Oct. 28 at The Modern Honolulu.
"There isn't a wider, more expansive creative option than literature," says GIFT Foundation of Hawaii board member and event co-chair Jeff Arce. "A lot of times you have a book and it is up to your own interpretation of what that character really looks like. When we come up with our theme, it is very much about costuming. This year you will find a variety of new twists."
There are many reasons why The GIFT (Giving Inspiration for Tomorrow) Foundation of Hawaii is becoming synonymous with not only Halloween, but the philanthropy community as a whole. Comprised of young business leaders who wanted to do good for their community, The GIFT Foundation puts a refreshing spin on philanthropic giving, living up to its motto, "This is not your parents' fundraiser."
"Our overall goal is to specifically raise a sense of need and desire for philanthropy in the younger generation, and just do something a little different, a little more edgy," says Arce, who is a partner in The MacNaughton Group. "You should have fun when you're going out and doing good things, and that is pretty motivating for a lot of people."
What seems to be most important the underlying focused theme behind all of the witty and often outrageous costumes, the bravado of the venue and music, the exoticness of the food and drinks is the importance of to whom and where the funds raised each year are going. Taking all of the responsibility, The GIFT Foundation of Hawaii board members plan and coordinate everything, from evaluating and selecting each beneficiary, executing the fundraising plans and determining the Halloween theme to selecting the venue and planning each detail.
Past organizations that have benefited from the more than $1 million in total fundraising efforts raised are Hawaii Youth Symphony, Hawaii Nature Center, Hawaii Literacy, Hui Malama Learning Center, Children's Discovery Center, 'Aina In Schools and Save
Page 1 of 2 pages for this story 1 2 >
Most Recent Comment(s):