From Modest Beginnings to Women Distinction
Each came from a humble start in life, but Karen Chang, Sharon Weiner and M.R.C. Greenwood didn't let that, or anything else, deter them. One key to success, they agree, is the willingness to take risks.

Wednesday - November 09, 2011
By
.(JavaScript must be enabled to view this email address)
E-mail this story | Print this page | Archive | RSS
|

Del.icio.us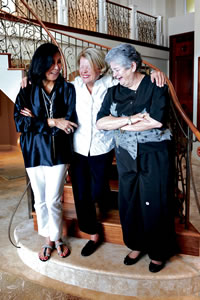 Karen Chang, Sharon Weiner, and M.R.C. Greenwood enjoying each other's company. Lawrence Tabudlo photo |

.(JavaScript must be enabled to view this email address)
Each was born into the most modest of situations, but through hard work, dedication and plenty of smarts, Karen Chang, Sharon Weiner and M.R.C. Greenwood rose to the top
It's 8:30 on a Saturday morning, but Karen Chang, M.R.C. Greenwood and Sharon Weiner are already chipper, chatting excitedly over coffee before they jet set off to the Mainland or head off to meetings later that afternoon. By most people's weekend standards, 8:30 on a Saturday morning is too early to do much of anything. But then again, these three women aren't most people.
Chang, Greenwood and Weiner are among the most successful individuals in their fields of business, education and communications, respectively.
Karen Chang is a business leader who has served in top-level positions at various companies and is currently the chairman of the board at Hawaii Pacific Health and a member of the advisory board of Farmers Insurance Group-Hawaii. M.R.C. Greenwood is the president of UH Manoa and has extensive experience in scientific research and higher education administration. And Sharon Weiner is the vice president of corporate global communications and government relations at the DFS Group.
These women are the honorees at the 2011 Woman of Distinction Dinner, an annual event that is sponsored by the Girl Scouts of Hawaii (GSH). GSH is the local chapter of the Girl Scouts organization, which includes more than 3 million scouts nationwide and about 5 thousand scouts locally. According to the Girl Scouts mission statement, the organization "builds girls of courage, confidence and character who make the world a better place."
The Woman of Distinction Dinner honors women who exemplify these attributes.
"The first and foremost thing is that it allows us to recognize women who are doing great things in the community and who live their lives in a way that espouses our values," explains GSH chief executive officer Gail Mukaihata Hannemann. The dinner also serves as the primary fundraiser for GSH, supporting the organization's programs, which include community service projects, educational activities and camping trips.
This year's theme is Global Thinking, a concept that has been on the minds of GSH council and board members for several years. With technological advances in travel and communications, the world of the 21st century is smaller, and evershrinking, it seems.
"Things have gotten really global," Hanneman says. "International boundaries, or country boundaries, don't really mean the same any more. And I think that (people) don't think about them in the same way."
In choosing honorees for this year's dinner, GSH wanted to select women who have international experience and exemplify the Girl Scout mission and Chang, Greenwood and Weiner all quickly came to mind.
Intimidating as their collective resumes may be, each of the women is friendly and down-to-earth. As the trio sits in the living room of Chang's home sipping coffee, they are all energetic, talking fast and laughing often.
Chang's home is a gorgeous waterfront property, with an elegant interior that would put Ethan Allen to shame. But for Chang, such elegance is purely the result of her own hard work and effort to make a better life for herself and her family. Born in Beijing, Chang was forced to flee China at age 4 to avoid the communist troops. "My father was a professor, and my grandfather was a landlord," Chang explains. "Those were the classes of people that the ... communist Chinese government wanted to eliminate."
Luckily for Chang and her family, they were tipped off by a farmer who worked for her grandfather that they had to escape by midnight on a certain date. They joined a group of professors from Beijing University, and the group walked out of China and headed to Hong Kong. The journey took them six months, and when they finally arrived in Hong Kong, they spent the next year and half in a refugee camp. For Chang, daily life consisted of caring for her younger brother at the
Page 1 of 3 pages for this story 1 2 3 >
Most Recent Comment(s):