An Eye for Design
As Mililani's Jay Nicolas Sario did last year, young Island designers Ivy Higa of Kona and Andy South of Waianae have gained international fans on Project Runwayunder the watchful eye of co-host Tim Gunn, who comes to Honolulu Oct. 16
Wednesday - October 06, 2010
By
.(JavaScript must be enabled to view this email address)
E-mail this story | Print this page | Archive | RSS
|

Del.icio.us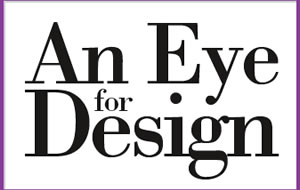 For the second year in a row, young Hawaii designers are shining on Project Runway
In fashion, one day you're in and the next day you're out. That saying, harsh as it sounds, holds true to not just fashion trends but also fashion designers - including Project Runway contestants who have been given an opportunity of a lifetime to show their work to the world while proving their worth to stay in the competition.
Of a reported 15,000 applicants, just 17 were accepted for Project Runway season 8, airing Thursdays at 6 p.m. on Lifetime. They include two Hawaii designers, Andy South (short for Southiphong) and Ivy Higa. Higa, of Kona, made it to the top eight (she was voted off Sept. 23), but South, a Waianae High grad ('04) is still in the game with only six finalists left, all vying for the prize of $100,000 from Loreal Paris to start their own line, a fashion spread in Marie Claire magazine, a technology suite from HP and Intel to create their vision and run their business, and an opportunity to design and sell an exclusive collection on piperlime.com.
Hawaii also was represented last season with Mililani High graduate and former Honolulu Community College student Jay Nicolas Sario, who made it to the top four.
On Project Runway, contestants are given invaluable guidance and critique by style expert Tim Gunn, who co-hosts the show with supermodel Heidi Klum.
Now, Hawaii fans will get a chance to meet Gunn in person Oct. 16 as he makes a special appearance at Ala Moana Center to host a Fall 2010 fashion show including the latest designs from Juicy Couture, Kate Spade New York and Lucky Brand Jeans. Guests also will enjoy live style transformations, fit and style tips and learn how to maximize their wardrobe.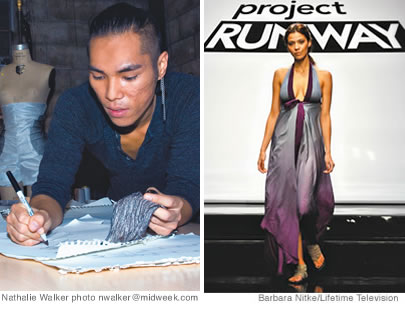 Andy South at work on one of his designs, and a model wearing his resort wear design on 'Project Runway'
"The biggest fashion no-no in my experience, isn't an item of apparel, it's fit," says Gunn, who also serves as chief creative officer at Liz Claiborne Inc. and honorary chair of fashion design at Parsons: The New School for Design. "Most women and men wear clothes that are either too big or too small. I think for women who wear clothes that are too small, they're wearing things that they wish fit them well and they squeeze into them and think OK, I made it into this pair of pants or shorts, therefore it must be OK, even though it's entirely too tight.
"But more frequently than wearing clothes that are too small, I find people are wearing clothes that are too big and it's that comfort trap. It's the desire to not be constrained by clothing, and also for a lot of women, especially those who may not be the slim size that they'd like to be, they feel that wearing larger clothes covers up a lot of larger body. But, in fact, the more volume your clothes have, the more volume you'll appear to have, so it's making you look bigger, not smaller."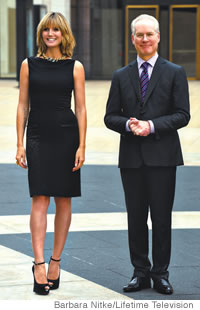 'Project Runway' hosts Heidi Klum and Tim Gunn
South, who was born and raised in Waianae and graduated from Honolulu Community College in 2007, says Gunn's personal advice to him has given him motivation as a designer.
"For him to invest so much time and thought into realizing who we are and where we come from and our process, to me, speaks volume about his character and how much he really cares about his role as mentor on the show," says South, 24. "He's always said that my designs are innovative, and as I've progressed he said this is a mature version of you and I can see you growing.
"He also said that the refinement and ease of editing will come with time. It's not that you can't edit, it's just not going to come as easily to you because you're still young and you're just starting out, but as you progress you will learn that and it'll come second nature to you."
South, who previously worked as a personal assistant to Hawaii-based designer Mahchid Mottale of Baik Baik, says life since Project Runway has been a non-stop roller coaster ride.
"It's been amazing, greater
Page 1 of 2 pages for this story 1 2 >
Most Recent Comment(s):