ROCK SOLID
There's more o Tyson Alualu than the $28 million contract he signed as he Jacksonville Jaguars' first-round draft pick. A proud product of the infamous Kuhio Park Terrace projects, he's spending a big chunk of his paycheck to build a church in the area

Wednesday - September 15, 2010
By
.(JavaScript must be enabled to view this email address)
E-mail this story | Print this page | Archive | RSS
|

Del.icio.us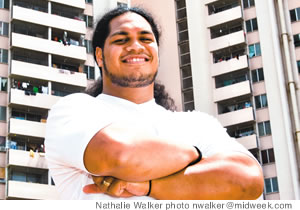 Tyson Alualu says he is proud to come from Kuhio Park Terrace and to serve its people
Tyson Alualu could have escaped the infamous Kuhio Park Terrace, but he's sticking around to serve its people
Its name is infamous. Say the letters "KPT" and images of gang violence and substance abuse come into the popular imagination. Everyone seems to have a story about Kuhio Park Terrace - paramedics locking their vehicle to prevent people from breaking in to steal drugs, police cars being vandalized, televisions being thrown from walk-ways, broken families, assault and even murder. To many, the state's largest public housing development needs to be walled off from the rest of society, its people cast off as collateral damage surrendered to a world of uncontrollable violence and hopelessness.
Jacksonville Jaguars rookie defensive tackle and KPT resident Tyson Alualu disagrees. The first-round draft pick of the Jaguars embraces the area. He is proud of his roots - not because of some misplaced importance on maintaining a silly notion of street cred, but because it is home to hundreds of families much like his own, families who have struggled but who are determined to make a better life for themselves.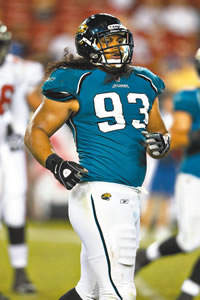 Tyson Alualu (No. 93 with the Jaguars)
"I'm proud of where I am from, growing up in this community," says Alualu. "I'm not ashamed to say that. This celebration (a yearly community event filled with music, sports, dance, barbecues and religion) is to shine a light on a lot of the positive things, because a lot of the media all they build up is all the negative things that happen in this community, but there are a lot of great things and people that come out of this community, and no one says anything about those things."
For the married father of two, Kuhio Park Terrace and its residents are not just worth saving, they are worth serving. The Jaguars'new $28 million man is building a church in the shadow of towers he calls home and where his father, Ta'avao Alualu, better known as Pastor T, will continue the family's mission of providing hope to its neighbors through his Solid Rock Fellowship, which is currently located in an old recreation room at the housing project.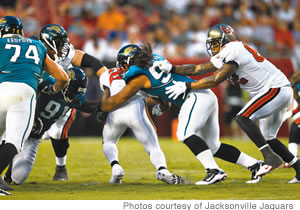 Tyson Alualu (No. 93 with the Jaguars)
The senior Alualu seems perfectly cast for the job of reaching KPT's youngest generation of residents and helping them get and stay on the right path. Before leading his neighbors in prayer, the massive man, whose friendly fist bumps seem to engulf the recipient's hand, led his community down a dark path of drugs, gangs and violence. Or, as his son says, "He led all his brothers and gang members to be the worst people in the world." For years, Ta'avao Alualu was not a man of peace, but of the streets. High on drugs and often violent, he was a man to be feared - even by his own family.
As a toddler, Tyson and his family were often forced to move between shelters and the homes of family and friends in an effort to stay one step ahead of their abusive father whom they feared, yet amazingly still loved.
"It was definitely a scary time," says Tyson. "We would hardly see my dad ... He was in jail for a lot of things: drugs, fighting, weapons when I was younger ... I loved my dad but I didn't really understand why we would always have to run away from him. Just
Page 1 of 2 pages for this story 1 2 >
Most Recent Comment(s):