Nursing Capital of The Pacific
A cutting edge, $8 million teaching facility that opens in Webster Hall this week provides UH nursing students with robotic patients that simulate medical procedure, from childbirth to emergency surgery, redefining world-class and making Manoa the Nursing Capital of The Pacific

Wednesday - January 04, 2012
By
.(JavaScript must be enabled to view this email address)
E-mail this story | Print this page | Archive | RSS
|

Del.icio.us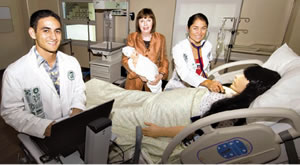 Gary Glauberman, dean Mary Boland and Natalie Anderson in the delivery room. Nathalie Walker photos

.(JavaScript must be enabled to view this email address)
UH-Manoa debuts the most modern nursing simulation center in the U.S., and the beneficiaries will be the people of Hawaii
You think you had a rough day. Consider what we encounter at Webster Hall on the University of Hawaii-Manoa campus. As the elevator doors open on the third floor, we are thrust into a matrix of emergencies.
"Noelle" is in distress and hemorrhaging from the complications of childbirth. Baby "Pat," just a few minutes old, is lying in an incubator with respiratory problems.
A few doors down the hall, "Mr. Kahui" is in the trauma room bleeding from his face and chest after a near-fatal accident. In another room is a disaster scene with folks wailing for help while health care workers cope with a chaotic situation.
Yet faculty, nursing students and administrators are walking around calmly, even smiling, as the whole scene unfolds. For them, it's just another day at the UH Translational Health Science Simulation Center (THSSC).
(And you thought the biggest drama at UH involved the new head football coach.)
What appears as actual hospital or emergency room scenarios are part of a cutting edge center of learning that puts Hawaii at the forefront of simulated health care education. As a new year begins, the University of Hawaii gives birth to an $8million world-class facility for nursing students and health care providers.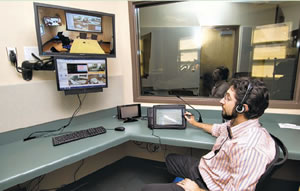 Simulation specialist Andy Currivan is in control of the manikin. Nathalie Walker photos

.(JavaScript must be enabled to view this email address)
The bottom line is saving lives.
Life is not a dress rehearsal. That is why the university invests in programs that best prepare students for life in the real world. Teachers and employers alike are constantly seeking solutions to the fundamental problem of the limits of classroom education.
Simulation education may hold the answer, according to Mary G. Boland, dean and professor of the UH School of Nursing and Dentistry.
If simulators work for pilots, why not nurses?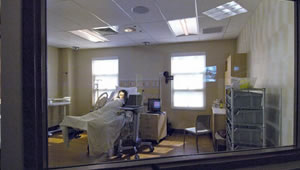 Patient's room from the control room. Nathalie Walker photos

.(JavaScript must be enabled to view this email address)
Simulation is imitating reality or, more simply, faking it. Translational refers to a natural progression in medical practice.
"Until recently, health care learning happened in a classroom or clinical setting where patients are at risk," Boland says. "We never want to get away from handson experience. But there is a golden moment when we have the opportunity to take what we know about learning, to use technology to its fullest and provide a simulated experience that translates into real-life situations."
That's what the Translational Health Science Simulation Center is all about.
Top executives and invited guests are getting their first look at the landmark facility this week during a grand opening and blessing. MidWeek was given an exclusive media preview. We are in awe.
Let us take you on tour of Hawaii's nursing simulation center at Webster Hall as an example of the groundbreaking work our hometown university is doing.
Replicated in an 8,000-square-foot space is a medical center-hospital facility, complete with reception-waiting room. The faithful reproductions are so exact that there is floor paneling like Kaiser hospital, a delivery room like Kapiolani hospital and an emergency room like Queen's.
Page 1 of 2 pages for this story 1 2 >
Most Recent Comment(s):