OFF THE MAP (But On Our Radar)
After working with the best crew she's ever been around, Valerie Cruz is hoping ABC picks up Off the Map, in which Hawaii subs for a South American jungle location, for a second season
Wednesday - March 09, 2011
By
.(JavaScript must be enabled to view this email address)
E-mail this story | Print this page | Archive | RSS
|

Del.icio.us
Valerie Cruz as Dr. Zee Alvarez
Like her fans, Valerie Cruz is hoping ABC gives the TV drama Off the Map a second season in Hawaii
On the map, Oahu is one of eight Hawaiian Islands clustered together in the endless waters of the Pacific Ocean. Palm trees, hula girls and macadamia nuts come to mind.
But on ABC's Off The Map, filmed entirely in Hawaii, our island known as the Gathering Place has been turned into a make-believe tiny town in the South American jungle that has one understaffed, under-stocked medical clinic. There are no mai tais, rather people drink chicha. And instead of an ukulele, people strum a charango. And before they pau hana at the cantina, this small team of American doctors at La Clinica Cruz del Sur are busy saving lives with no modern conveniences.
Then there's local doctor Zitajalehrena "Zee" Alvarez, played by actress Valerie Cruz, whose blunt attitude and short temper sometimes make her curt with the new docs. She's also the resident expert on herbal medicine and responsible for cultivating the clinic's garden of life-saving plants. But in real life, Cruz is Cuban-American, not South American. Since the show's debut in January, however, she has proved that she can not only play the part, but also speak the part.
"I've been speaking a lot more (Spanish) now," says Cruz. "My parents are both Cuban, but they divorced when I was about 6 and the man my mom remarried is from Des Moines, Iowa, so there wasn't a lot of language in our home after a certain point.
"Over the years, I've been speaking it more. But for this show, it's definitely work because South American dialect is very different from Cuban dialect, so trying to make the accent neutral is not easy."
As for their personalities, Cruz says she's not as dynamic as the character she plays on TV. But they do share some similarities.
"She's kind of like me in a sense that she's a little bit of a perfectionist, and I think I have a bit of that in me as well, as far as when it comes to work," explains Cruz. "She's passionate, emotional and pretty dynamic, and I consider myself to be pretty dynamic, but she's probably stronger than I am. She's a little bit more of a person who can weather quite a few storms and remain unscathed."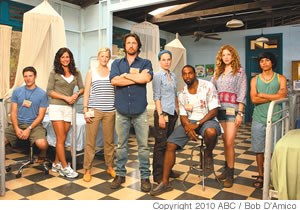 'Off the Map' stars (from left) Zach Gilford, Valerie Cruz, Mamie Gummer, Martin Henderson, Caroline Dhavernas, Jason George, Rachelle Lefevre, Jonathan Castellanos
Before moving to Hawaii last August, Cruz was in New York working for Law & Order: Special Victims Unit and in Los Angeles working on True Blood. She shot the pilot for Off the Map in Puerto Rico.
Her growing resume includes the lead role of Grace Santiago on the F/X hit series Nip/Tuck, playing Maria Nolan on Kevin Williamson's drama Hidden Palms, and portraying Connie Murphy in SciFi and Saturn
Film's hit series The Dresden Files, which earned her a 2008 ALMAAward nomination for Outstanding Female Lead Performance in a Drama Series.
She also was a part of Showtime's hit series Dexter, which led to another nomination for Outstanding Performance by an Ensemble in a Drama Series at the 2009 SAG Awards, and has made numerous guest and recurring appearances on many network heavyweight
Page 1 of 2 pages for this story 1 2 >
Most Recent Comment(s):