A Day In Cary's World
There's much more than acting in the life of Cary-Hiroyuki Tagawa, the Hawaii resident who hopes to use his celebrity to promote personal interests in healthcare, education and peace
Wednesday - December 21, 2005
By
.(JavaScript must be enabled to view this email address)
E-mail this story | Print this page | Archive | RSS
|

Del.icio.us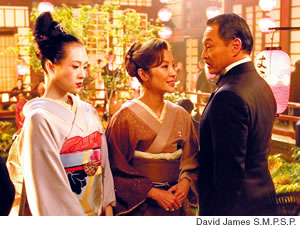 Tagawa with Ziyi Zhang and Michelle Yeoh in Memoirs of
a Geisha
Hawaii resident CaryHiroyuki Tagawa has launched what he calls the second half of his acting career with a role in the highly anticipated film Memoirs of a Geisha scheduled for a nationwide release this Friday.
The movie, which features an acclaimed international cast including stars Ziyi Zhang (Crouching Tiger, Hidden Dragon
) and Ken Watanabe (The Last Samurai
), is the re-creation of the No. 1 international bestselling novel by Arthur Golden. The book spent two years on the
New York Times
best-seller list, sold more than 4 million copies in English, and has been translated into 32 languages.
"I play the baron who, physically, doesn't look like me," says Tagawa. "In the book, he was described as sort of an overweight guy and very drunk all the time, so I was surprised when I was chosen to play that part.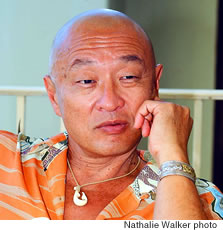 Cary-Hiroyuki Tagawa: Geisha begins a new
phase of his career
"What I immediately got was that the director was changing the visual for the film, in that it changes the nature of the male energy considering who the chairman is, which is the male lead played by Watanabe, and Nobu which is the second male lead played by Yakusho Koji, and then the baron, which is probably the third male lead.
"The role is typical to the kind of other movies that I've done where I don't have a lot of scenes but they are sort of critical to the story. And they're actually harder to play because you don't have
a long time, and you don't have a lot of lines, so to get the emotional content you have to make it more focused."
The story takes place in the years before World War II and follows the life of a Japanese girl who is torn from her penniless family to work as a servant in a geisha house. Despite a treacherous rival who nearly breaks her spirit, the girl blossoms into the legendary geisha Sayuri. Beautiful and accomplished, Sayuri captivates the most powerful men of her day, but is haunted by her secret love for the one man beyond her reach.
"I think the movie will reveal the beauty of the Japanese culture, the grace tempered with harshness, and the oppression of women, as well as the triumph of women and the female spirit within that experience," notes Tagawa. "I think there's a big misunderstanding people have of the Japanese culture - that women are weak, and that subservience is weak. This is definitely the movie that represents the cultural structure of subservience, and shows the strength of women and their inner power."
Geisha have long been figures of fascination in Japan and throughout the world. Neither wife nor prostitute, a geisha is an artist who earns her living entertaining powerful men. She is a trained dancer, singer and musician, as well as a witty conversationalist. She laughs at her client's jokes and never tells his secrets.
"I have some critically emotional scenes with Sayuri (Ziyi Zhang)," admits Tagawa. "One thing about this film, working with these actors, I've never been on a set with so little ego. Everybody was focused on their work and acting as art rather than just business.
"(Zhang) I think represents the most powerful female energy on the planet. I've done many action films, but after seeing Crouching Tiger, Hidden Dragon
, you know she can kick my butt."
Tagawa as the Baron
Tagawa resides on Kauai with children Calen, 17, Brynne, 14, Cana, 5, and wife Sally, but spends most of his time on Oahu. He also plans to move to Japan early next year.
"I know inside I'm going to move, I just haven't worked out the details," he explains. "Right now, home is definitely Hawaii. Although I wasn't born here, I always felt like this was my home. Japan is the place that I was born and it holds a deep spiritual kind of energy and I feel like I'm going there to be part of a spiritual change, yet it's very hard to live in Japan. It's the total opposite of Hawaii.
"My family, they're not moving because of school. I'm going there basically to pursue the second half of my career. I liken my first half as Last Emperor
to Planet of the Apes
. And really the first half was about serving Hollywood. Memoirs of a Geisha starts my second half, and my second half is about having Hollywood serve me. All these films that I've been in, I'm going to use that power to pursue my own independence in film."
Tagawa's long list of credits include American Me
, Last Emperor
, License to Kill
, Showdown in Little Tokyo
, Rising Sun
, Mortal Kombat
, Picture Bride
, The Phantom
, John Carpenter's Vampires
, Snow Falling On Cedars
, The Art
,
Pearl Harbor
and Planet of the Apes
.
As for his favorite on-screen experience, it's playing the surfing grandfather in Disney Channel's Johnny Tsunami.
"I didn't have to carry a gun and kill anybody," laughs Tagawa. "And it's really closest to my own nature."
Page 1 of 2 pages for this story 1 2 >
Most Recent Comment(s):