A Thing For Vegas
There's a good reason why Kimo Akane's columns, radio shows and Website are called 'Kimo's Vegas.' If it's happening in Las Vegas, Kimo knows all about it. Most of it he can talk about
Wednesday - November 30, 2005
By Lisa Asato
E-mail this story | Print this page | Archive | RSS
|

Del.icio.us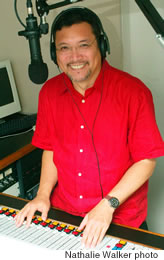 Kimo Akane got his radio start
in Las Vegas and today
considers it a second home
Before anyone at Cox Radio Hawaii visits Las Vegas, they first stop in to see radio executive Kimo Akane, who writes about Hawaii's favorite destination in a twice-weekly column in MidWeek.
They stop in for tips on what to do and see in Vegas, and, as radio personality and program director Davey D. says, "because he gives everyone 21 bucks."
"Even if we don't win, he still shells out money. Of course, if I won the Megabucks he would-n't see me again. I'd be gone," Davey D. adds, laughing.
Known by his radio name, Akane is the man behind "Kimo's Vegas" - a multimedia Las Vegas news and travel guide that in addition to a column in MidWeek and MidWeek the weekend, also offers a weekly hourlong radio show, a weekly radio report, a monthly online column, and a catch-all Web site, all known by the same name - and all dedicated to the proposition that Vegas is where it's at.
Akane describes this work as a hobby, but calls his attraction for Vegas "borderline fanaticism."
"I really like the place," he says. "The way it works and how it's become such a mecca for entertainment and food. It's just so crazy, you go to one place and everything is there.
"You have Paris, there's Italy. ... You have the Middle East in the Sahara and Aladdin. All the different kinds of food, some different experiences are granted somewhat Americanized," but "you go to one place and you can see what it all looks like. If you go to Bellagio everything in there is from Italy, and it's just phenomenal."
In 2004 numbers, Hawaii ranks No. 12 nationally in the number of air travelers to Las Vegas, according to the Las Vegas Convention and Visitors Authority. Last year 822,626 people "boarded a plane in Honolulu and got off at McCarran (International Airport)," Akane says, citing the authority's stats. But, he adds, "that number is grossly underrated because tons of people fly elsewhere and either fly down or drive down. So that's pretty good. We're beating states like Georgia, Oregon, Wisconsin, Utah, all those kinds of places."
Now almost a year since the birth of "Kimo's Vegas," which began on the radio (airs Thursdays at 9 a.m. on sports Radio 1420 AM), Akane has interviewed head chefs, authors, hotel general managers, entertainers and people who've struck gold in Sin City.
He's interviewed the guy who wanted to remain anonymous after winning $39 million on Megabucks at Luxor, as well as the guy who cashed out on the same machine that hit the $39 million on the very next turn. And he's met Scott Lazar, who won $1.5 million for finishing sixth in the 2005 World Series of Poker.
Has he ever met poker champ and Hollywood celeb Jennifer Tilly?
"No," he says. "But she's gotten to be a really good poker player. I'm going to talk to her boyfriend Phil Laak, 'cause he's got a new book out, so he's on my list of people to get a hold of."
And he's equally excited about meeting local people who've found success in Las Vegas. He's met performers such as Palolo's Junior Faitau, a fire dancer who's traveled the world with Cirque du Soleil; Sarah Harding, a Punahou School graduate who performs in the Cirque show KA and who was named Ms. Fitness U.S.A. 2006; and Kailua High School graduate Jacquelyn Holland. "She's the star of Mamma Mia!, which is the No. 1 show in Las Vegas," Akane says.
In another life, Akane used to be what he calls a "casino degenerate ... all I would do is gambling the whole time I was there."
Nowadays, he takes in the whole Vegas experience. "I go and I hang out and I people watch," Akane says. "And I do a little gambling, I check out some shows, I eat one or two really nice meals in really nice restaurants just to do different things. I'm trying to expand my horizons and not be an opihi."
Says his wife Ellen: "We both enjoy Vegas, we usually go for about a week. We shop and we sightsee and we go to shows and go to fantastic dinners. So yes, it's great. I love Vegas just as much as he does."
What's her favorite part? "It's like daylight all the time with
Page 1 of 2 pages for this story 1 2 >
Most Recent Comment(s):
For all comments click here.