A Tradition Unlike Any Other
Born to playmusic, the Brothers Caz plan a tribute to Don Ho at their Lei Day concert

Wednesday - April 25, 2007
By
.(JavaScript must be enabled to view this email address)
E-mail this story | Print this page | Archive | RSS
|

Del.icio.us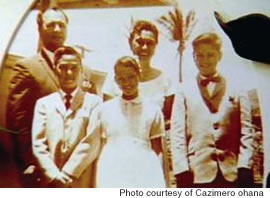 Roland (left), his twin sister Kanoe 'Tootsie' Cazimero,
Robert (right), with dad and mom on Easter Sunday
before church
May Day is celebrated around the world with a maypole, but here in Hawaii we celebrate with the Brothers Cazimero.
Taking stage at the Waikiki Shell for the 30th time, Robert and Roland are doing it in true Brothers Cazimero fashion with an elaborate set, special guests and extravagant hula performances.
"I think basically it will follow what we've done, which is keeping it consistently full of music, retrospect, comfortable and fun," says Robert. "We are featuring artists, and we would tell you who they are, but we think sometimes it's better to keep it a secret. So we've always done so, but what we can tell you is that we're devastated by the loss of Don (Ho). So we're going to have to say something or do something to thank him for what he's done for us.
"You know when we were first starting off with the Sunday Manoa, Don used to come and see us all the time, and he was one of the most quietest, staunch supporters for us. When it was real easy to take shots at us in the very beginning, Don was one of those people, not a kupuna now, but somebody a little above our age but on a higher level who would help us. When it comes to Don helping us when we were just out of high school, I would like to think it's because of the talent. But basically it was just the man that he was."
The brothers'May Day concert is an obvious indicator of just how long Robert and Roland have been performing together. Add on their 37 albums, three DVDs and 29 Na Hoku Hanohano Awards and you've got yourself a fairly complicated math equation.
"You know, for me I judge the years by my weight and my hair," says Robert, who enjoys hanging out in downtown Honolulu and visiting art galleries. "Thirty years ago I had a great mop of hair and was fat as can be. Now I'm semi-fat and I have no hair."
"I still got hair and I'm fatter than ever," adds Roland.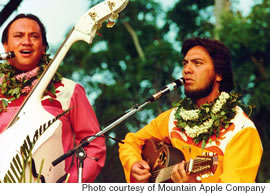 The Brothers Cazimero at an outdoor performance in
the early 1980's
Before the hair and weight fluctuations, the Brothers Cazimero were, well, brothers. Two of 10 siblings, they were born into a musical family. Long before they could even walk, Mom and Dad's band and Polynesian show had them immersed in Hawaiian song and dance.
"We were singing since we were born," jokes Robert. "You know how the doctor slap your okole? We never cry - we started singing."
Roland recounts some childhood memories, taking them back to the days when it was their parents'persistence that encouraged them to play music. From an early age they weren't given the option to practice and perform - they did it because Dad said so.
"You know, our dad he was a stickler," adds Roland. "I'd be in bed, and that time Robert wasn't playing yet ,so he would be on the side laughing, and Dad would go 'Son, are you sick?'And I would say, 'Yes, Dad, I'm sick.'Then he would say, 'Are you dead, Son?' 'No.' 'Then get dressed and get in the car.' Eight years later (when Robert began playing), 'Robert, are you sick? Are you dead?''No.''Then get in the car.'"
Robert and Roland credit their parents'early nurturing of their talent, their brotherly bond and simply being born at the right time as key elements of their success.
"We had the people who today are considered legends of Hawaiian music as teachers," says Robert. "But we also come from a time when you really had to work on your craft. Now in a time of more machines and computers, you can become a star overnight. We came from a time when you had to work on your talent, and that is truly the mark of how you made it and where you made it to."
Through the years they have played together, laughed together, bickered and learned together. And they say the years have made them closer and definitely wiser.
"No matter how angry we got at each other or no matter what someone did, we always put it aside," says Robert. "The first 20 years was hard, and then after that it just kept getting better and better. And I began listening a little bit more."
"And me too, because I wasn't listening either," adds Roland.
The two agree that the music business hasn't been easy. They've been challenged not only with the everyday obstacles of working together, but also with obstacles within themselves.
"My biggest obstacle has been myself, to get over my ego, to get over my micro-management, my domination and my stubbornness," says Robert. "You ask for one, I give you four - how is that for overachieving?"
Their deeper understanding of themselves and each other is why they can both say without hesita-
Page 1 of 2 pages for this story 1 2 >
Most Recent Comment(s):