An Avant Garde Furniture Dream
The new Honolulu Design Center is similar to Mainland multi-gallery furniture showrooms, except that it's open to the public, not just to designers. Above all, says Tom Sorensen, it's a place to dream
Wednesday - January 31, 2007
By Chad Pata
E-mail this story | Print this page | Archive | RSS
|

Del.icio.us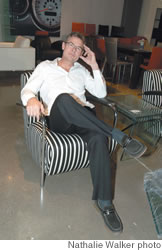 Tom Sorensen wanted to build
more than a furniture store,
something 'a lot more fun'
Opinions are split on the newly opened Honolulu Design Center that spans the mauka block of Kapiolani Boulevard between Piikoi and Pensacola streets.
To some it is a fresh new look for the old neighborhood with its array of windows and orange candy-colored aluminum panels that shift color depending on how light strikes them.
To others it is a Howard Roark nightmare seemingly fueled by an evening of Cheetos and too much gin.
But to Tom Sorensen, the owner of HDC, it is the realization of a dream he's had ever since he first set foot on the Island in 1979 - to change the paradigm of what people think of as a furniture store forever.
"My vision has always been to not just do a furniture store, but to bring a lot more components in, a lot more fun," says Sorensen.
This he has done, and at no small expense. The 80,000-square-foot facility features three floors of furniture, making it the biggest showroom in the Islands. Everything has been built to his specifications, even importing special cement wall boards from his native Denmark and designing all the lighting himself.
The floor staff are all equipped with $1,000 Symbol PDAs that will allow them to check if items are in stock and place your order as they are standing with you on the showroom floor.
"We definitely have not done this the easy way, but the fun way," says Sorensen.
Price tag on the fun way: $50 million.
"The amount of money I am putting into this structure probably cannot sustain what we are doing, at least initially, but over time it will," says Sorensen, who made his money with earlier stores Scan Design and INspiration.
"Some people may think we are crazy, putting this much money into one project for furniture," he says, "but they don't see the vision, they don't see what we are doing, they don't see the rest of it."
While large cities on the Mainland have similar combinations of furniture galleries, they are open only to professional interior decorators and architects. The Honolulu Design Center is open to the public, and last weekend people got their first glimpse of the rest of it as they quietly opened the doors to the public.
Upon entering the facility through its three-story-high glass entrance, you are greeted by its own coffee shop, Crema. To your right is the ultra hip BoConcept, where with computers and wall-mounted flat screens you can draw a schematic of your home and place furniture in it, giving you a 3-D look at how it will fit in your place.
To your left, well, Sorensen calls this area their "Rodeo Drive." Names like Natuzzi, de Sede and eilersen may not mean much to the average MidWeek reader, but that's because the couches they make cost more than most of your cars.
A nice, simple, three-person black leather sofa by Fendi: $15,000.
Wrap-around white leather sofa by eilersen: $42,960, but at least the price tag comforts you by stating, "Everyday Low Price."
Fifteen-foot-tall desk lamp by Flos: $10,000, not including the desk.
You could say the first floor is for the ultra rich and the dreamers, both of whom Sorensen hopes to have come calling.
"It is a place you can literally just come in and dream," says Sorensen. "You don't have to buy, you probably will buy, but you don't have to. So when you are decorating, you can come in and just get ideas."
The second floor provides more fiscally practical items, such as a bookshelf under $70. But what is more interesting about the middle level is still being completed.
In April, the HDC will move from just a furniture super store to a cultural phenomenon with the opening of its wine bar, events theater and exclusive restaurant.
"I believe we have definitely put together, in terms of store
Page 1 of 2 pages for this story 1 2 >
Most Recent Comment(s):